Humidifiers
Whole-Home Humidifier Installation in Columbus, Dayton & Cincinnati, OH
If you are looking to maintain normal levels of humidity in your home during Ohio's winter months, we offer a whole line of humidifiers, including whole-home humidifiers, that are conducive to all types of homes and all budgets. Humidity control is essential during this critical months of the year and it's not just for our health. Because the optimal level of humidity in a home should be kept above 30%, these products are extremely helpful. Otherwise, if humidity levels fall too low, it can damage woodwork and make you and your family more susceptible to static electricity, in addition to a wide range of health issues including dry skin, breathing and sleeping problems and bloody noses, etc.
If you're online looking for "humidifier installation services near me" or need a "humidifier expert near me" and you live in Greater Cincinnati, Greater Columbus or Greater Dayton, you're in the right place! Call the humidity control experts at Five Star Home Services today at (833) 405-8009.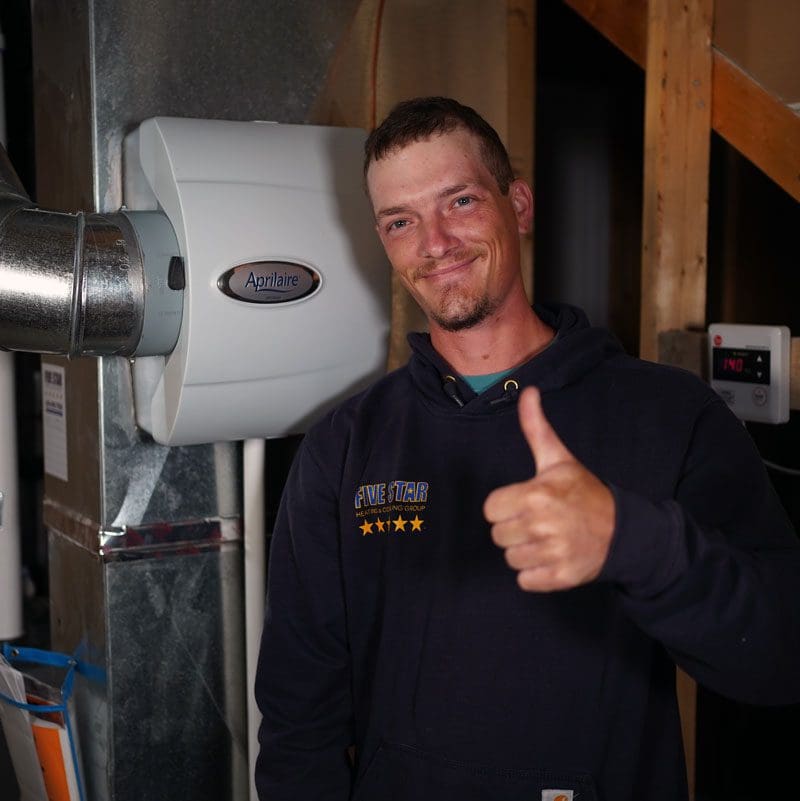 4 Benefits of Whole-Home Humidifiers
Winter weather dries out the air in our homes to the point it can be too dry. When dry air is a problem in the home, a humidifier can be very helpful. It turns out people are more likely to benefit from a humidifier during the cold months when cold air dries out the nose, lungs, and lips. Because furnaces or central heating systems can dry out the air indoors even more, sometimes a humidifier is a must.
THEY BENEFIT YOUR HOME
If the air is extremely dry, the moisture from a humidifier can be very helpful for the home itself. Any moisture-loving houseplants can become more vibrant, and wood floors or wood furniture will last longer. Humidity also helps prevent the wallpaper from cracking and static electricity from building up and causing issues. Humid air holds heat better and feels warmer than dry air. Because of this, humidifiers can help you save money on utility bills during the winter.
KEEPING SKIN AND HAIR MOIST
Some people notice that their lips, skin, and hair are fragile and dry during the wintertime. A lot of heating units pump out heated air that's dry throughout the home or office. This can make the skin dry, flaky, or itchy. Cold air from the outside can also dry the skin out. Using a humidifier to add moisture to the air indoors can help reduce the occurrence of dry skin that's cracked.
REDUCES SNORING
Increasing the amount of humidity in the air in your home can also reduce snoring if that's an issue in your home. When the air is dry, a person's airways are less likely to be sufficiently lubricated. This can make snoring worse. However, adding humidity with the use of a humidifier at night can help to relieve these symptoms.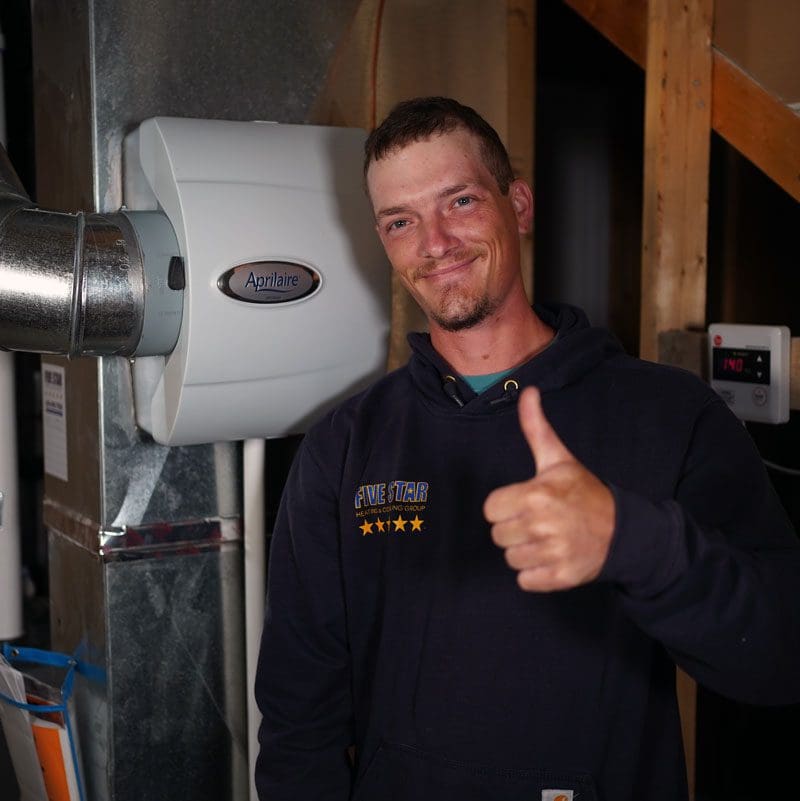 Indoor Air Quality Services
Upgrade Your Indoor Air With Five Star Home Services
According to the EPA, the air we breathe indoors can be two to five times more toxic and polluted than the air outdoors, where nature has a way of taking care of it. When you consider how tightly insulated our homes and workplaces are intentionally made to keep heated and cooled air inside, it becomes clear why ventilation experts often suggest a homeowner consider an indoor air quality product to go with a furnace or air conditioner.
At Five Star Home Services, our wide range of innovative and affordable solutions can be customized specifically to your situation and your needs, no matter what they might be. From humidifiers to smart thermostats to seasonal duct cleanings, we've got Central and Southern Ohio covered.
Frequently Asked Questions
"What's a Whole Home Humidifier & How Does It Work?"
Excessively dry air can cause cracked skin, lips, itchy eyes, and irritated nasal passages. It can even damage your wood furniture and finishes by causing them to shrink and crack. Low humidity can also increase the occurrence of static electricity in your home. One way to address the potential discomfort and damage is to install a whole-home humidifier with Five Star Home Services.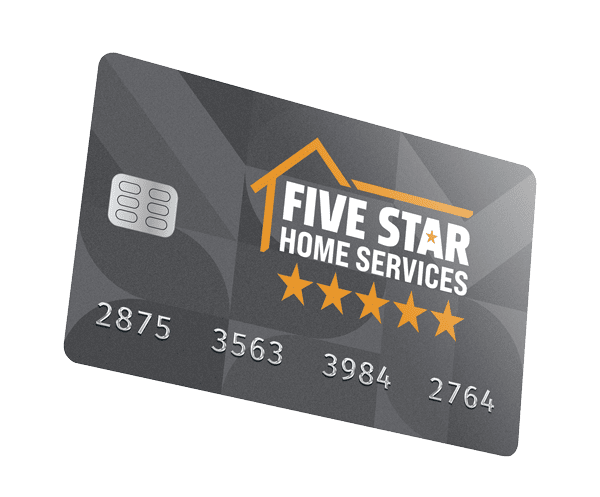 Financing Options
Buy Today, Pay Over Time
If you're in need of a new water heater, furnace, air conditioner, electrical panel, toilet, or something else, and you're wondering how you're going to come up with the money, we encourage you to check out our amazing in-house financing options. We can set up a monthly installment plan that works for your budget.
The Gold Standard in HVAC Services Since 1972
Five Star Home Services has been in the HVAC business since 1972, and there's not a furnace, heat pump, air conditioner, or air quality problem we can't resolve. We don't stop when your HVAC system does. As part of our commitment to customer satisfaction, we make ourselves available after-hours on weekends, and on holidays for emergency HVAC repairs. That's right, 24/7, 365! We can repair all brands and types of heating and cooling equipment, such as Amana, Trane, Rheem, Honeywell, Goodman, Comfortmaker, Carrier, and many more. Our team of local HVAC technicians is fast, friendly, and professional. We proudly serve all of Greater Columbus, Greater Dayton, Greater Cincinnati, and surrounding areas, and we're continuing to grow! Our services include AC repair, AC installation, furnace repair, furnace installation, heat pump repair, heat pump installation, zoned systems, preventative maintenance, heating, and cooling system tune-ups, air purification systems, humidifiers, dehumidifiers, air filtration, ventilation, ductwork installation, air duct modifications, furnace safety checks and much more.