A/C Installation & RePlacement
Air Conditioner Installation & Replacement in Columbus, OH & Dayton, OH & Cincinnati, OH
Is your home cooling system lacking during the summer months? Does it seem like you're paying too much to cool your home? Are you dealing with a sudden A/C breakdown during Ohio's dog days of summer? Don't mess with an outdated air conditioner that isn't running as needed. By calling Five Star Home Services to upgrade your home cooling equipment, you can increase the value of your home while saving yourself hundreds of dollars each month in home cooling costs. We carry cooling equipment trusted names in the HVAC industry, such as Carrier®, Trane®, Goodman®, and more.
Don't take any chances regarding a significant home investment, like installing a new air conditioner or replacing your A/C. It will always cost you more in the long run. And don't wait for someone who can't come over promptly. Instead, save yourself a ton of time and headaches by trusting the fastest-growing home service company in the Midwest. If you need a new air conditioner, contact Five Star Home Services today!

4 Common Tips for Cooling Systems

Whether you have a whole-house or one-room air conditioner, don't make it work harder than it should. Follow these tips to keep your AC running smoothly, so your home will stay cool all season.
GET AN AC TUNE-UP
Scheduling an air-conditioner tune-up before each cooling season is essential. Monthly, or as much as recommended for your A/C unit, it is also important to either clean the air filter or replace it. When purchasing a new air conditioner, look for an ENERGY STAR-rated model. Hire a qualified contractor like Five Star Home Services to install it properly and extend excellent warranty coverage, so you know you're covered no matter what.
REMOVE HEAT PRODUCERS
Keep heat-producing appliances away from your HVAC system's thermostat, and turn off any heat-producing devices you can do without. This includes things like incandescent and halogen light bulbs, heat-producing appliances, and unnecessary electronics. Try using your microwave, slow cooker, air fryer, or indoor grill instead of using your conventional oven and stove when possible. Don't use your dishwasher's dry cycle. Instead, try letting the dishes air dry outside. Wash and dry clothes when the day is cool and the air is dry if possible.
WHOLE-HOUSE FANS
Homeowners can reduce their indoor temperature from three to eight degrees by using a whole-house fan or an attic fan. It is best to use whole-house fans during cooler times of the day and during the night. A whole house fan pulls in air from the windows and exhausts warm air outdoors through the attic and the roof vents. Don't use whole-house fans while using your air conditioner. In order for whole house fans to work properly, the house needs to have large attic vents, and windows need to be open for pressure relief.
OTHER COOL TIPS FOR YOU
Remember to drink tons of water and wear short-sleeved clothing that's loose and light-colored. Take cooler showers, and if you're unable to get out to the local lake or swimming pool. Use a sprinkler to water you and your plants if you're playing in the yard. Also, don't let your cool air escape out your chimney. If your fireplace has a glass door, make sure to keep it shut. Remember, your basement is often cooler than the rest of the house. If possible, it might be a good place to take refuge from the heat in. If not, try to stay on the lower floors because the heat rises.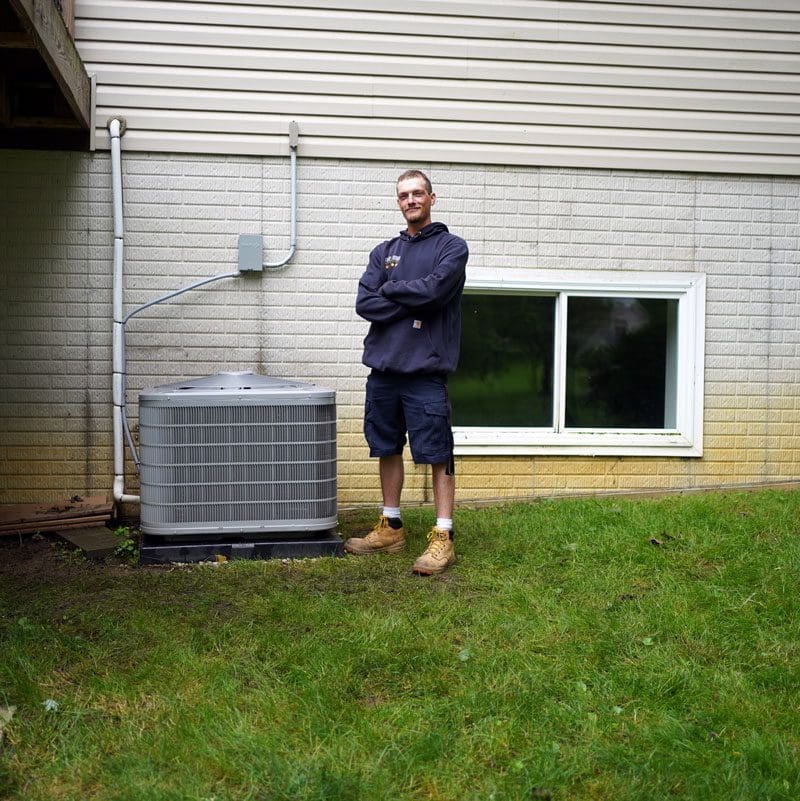 Air Conditioner Installation & Replacement
Upgrade Your Cooling System with Five Star Home Services
If you're online looking for an "AC installation expert near me" or an "air conditioner installation company near me" and you live in Greater Cincinnati, Greater Dayton, or Greater Columbus, you're in the right place. Five Star Home Services is the company to call. In fact, our name says it all. An air conditioning contractor doesn't earn an overall average Five Star Google Rating unless they're doing something right. If you're in the market for a new A/C, don't waste your time with an air conditioning handyman or and HVAC repair person that doesn't take pride in their work the way our professionals at Five Star take pride in their work. We are the best for a reason.
We have a team of licensed NATE-certified HVAC technicians who are insured to the max. Plus, we don't just send anyone to your home. We background check our AC technicians and drug test them regularly. To wear our uniform, these men and women are trained above and beyond industry standards. Additionally, and we feel this is extremely important, we also believe in using only the industry's best A/C equipment possible, which includes top brands like Carrier®, Goodman®, Lennox®, and Bryant®, in addition to using only the latest and greatest tools and technology available.
Frequently Asked Questions
"Why Is It Important To Change and Replace HVAC Filters?"
The air conditioning experts at ENERGY STAR® recommend changing your air filter every three months at a minimum. Dirt and debris in your filter can obstruct air flow, increasing the workload of your HVAC system. By replacing the filter regularly, you can reduce wear and tear on your air conditioner while allowing the free movement of air for improved indoor comfort.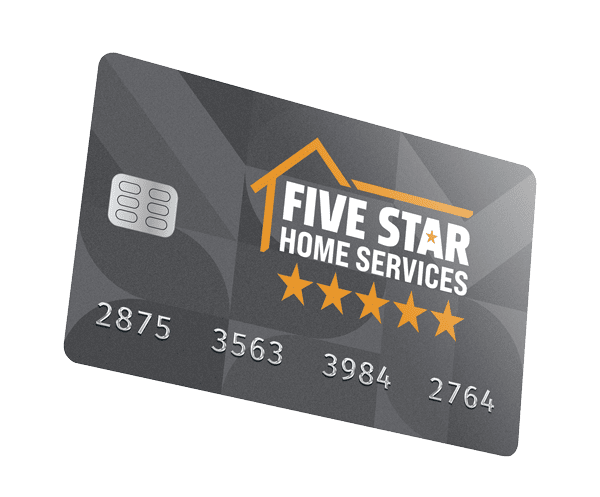 Financing Options
Buy Today, Pay Over Time
If you're in need of a new water heater, furnace, air conditioner, electrical panel, toilet, or something else, and you're wondering how you're going to come up with the money, we encourage you to check out our amazing in-house financing options. We can set up a monthly installment plan that works for your budget.
The Gold Standard in HVAC Services Since 1972
Five Star Home Services has been in the HVAC business since 1972, and there's not a furnace, heat pump, air conditioner, or air quality problem we can't resolve. We don't stop when your HVAC system does. As part of our commitment to customer satisfaction, we make ourselves available after-hours on weekends, and on holidays for emergency HVAC repairs. That's right, 24/7, 365! We can repair all brands and types of heating and cooling equipment, such as Amana, Trane, Rheem, Honeywell, Goodman, Comfortmaker, Carrier, and many more. Our team of local HVAC technicians is fast, friendly, and professional. We proudly serve all of Greater Columbus, Greater Dayton, Greater Cincinnati, and surrounding areas, and we're continuing to grow! Our services include AC repair, AC installation, furnace repair, furnace installation, heat pump repair, heat pump installation, zoned systems, preventative maintenance, heating, and cooling system tune-ups, air purification systems, humidifiers, dehumidifiers, air filtration, ventilation, ductwork installation, air duct modifications, furnace safety checks and much more.