Furnace Maintenance
Routine Furnace Maintenance in Dayton, Columbus & Cincinnati
Although furnace maintenance does indeed help prevent furnace problems during the winter, in addition to keeping your heating bills in check and making your equipment perform longer, failing to have it performed doesn't mean it's going to break down during the winter. Preventative maintenance saves you the stress of an unexpected expense happening at the worst times. Imagine having to spend your holiday budget on a new furnace unexpectedly!
Having heating system maintenance performed regularly will increase your heater's efficiency in addition to its service lifespan. Who doesn't want to make their furnace heat their home better for longer? No one likes replacing an expensive heating system! In addition to all the benefits we've already mentioned, there's another benefit. For homeowners who have new systems, maintenance is required to keep the warranty valid. Schedule a maintenance appointment with Five Star Home Services today!
Heating & Cooling
$50

off
Heating or Cooling
Cleaning + Tune-Up
*Not valid with any other offer or on previous sales. Must be presented at time of service. Some restrictions may apply, call for details.
Learn More

4 Benefits of Furnace Maintenance
When it comes to the HVAC equipment in your home, there's absolutely no substitute for professional maintenance. In addition to making your expensive equipment last longer and run better, furnace-tune-ups have all sorts of benefits.
REDUCED RISK OF A FURNACE BREAKDOWN
All mechanical systems undergo wear and tear over time. Your furnace is undoubtedly no exception. However, a homeowner can reduce this damage with maintenance. Scheduling a regular tune-up for your furnace keeps your system running asneededo. Our furnace techs will verify that everything is ready to go for winter. We address potential issues before they evolve into big problems. You're far less likely to lose heat during the cold months because of a quick, painless, and affordable visit from our furnace maintenance expert.
LOWER MONTHLY SAVINGS
Furnaces that aren't adequately maintained use more energy than those regularly inspected and cared for—this lack of care results in higher energy bills. However, having a furnace tech check your HVAC system can lower home heating bills. Without regular care from an expert, furnaces fill up with dust, and their parts begin to wear down. They need more energy to push heating to your living spaces when this happens. Having our expert technician come over to inspect your furnace as part of a fall furnace tune-up helps you rest assured, knowing your heating system is ready for an entire winter of energy-efficient operation.
LONGER FURNACE LIFESPAN
How long do you think it would last if you never took your vehicle to a mechanic for an oil change? Failing to have your furnace inspected by a Five Star Home Services technician is a similarly bad idea. Routine furnace maintenance can help your furnace last longer and run better as it ages. And yet this is merely one of the ways a fall furnace tune-up from Five Star Home Services can save you money in the long run. If you look at furnace replacement costs, you'll see why we say being proactive pays.
ENSURE THE SAFETY OF YOUR HOME
Your home heating system needs to be checked at least once each year to ensure it can still operate safely. One of the biggest safety concerns is the heat exchanger. A cracked heat exchanger can lead to carbon monoxide leaking. Carbon Monoxide, CO, is a colorless, odorless gas that's deadly. If this gas gets into your home's air, you're in serious trouble. It's known as the "Silent Killer" for a reason. Because of this, carbon monoxide is not to be trifled with. If you suspect something's wrong with your furnace's heat exchanger, call the fire department and then give us a call.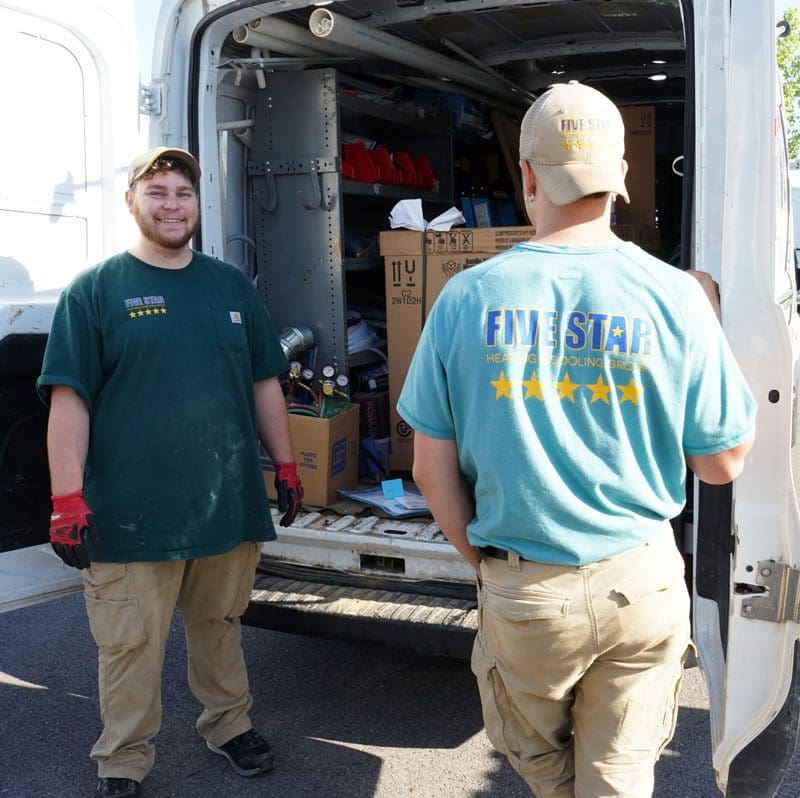 Furnace Maintenance
Is Your Heating System Ready for Another Ohio Winter?
Let's be honest — your furnace was not a cheap purchase. Or, maybe you just moved into a house with a brand-new furnace. Whatever your situation may be, your furnace needs regular attention to work at its best. At Five Star Home Services, we have talented maintenance technicians who will get the job done with care and precision. Seasonal maintenance performed regularly by a pro will drastically increase the lifespan of your furnace and its efficiency while decreasing your monthly heating expenses and keeping your home safe and warm. Moreover, if you have a new system, maintenance is often required to keep the warranty valid. Schedule a furnace tune-up today!
Frequently Asked Questions
"Why Is It Important To Change and Replace HVAC Filters?"
The air conditioning experts at ENERGY STAR® recommend changing your air filter every three months at a minimum. Dirt and debris in your filter can obstruct air flow, increasing the workload of your HVAC system. By replacing the filter regularly, you can reduce wear and tear on your air conditioner while allowing the free movement of air for improved indoor comfort.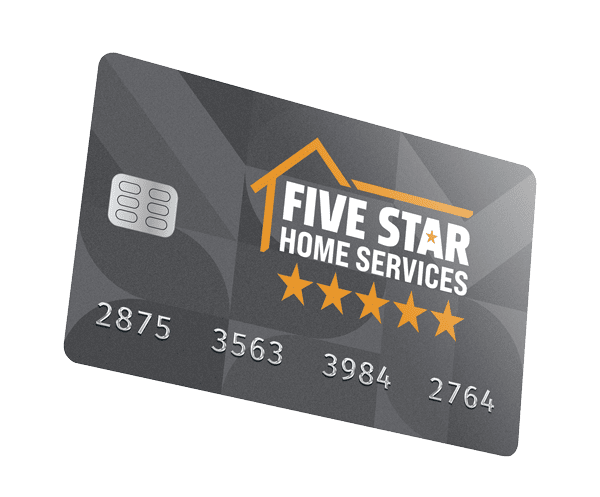 Financing Options
Buy Today, Pay Over Time
If you're in need of a new water heater, furnace, air conditioner, electrical panel, toilet, or something else, and you're wondering how you're going to come up with the money, we encourage you to check out our amazing in-house financing options. We can set up a monthly installment plan that works for your budget.
The Gold Standard in HVAC Services Since 1972
Five Star Home Services has been in the HVAC business since 1972, and there's not a furnace, heat pump, air conditioner, ductless-mini split, or air quality problem we can't resolve. We don't stop when your HVAC system does. As part of our commitment to customer satisfaction, we make ourselves available after-hours on weekends, and on holidays for emergency HVAC repairs. That's right, 24/7, 365! We can repair all brands and types of heating and cooling equipment, such as Trane, Rheem, Honeywell, Goodman, Comfortmaker, Carrier, and many more. Our team of local HVAC technicians is fast, friendly, and professional. We proudly serve all of Greater Columbus, Greater Dayton, Greater Cincinnati, and surrounding areas, and we're continuing to grow! Our services include AC repair, AC installation, furnace repair, furnace installation, ductless systems, heat pump repair, heat pump installation, zoned systems, preventative maintenance, heating, and cooling system tune-ups, air purification systems, humidifiers, dehumidifiers, air filtration, ventilation, ductwork installation, air duct modifications, furnace safety checks and much more.