Air Filters
Media Air Filters in Franklin County, Montgomery County & Hamilton County
Changing air filters frequently is part of owning an HVAC system because they can increase the life expectancy of the equipment and, when done properly, minimize the need for repairs by eliminating the strain and stress caused by poor airflow. Homeowners are encouraged to check their air filters every month and replace them as often as necessary.
However, we at Five Star Home Services often remind homeowners that not all air filters are created equal. The basic air filters that come with your furnace are only meant to protect your equipment. They don't really do anything to improve air quality. If you want to improve air quality, you can upgrade your air filters to a media air filter with a higher MERV rating or to a four-inch air filter instead of the one-inch filter most widely used in homes today.
If you're looking to upgrade your air filter to improve indoor air quality and you live in Greater Dayton, Greater Cincinnati, or Greater Columbus, you're in the right place. Call Five Star Home Services at (833) 405-8009.

4 Benefits of a Media Air Filter

Using a whole-house air cleaner or media air filter has a wide range of benefits. In the following, our air quality control experts discuss several of those benefits.
ENERGY SAVINGS
With rising heating and cooling costs, who doesn't want to save a little energy, which equals money? Improve your home's energy savings by keeping your HVAC equipment clean using a media air filter, which protects equipment and keeps it running optimally.
LESS NEED FOR MAINTENANCE
Replacing your standard air filter with a high-performance accordion-style media air filter is an upgrade that protects HVAC equipment, which will need less maintenance. Typically air filters need to be checked every month. Not media filters. We suggest checking these filters every six months for changes. Then depending on the factors contributing to your home's dust levels ad air quality, these filters only need to be replaced once a year.
CONTROL DUST
The use of a media filter helps reduce dust build-up. Keeping the air circulating in your home cleaner makes the home look and feel cleaner. This is one way to control dust, which tends to build up more when air quality is compromised.
REMOVES POLLUTANTS
When installed as part of your home's heating and cooling unit, air cleaners permanently trap indoor allergens and dust that can cause respiratory problems. Removing these pollutants is better for your health and well-being, especially if you or anyone in the home suffers from allergens.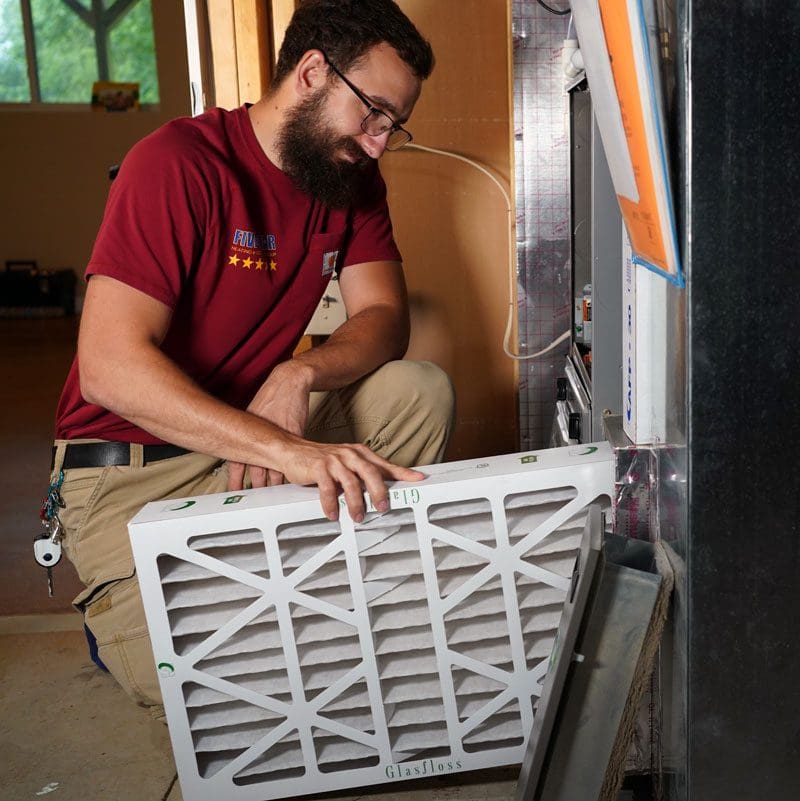 Indoor Air Quality Services
Residential Air Filters in Columbus, Dayton & Cincinnati, Ohio
MERV, short for Minimum Efficiency Reporting Value, is a rating system for air filters. MERV is a scale of 1 to 16, with 16 being the highest-rated air filter. Most residential HVAC systems can't use a filter above 13 on the MERV scale in most homes. In addition to air filter upgrades and HEPA filters, we can discuss media air cleaners and other options. We also carry air cleaners such as the iWave-R and Reme Halo.
In short, media air filters offer homeowners superior air filtration at a fraction of the cost. We offer residents in the Greater Hamilton County, Ohio, Franklin County, and Montgomery County areas the best prices on media air filters and cabinets and other types of air purifiers to work with your HVAC system. If you've been using the standard inch-thick air filter that comes with most HVAC units, you should ask us how we can help improve your indoor air quality with an air cleaner from Honeywell, Carrier, or Aprilaire. As your local air care experts serving all of Central Ohio and Southern Ohio, we are happy to offer the best prices on air filtration products you can depend on to optimize your home's air quality.
Frequently Asked Questions
"Why Is It Important To Change and Replace HVAC Filters?"
The air conditioning experts at ENERGY STAR® recommend changing your air filter every three months at a minimum. Dirt and debris in your filter can obstruct air flow, increasing the workload of your HVAC system. By replacing the filter regularly, you can reduce wear and tear on your air conditioner while allowing the free movement of air for improved indoor comfort.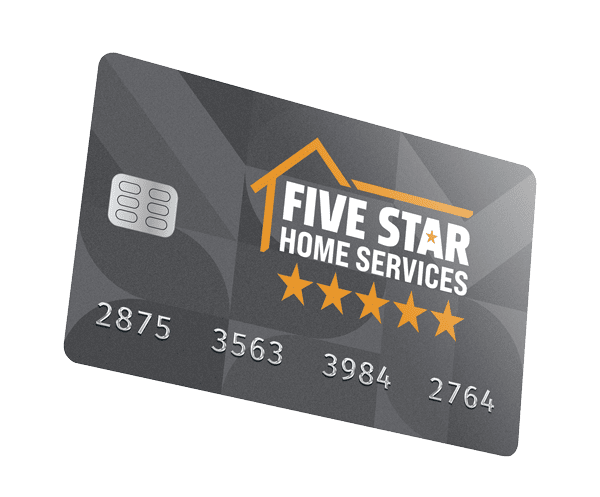 Financing Options
Buy Today, Pay Over Time
If you're in need of a new water heater, furnace, air conditioner, electrical panel, toilet, or something else, and you're wondering how you're going to come up with the money, we encourage you to check out our amazing in-house financing options. We can set up a monthly installment plan that works for your budget.
The Gold Standard in HVAC Services Since 1972
Five Star Home Services has been in the HVAC business since 1972, and there's not a furnace, heat pump, air conditioner, or air quality problem we can't resolve. We don't stop when your HVAC system does. As part of our commitment to customer satisfaction, we make ourselves available after-hours on weekends, and on holidays for emergency HVAC repairs. That's right, 24/7, 365! We can repair all brands and types of heating and cooling equipment, such as Amana, Trane, Rheem, Honeywell, Goodman, Comfortmaker, Carrier, and many more. Our team of local HVAC technicians is fast, friendly, and professional. We proudly serve all of Greater Columbus, Greater Dayton, Greater Cincinnati, and surrounding areas, and we're continuing to grow! Our services include AC repair, AC installation, furnace repair, furnace installation, heat pump repair, heat pump installation, zoned systems, preventative maintenance, heating, and cooling system tune-ups, air purification systems, humidifiers, dehumidifiers, air filtration, ventilation, ductwork installation, air duct modifications, furnace safety checks and much more.