Heat Pump Services
Central Ohio & Southwest Ohio Heat Pump Repair Services
Heat pumps are convenient and efficient; they are one of the only HVAC systems on the market today that heat your home when it's cold outside and cool your home when it's hot out. This makes them a convenient and cost-effective system to use year-round. If you already have a heat pump and you're having issues with your system, and you're online looking for a "heat pump technician near me" or a "heat pump repair person near me," and you live in the Greater Columbus, Greater Dayton or Greater Cincinnati areas, you're in the right place.
Five Star Home Services covers all your heat pump repair needs, with 24-hour emergency heat pump repair services throughout the three major metropolitan areas in Ohio. If you're looking for a fast, reputable, competitively priced heat pump repair technician, call our trusted team at Five Star Home Services today! There is always a live expert answering our phone lines.
Save 10% on a Service Call
10%

off
With any completed repair
*Not valid with any other offers. Must be presented at time of service. 

4 Common Heat Pump Repairs
If your heat pump just quit and it's hot outside (or cold), you need help! In most cases, you need a repair professional like Five Star Home Services. However, below, we can help you narrow down the cause and, in some cases, fix it yourself.
REFRIGERANT LEAKS
Heat pumps use refrigerants to transfer heat from one place to another. Because this refrigerant is necessary for the operation of your heat pump in winter and the summer, if there's ever a leak, you will know it because there will be issues to follow. If there's a leak in the refrigerant line, it means there isn't enough refrigerant to absorb and transfer heat properly. This can cause damage to the compressor that impacts your indoor comfort. Our HVAC professionals can seal up any leaks in the refrigerant line and recharge the refrigerant levels so your heat pump system works effectively again.
REVERSING VALVES
Reversing valves are what allow a heat pump to reverse the flow of refrigerant. They give you the ability to switch from "heating mode" in the winter to "cooling mode" during the summer. If this reversing valve fails and gets stuck in one position, it will prevent you from switching between heating mode and cooling mode. If this happens, make sure to call an expert like Five Star Home Services, who can replace the faulty valve for you and get your unit back to normal.
OUTDOOR UNIT ICED OVER
The outdoor coil is what releases heat during the winter and summer. During the winter, it's common for a layer of frost to form on the outdoor unit. Nevertheless, heat pumps should be running defrost cycles to remove glaze. Otherwise, if too much frost builds up and forms ice, it can block the unit's airflow entirely. This can cause all sorts of other problems. If this happens, you must immediately contact a professional like Five Star Home Services. This issue puts immense strain on your system. Not catching and correcting quickly can lead to a complete system breakdown.
ELECTRICAL FAILURE
Heat pumps use electricity to power compressors and fan motors. Because of this, electrical failure is a quite common cause of heat pump breakdowns. Sometimes, a heat pump's electrical components will need to be replaced if this happens. If so, you are going to need to hire a professional like Five Star Home Services who knows what they are doing.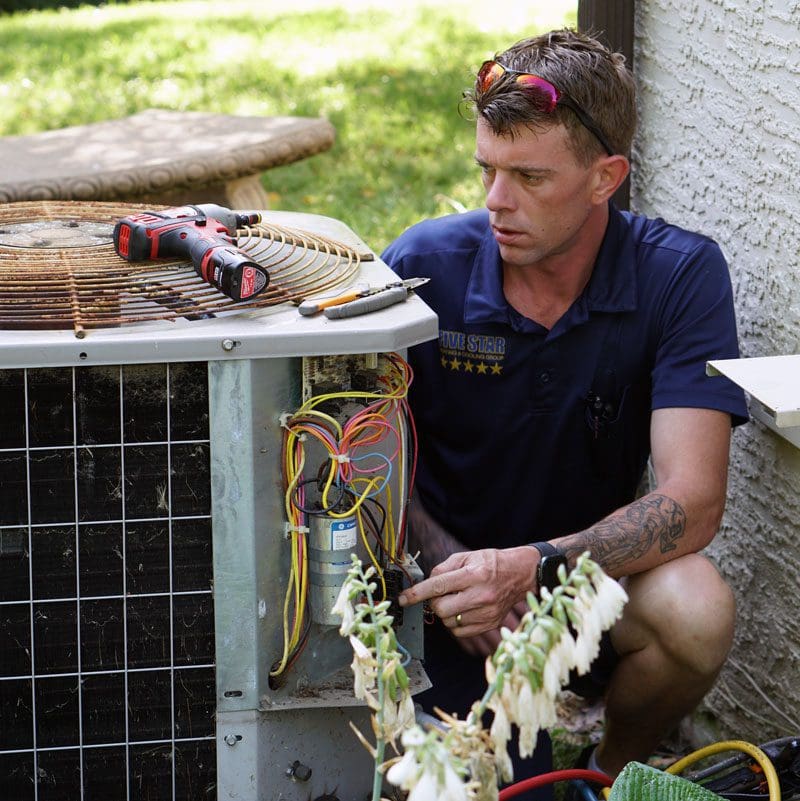 Heat Pump Repair
We Repair Heat Pumps in Cincinnati, OH, Columbus, OH & Dayton, OH!
We at Five Star Home Services offer a full range of heat pump services in Columbus, OH, Dayton, OH, Cincinnati, OH, Northern KY, and surrounding areas! Interested in installing a heat pump in your home? We'll set you up with a heat pump that works with your HVAC system. We can also repair or maintenance of any brand of heat pump, no matter the age. Does your heat pump pair with an electric furnace or air handler? We can repair those too! Experience the power of a dual-system heat pump by scheduling heat pump services with Five Star Home Services.
Frequently Asked Questions
"Why Is It Important To Change and Replace HVAC Filters?"
The air conditioning experts at ENERGY STAR® recommend changing your air filter every three months at a minimum. Dirt and debris in your filter can obstruct air flow, increasing the workload of your HVAC system. By replacing the filter regularly, you can reduce wear and tear on your air conditioner while allowing the free movement of air for improved indoor comfort.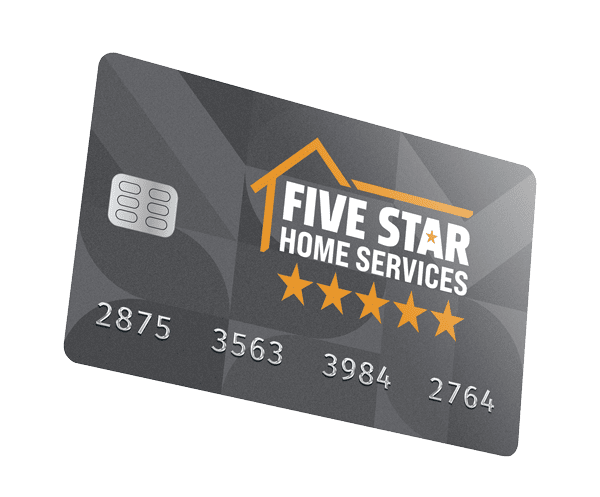 Financing Options
Buy Today, Pay Over Time
If you're in need of a new water heater, furnace, air conditioner, electrical panel, toilet, or something else, and you're wondering how you're going to come up with the money, we encourage you to check out our amazing in-house financing options. We can set up a monthly installment plan that works for your budget.
The Gold Standard in HVAC Services Since 1972
Five Star Home Services has been in the HVAC business since 1972, and there's not a furnace, heat pump, air conditioner, or air quality problem we can't resolve. We don't stop when your HVAC system does. As part of our commitment to customer satisfaction, we make ourselves available after-hours on weekends, and on holidays for emergency HVAC repairs. That's right, 24/7, 365! We can repair all brands and types of heating and cooling equipment, such as Amana, Trane, Rheem, Honeywell, Goodman, Comfortmaker, Carrier, and many more. Our team of local HVAC technicians is fast, friendly, and professional. We proudly serve all of Greater Columbus, Greater Dayton, Greater Cincinnati, and surrounding areas, and we're continuing to grow! Our services include AC repair, AC installation, furnace repair, furnace installation, heat pump repair, heat pump installation, zoned systems, preventative maintenance, heating, and cooling system tune-ups, air purification systems, humidifiers, dehumidifiers, air filtration, ventilation, ductwork installation, air duct modifications, furnace safety checks and much more.