CEILING FANS
Ceiling Fan Lighting, Repair & Installation in Columbus, OH, Dayton, OH, & Cincinnati, OH
Because it seems like a fairly simple electrical installation, ceiling fan installation is a project some homeowners try to do independently (DIY ceiling fan installation) without a licensed electrician. Despite the work's seeming simplicity, there are several reasons why a homeowner should call a state-licensed electrician for their ceiling fan installation. At Five Star Home Services, we provide affordable ceiling fan installation services, including upgrades like adding lights to your existing fans, at competitive prices with 100% customer satisfaction guaranteed.
At Five Star Home Services, our electricians know how to properly wire ceiling fans and install them with the utmost safety and product longevity in mind. Additionally, our ceiling fan installs experts also know how to install the right model of ceiling fan for your home with the utmost efficiency so that you don't have problems down the road. Not only is wiring essential to ensure that the fan runs properly, but it's also very important for your and your family's safety. Ceiling fan installations should always be handled by electrical experts who know what they're doing and can work with current electrical code. Having an expert like Five Star Home Services perform the work is essential because tampering with electrical wiring is dangerous, and someone inexperienced can make a mistake that can cause an electrical fire. If you need a ceiling fan replaced or a new one installed in your home, you should call us.

4 Benefits of Ceiling Fan Installation
With one quick call to Five Star Home Services, you can forget about getting up on a ladder with a heavy, awkward ceiling fan and dealing with electrical wiring. There's no need to risk a DIY job when you have a professional electrician on call right around the corner. We repair lighting, wiring, and more.
STYLE AND BEAUTY
These fans also come in various sizes and styles, with finishes that complement your unique interior style. Choose from traditional models with finishes ranging from wood to bronze, modern units in brushed metal, or even tropical fans with blades resembling banana leaves
ENERGY EFFICIENCY
One of the main benefits of ceiling fans is that they can significantly reduce energy costs. Ceiling fans can help create a draft, making the room feel more relaxed and allowing you to raise the thermostat. Energy Star® rated fans are guaranteed to be more efficient than conventional fans and light units, offering additional energy savings.
YEAR-ROUND VALUE
In addition to cooling off a room, ceiling fans circulate warm air during colder months. Some models ionize the air, improving your home's air quality. Remember that ceiling fans have a small switch on the motor that enables you to select which way the blades will spin. Counter-clockwise cools the space, and clockwise redirects warm air throughout the room from the ceiling without creating a draft. Learn more about ways to cool your home.
FUNCTIONAL ILLUMINATION
Ceiling fans with lights allow you to contribute to the layered lighting design of your room. Many ceiling fans also include dimming features, ideal for reading in bed at night. Consider choosing a light kit that coordinates with the fixtures and appliances in other areas of your home.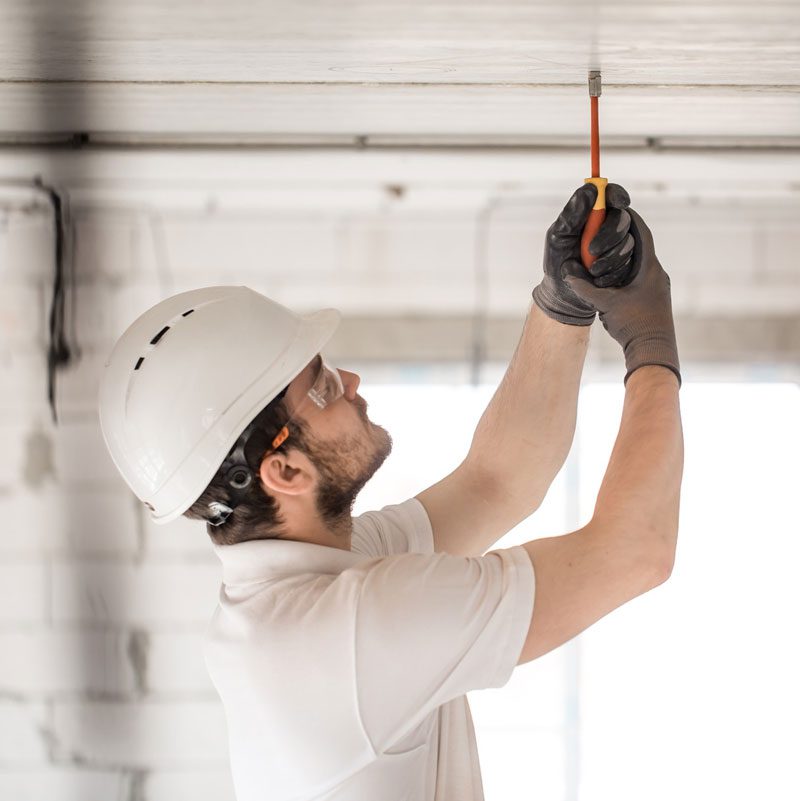 Electrical Services
Ohio Ceiling Fan Installation in Columbus, Dayton & Cincinnati
A ceiling fan installed by the local expert electricians at Five Star Home Services helps with energy savings and comfort for years to come. With one easy phone call, you can forget about getting up on that ladder with that heavy, awkward fan and dealing with all that dangerous electrical wiring to save a few dollars. There's no need to risk a Do-It-Yourself job when you have an expert electrician on call around the corner. We are open 365 days a year with 24-hour emergency customer support.
Leave your ceiling fan install job to the trained professional ceiling fan experts at Five Star Home Services and get on with your life without all the stress and hassle of hiring anyone less than the best. For expert ceiling fan installation, choose Five Star. We're ready to help with prompt residential electrical services you can depend on. Set up an appointment online, or call us at (833) 405-8009 today!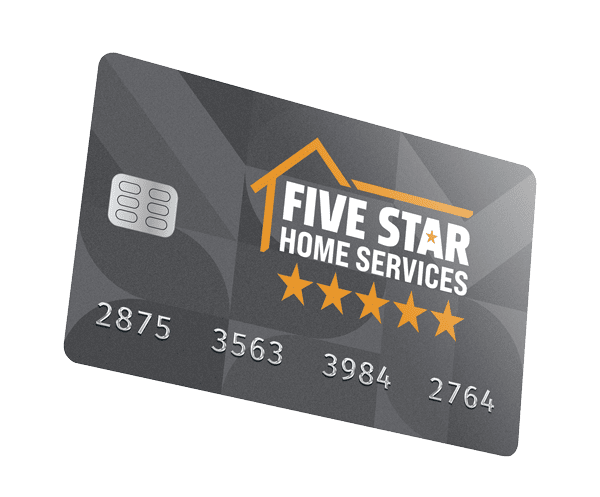 Financing Options
Buy Today, Pay Over Time
If you're in need of a new water heater, furnace, air conditioner, electrical panel, toilet, or something else, and you're wondering how you're going to come up with the money, we encourage you to check out our amazing in-house financing options. We can set up a monthly installment plan that works for your budget.
The Gold Standard in Electrical Services Since 1972
Are you looking for a local electrician or an "electrician near me" in Greater Columbus, Cincinnati, Dayton, or surrounding areas? If so, you're in luck. Five Star Home Services is your local residential electrician. We are your "electric company near me" throughout the three major metro areas we service. Whether you need ceiling fan installation, surge protection, pool light repair, ceiling fan installation cost, a panel upgrade, fire alarm installation, 24-hour electrician, outside lighting fixtures, outside lighting fixtures, led outside lighting, electrical outlet repair, fire alarm installation companies, home fire alarm installation, emergency electrician, outlet repair, surge protection outlet, an electric panel upgrade, outside lighting controls, surge protection, or a 24-hour emergency electrician, we can help. We offer all types of residential and commercial electrical installation services.