A/C Repair
Air Conditioning Repair & Cooling System Repair Services in Columbus, Dayton & Cincinnati
If you're online looking for an "air conditioning expert near me" or an "A/C repair person near me" and you live in Greater Columbus, Dayton, or Cincinnati, you're in the right place. Five Star Home Services is the company to call for all types of A/C service work and expert A/C services at affordable prices. Our NATE-certified AC specialists are available 24 hours a day throughout the summer, including holidays. Anytime you see a Five Star Home Services technician in the field working in a customer's home, you're looking at an HVAC expert of the highest caliber. We always guarantee our amazing customers are treated with the utmost courtesy and respect. When they work on air conditioners, heat pumps, or heating systems, they leave no stone unturned.
Whether you're looking for an HVAC technician to work on your home cooling system, replace a residential air conditioner or perform A/C maintenance, you are in the right place. We can refill refrigerant, fix faulty thermostats, replace air filters, check your compressor and evaporator coils, and much more.
Save 10% on a Service Call
10%

off
With any completed repair
*Not valid with any other offers. Must be presented at time of service. 

4 Common Air Conditioning Repairs
If your air-conditioning just quit and it's hot outside, you need help! In most cases, you need a repair professional like Five Star Home Services. However, below, we can help you narrow down the cause and, in some cases, fix it yourself.
BAD A/C CAPACITOR
If your thermostat is working properly and you have air blowing through your vents, but it's not cold, we suggest finding your outside condenser to see if it's working. There are two components there. They include the compressor and the fan motor. With a trained ear, you should be able to hear both of them. The fan should make a whirring noise. The compressor should make a deep buzzing noise like a refrigerator. If you hold a hand above the fan, it should feel warmer than the outside air. If there's a humming or buzzing coming from the outside of the unit and nothing is turning or blowing, you probably have a bad capacitor. Capacitors are what help the electric motor in your air-conditioner start up and run.
CLOGGED CONDENSATE DRAIN LINE
While your home is being cooled, your AC is also dehumidifying it. The process of cooling the air removes moisture at the same time. That moisture is drained to the outside of your house by a PVC drain line. Over time algae and other things can restrict and clog that drain line until it no longer drains like you need it to. If this happens, it can start to back up inside your unit and eventually fill up a secondary drain pan. These secondary drain pans have a safety switch to shut down the system when they are filled. Additionally, the current code requires an "SS2" safety switch which is designed to shut off before any water overflows into the safety pan. Once this safety switch is triggered, several things can happen, depending on how your air conditioner is wired.
LOW AC REFRIGERANT LEVELS
The refrigerant you're using in your air-conditioners is usually R22 (Freon) or 410A (Puron). This is what transfers heat to make your home cool. If the refrigerant levels are too low, the system will struggle to keep up. It can also freeze and ultimately fail to provide cool air to cool your house efficiently, if at all. Most of the time, low refrigerant levels are caused by leaks in the line. Because of this, symptoms are more obvious if you know what to look for. You might also notice your air-conditioner running longer and longer while the temperature becomes harder and harder to achieve. Restoring refrigerant levels to bring your system back to working properly is easy. The hard part is finding the reason your unit is low on refrigerant to begin with. Even though it might be a slow leak, there is refrigerant escaping somehow. Typically, this occurs in the evaporator coil. If the leak is significant, it may be advisable to either replace the entire system (if it's older) or replace the evaporator coil. If it's a leak in the refrigerant line, you're in luck because we can replace these lines without it costing too much.
DEFECTIVE COMPRESSOR OR BROKEN CONDENSER FAN MOTOR
Both of these parts are located in the outside "condensing unit" of your system. With your A/C system, you should hear both running. If you don't hear both, or if you have a tripped breaker, or if you hear screeching or grinding, it is possible that either your condenser fan motor or compressor is bad. These motors can fail in three ways typically. In any case, you should give us a call for expert repairs.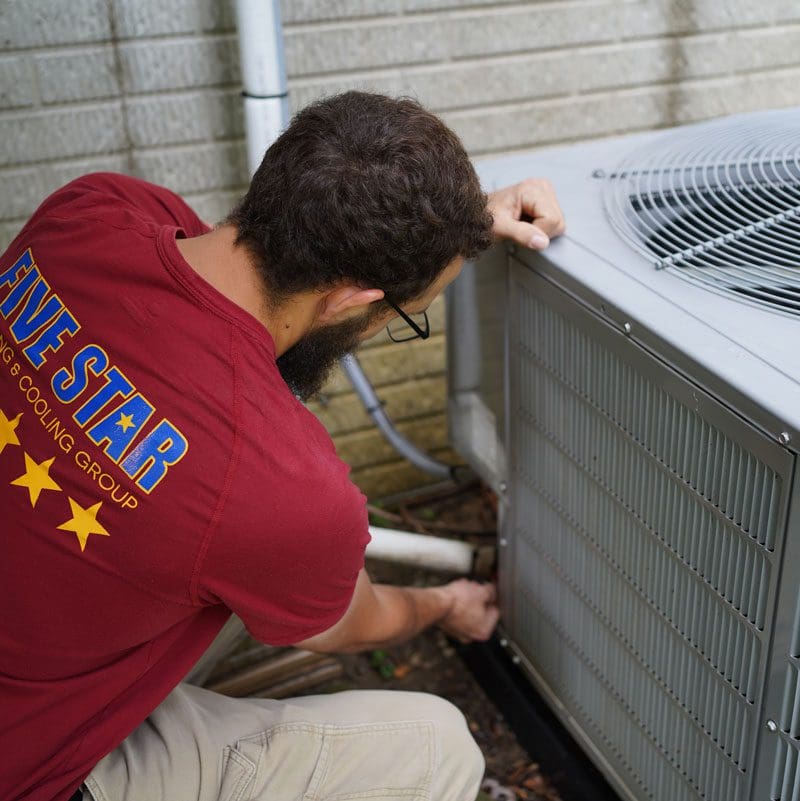 Air Conditioner Repair
We Fix Air Conditioners in Columbus, Dayton & Cincinnati, Ohio!
Is your air conditioner making strange noises, or is it only blowing warm air? Are you thinking about purchasing a new central air conditioner? Or, are you looking to keep your current air conditioner running optimally for years to come with routine maintenance? We at Five Star Home Services offer all types of air conditioning products and services at competitive prices with convenient financing options available in-house. Our team of local HVAC technicians is fast, friendly, and professional, and our rates are affordable. We proudly serve all of Greater Columbus, Greater Dayton, Greater Cincinnati, and surrounding areas. If your home needs cooling, give us a call.
We perform emergency repair calls after our normal business hours, when other companies are closed. Our friendly technicians are ready to show up at your home in record time, make a fast and accurate diagnosis and, with your approval, perform an emergency repair on the spot, getting crisp, cool air back in your home in no time. We guarantee 100% Satisfaction!
Frequently Asked Questions
"Why Is It Important To Change and Replace HVAC Filters?"
The air conditioning experts at ENERGY STAR® recommend changing your air filter every three months at a minimum. Dirt and debris in your filter can obstruct air flow, increasing the workload of your HVAC system. By replacing the filter regularly, you can reduce wear and tear on your air conditioner while allowing the free movement of air for improved indoor comfort.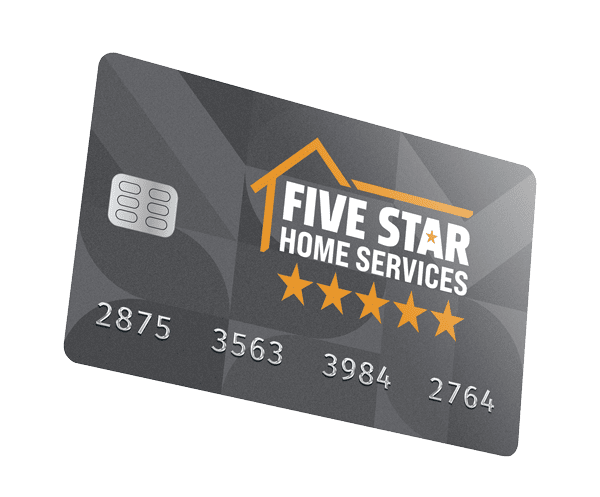 Financing Options
Buy Today, Pay Over Time
If you're in need of a new water heater, furnace, air conditioner, electrical panel, toilet, or something else, and you're wondering how you're going to come up with the money, we encourage you to check out our amazing in-house financing options. We can set up a monthly installment plan that works for your budget.
The Gold Standard in HVAC Services Since 1972
Five Star Home Services has been in the HVAC business since 1972, and there's not a furnace, heat pump, air conditioner, or air quality problem we can't resolve. We don't stop when your HVAC system does. As part of our commitment to customer satisfaction, we make ourselves available after-hours on weekends, and on holidays for emergency HVAC repairs. That's right, 24/7, 365! We can repair all brands and types of heating and cooling equipment, such as Amana, Trane, Rheem, Honeywell, Goodman, Comfortmaker, Carrier, and many more. Our team of local HVAC technicians is fast, friendly, and professional. We proudly serve all of Greater Columbus, Greater Dayton, Greater Cincinnati, and surrounding areas, and we're continuing to grow! Our services include AC repair, AC installation, furnace repair, furnace installation, heat pump repair, heat pump installation, zoned systems, preventative maintenance, heating, and cooling system tune-ups, air purification systems, humidifiers, dehumidifiers, air filtration, ventilation, ductwork installation, air duct modifications, furnace safety checks and much more.