Exterior Lighting
Exterior & Landscape Lighting Installation in Columbus, OH, Dayton, OH, & Cincinnati, OH
From motion detectors and spotlights to flood lights, garden lights, and driveway lighting, Five Star Home Services offers a wide selection of exterior and landscape lighting options for your home. Exterior lighting can drastically improve the beauty of your home and the security of the property. Because outdoor lighting can transform your home and make it far more beautiful and aesthetic, we encourage homeowners to talk with one of our outdoor lighting experts to see how brightening your paths, yards, gardens, and other areas can create a warm and beautiful oasis of light.
We offer up/downlights, string lights, garden lights, bollard lights, pool lighting, landscape lighting, pond lighting, and more throughout Greater Columbus, Cincinnati, Dayton, and surrounding areas. If you're online looking for an "outdoor lighting company near me" or an "exterior light company near me," or an "outdoor lighting installation expert near me," you're in the right place. Five Star Home Services offers all types of exterior and outdoor lighting solutions.

4 Types of Exterior Lighting

Learn about the different types of outdoor lighting from Five Star below:
LANDSCAPE LIGHTS
These lights use fixtures like spotlights, lanterns, sconces, and globes to create an aesthetically pleasing lighting design outdoors that highlights building and landscaping features at night. Landscape lights also improve safety and security. They are used in parks, office building terraces, public spaces and pathways, exits and entrances, walkways, and driveways. They are common near architectural, signage, or landscaping features
MOTION SENSOR LIGHTS
All types of outdoor light can use motion sensors or photo controls to manage to light. The motion sensors cause the lights to turn on when something passes by the infrared beam. Then, the lighting kicks on for a specified time. This is a great safety device and security feature. However, it's also a great energy saver. Typically, the lights stay on for a few minutes at most at a time.
A photocontrol or photocell acts more like a timer. This is most commonly found on lights in parking lots. The lights come on at dusk or during certain levels of darkness. They turn off in the morning as the sun rises. Photocells are also used for a lot of different outdoor lighting applications. Depending on how long you want lights to stay on after the sensor detects movement, built-in timers can be adjusted according to your needs.
SPOTLIGHTS
This type of outdoor lighting provides focused light that emphasizes a specific feature for safety, path lighting, or aesthetics. Spotlights enable homeowners to highlight specific areas without casting wide beams of light in any other unwanted direction. Spotlights are used primarily around signage, entryways, near architecture, for landscaping, and around pools, fountains, ponds, and waterfalls. They are popular way finders for pathways and walkways.
FLOODLIGHTS
This type of outdoor lighting has an adjustable-angle beam that can be rotated to focus on a specific area. Floodlights can be installed inside the ground or they can be mounted on outdoor structures, like poles or walls. There are LED floodlights that last longer and use less energy than floodlights that use fluorescent lamps or halogen. Usually, outdoor floodlights are used to aim light at a fixed item like a flagpole or monument. They are also used to illuminate large areas like parks, sports fields, playgrounds and parking lots. Floodlights improve safety by making it easier for people to see hazards. They prevent property damage, crime, and vandalism. One study showed how outdoor lighting reduced crime by nearly 40% in urban areas. Floodlights are popular in driveways and walkways, outdoor pools, patios, pavilions, performance venues, billboards, signs and more.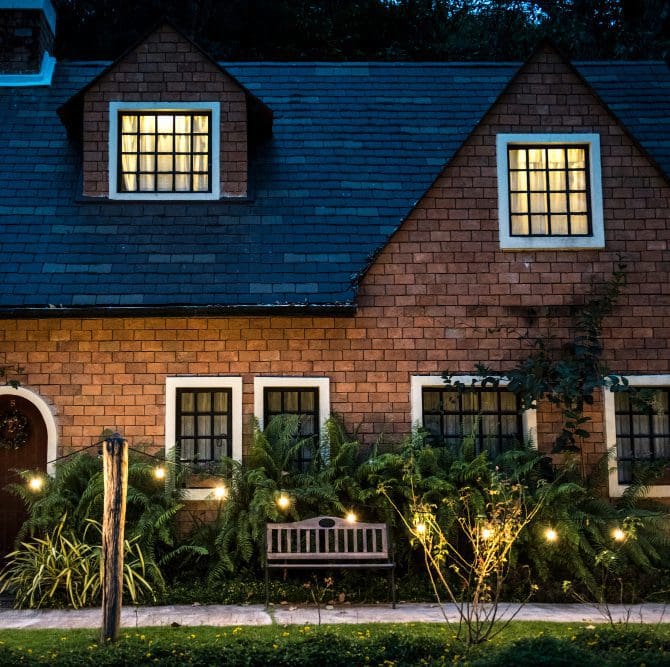 Electrical Services
Light Up Your Home with Five Star Home Services
At Five Star Home Services, we use our training in lighting to provide gorgeous outdoor lighting solutions and systems for our customers across Central & Southwest Ohio. Landscape and other exterior lighting systems can expand your options for enjoying your backyard, and dimmers offer almost limitless lighting schemes in whatever room you want. Look no further if you are looking for the right electrical contractor to light up your property!
Our team is proud to be a part of the Columbus, Dayton, and Cincinnati, OH communities. We are proud to provide our top-of-line landscape lighting fixtures and world-class service to every customer. Our custom-designed, low voltage, and retrofit LED outdoor lighting systems are tailored to provide the best combination of architectural and landscape lighting for your business or home. Our LED modules and fixtures offer superior efficiency and reliability for any home, building, size, and location. Our exterior services include Outdoor wall lights, Motion-activated lights, Deck motion lights, String lights, Outdoor lamps, LED outdoor lights, Energy-efficient lights, Pool lights, and more.
Outdoor lighting does a lot more than merely transforming the look of your property. Outdoor lighting enables you to enjoy family time and protect what needs to be protected. If you're looking to heighten home security, boost curb appeal, and ensure safety with an outdoor lighting upgrade in Greater Columbus, Cincinnati, Dayton, or surrounding areas, call us today at (833) 405-8009.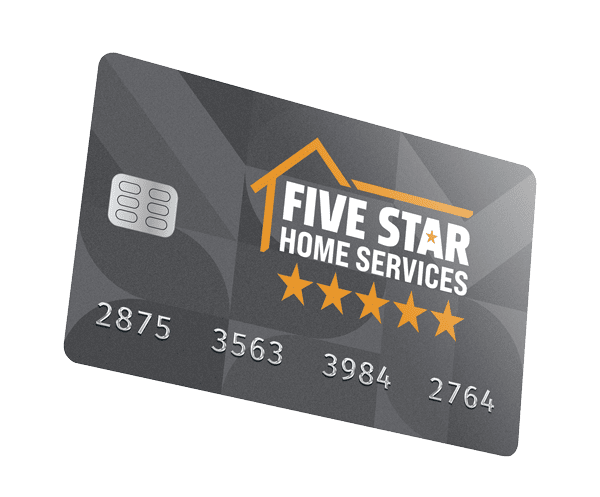 Financing Options
Buy Today, Pay Over Time
If you're in need of a new water heater, furnace, air conditioner, electrical panel, toilet, or something else, and you're wondering how you're going to come up with the money, we encourage you to check out our amazing in-house financing options. We can set up a monthly installment plan that works for your budget.
The Gold Standard in Electrical Services Since 1972
Are you looking for a local electrician or an "electrician near me" in Greater Columbus, Cincinnati, Dayton, or surrounding areas? If so, you're in luck. Five Star Home Services is your local residential electrician. We are your "electric company near me" throughout the three major metro areas we service. Whether you need ceiling fan installation, surge protection, pool light repair, ceiling fan installation cost, a panel upgrade, fire alarm installation, 24-hour electrician, outside lighting fixtures, outside lighting fixtures, led outside lighting, electrical outlet repair, fire alarm installation companies, home fire alarm installation, emergency electrician, outlet repair, surge protection outlet, an electric panel upgrade, outside lighting controls, surge protection, or a 24-hour emergency electrician, we can help. We offer all types of residential and commercial electrical installation services.