Indoor Air Quality Services in Columbus, OH, Dayton, OH & Cincinnati, OH
Because your Indoor Air Quality is important to us, we carry a wide range of air quality products and offer all kinds of services to help you keep the air you breathe free of airborne pollutants such as dust, mold, gases, bacteria, viruses, particles, germs and other forms of indoor air pollution.
Indoor Air Quality
The Importance of Indoor Air Quality for Ohio Homeowners
In our modern world, health experts are now saying Indoor Air Quality is a much more severe issue than anyone previously thought. As a serious health issue, IAQ has profound implications. Research shows poor air quality, or indoor air pollution, harms our health and well-being. Knowing this, more and more Ohio residents are taking the necessary steps to have their indoor air quality tested, whether at home or work, to ensure they're breathing only the freshest, cleanest, healthiest air possible while also optimizing indoor air comfort levels.
If you're an Ohio homeowner and your indoor air quality is lacking or if you suspect there's an issue with your indoor air quality, whether indoor air pollution, strange smells or humidity, you should call Five Star Home Services in the Greater Columbus area, Greater Dayton area, and Greater Cincinnati areas as soon as possible to discuss ways to improve it. Check out our online deals and financing options today!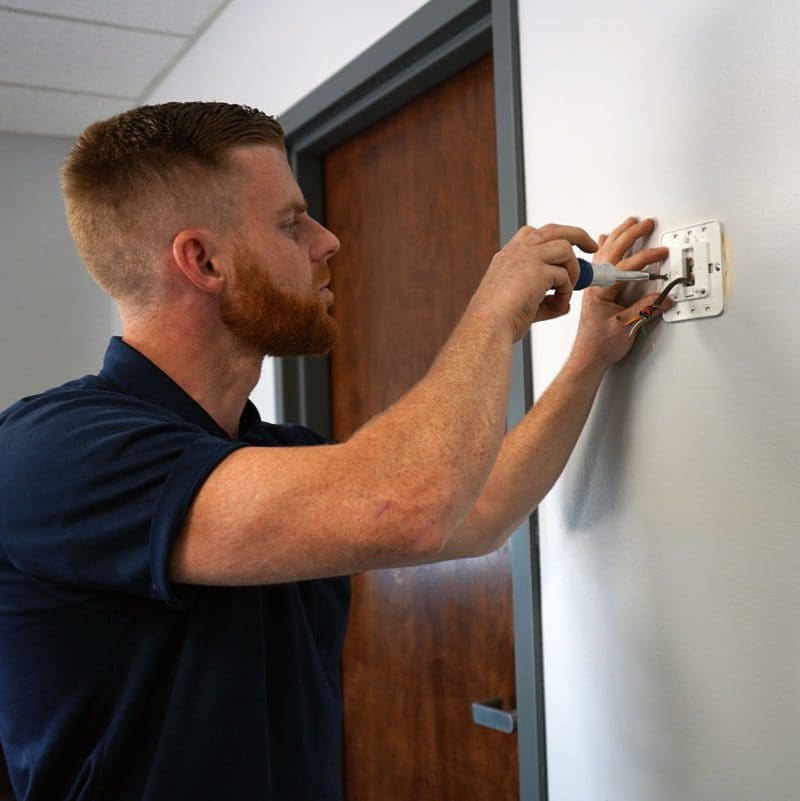 Indoor Air Quality
$75

off
Indoor Air Quality
Product
*Not valid with any other offer or on previous sales. Must be presented at time of service. Some restrictions may apply, call for details.
Learn More
Get a Free Quote
Improve Your Air Quality Today!
We put "care" in air care for all-around indoor convenience and air quality. So you are in the right place if you need an "indoor air quality expert near me" or an "air care company near me" and live in Dayton, Cincinnati, or Columbus. Because your home's heating and air conditioning aren't the only factors you should consider when it comes to the air in your home, we offer a wide range of products and services you won't find anywhere else. The products include air filters, thermostat upgrades, whole-home humidifiers, dehumidifiers, and more.
If you have poor ventilation or inadequate air filtration, you could have a wide range of indoor air pollution and particles floating inside your home and even being recycled. So indoor Air Quality is essential, and homeowners can't afford to ignore it. Get a free quote today!

4 Ways to Improve Indoor Air Quality for Ohio Homeowners
You don't have to adapt your home's air quality – you can improve it. Below, we address four ways your HVAC can improve indoor air quality.
Increase Air Circulation
Your blower motor is responsible for circulating conditioned air throughout your home year-round. When you set your fan to "auto," your blower can only circulate air when your air conditioner, heat pump, furnace, or air handler is running. However, if you set your fan to "on," your blower can run even when your HVAC system isn't heating or cooling your home. This means that the air in your home can circulate more frequently. This can help out temperatures throughout your home.
Control Humidity Levels
Humid and moist conditions breed mold and mildew, triggering respiratory issues like allergies and asthma. Depending on your location, the hot summer months can be incredibly sticky. Reduce the air's moisture and curb the growth of irritating molds with a few well-placed dehumidifiers. There are a variety of humidifier options that will help maintain consistent humidity levels and create comfortable living conditions in your home.
Buy indoor plants to freshen the air.
Plants are nature's natural air filters. Buying a few indoor plants can do wonders to improve the indoor air quality in your home while enhancing your home décor. Small plants like ferns and lilies (which bloom indoors) and more giant palm trees are the best options to pull contaminants out of the air.
Change your AC filter
Air conditioning systems always work to give your home that perfect temperature all year round. But while cycling through all that air, they filter out some common air pollutants. Eventually, their air filters fill up, and stop doing their job. Not only does that cause trouble for indoor air quality, but it also wears down your AC system, which can lead to costly repairs. So, be sure to change your AC filters regularly or get an air conditioning service plan which usually includes a filter change – especially if you are allergy-prone or live in a metropolitan area with high pollution levels.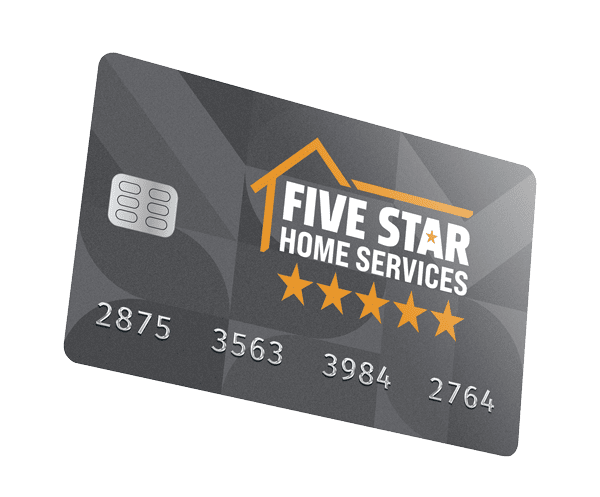 Financing Options
Buy Today, Pay Over Time
If you're in need of a new water heater, furnace, air conditioner, electrical panel, toilet, or something else, and you're wondering how you're going to come up with the money, we encourage you to check out our amazing in-house financing options. We can set up a monthly installment plan that works for your budget.
The Gold Standard in HVAC Services Since 1972
Five Star Home Services has been in the HVAC business since 1972, and there's not a furnace, heat pump, air conditioner, ductless-mini split, or air quality problem we can't resolve. We don't stop when your HVAC system does. As part of our commitment to customer satisfaction, we make ourselves available after-hours on weekends, and on holidays for emergency HVAC repairs. That's right, 24/7, 365! We can repair all brands and types of heating and cooling equipment, such as Trane, Rheem, Honeywell, Goodman, Comfortmaker, Carrier, and many more. Our team of local HVAC technicians is fast, friendly, and professional. We proudly serve all of Greater Columbus, Greater Dayton, Greater Cincinnati, and surrounding areas, and we're continuing to grow! Our services include AC repair, AC installation, furnace repair, furnace installation, ductless systems, heat pump repair, heat pump installation, zoned systems, preventative maintenance, heating, and cooling system tune-ups, air purification systems, humidifiers, dehumidifiers, air filtration, ventilation, ductwork installation, air duct modifications, furnace safety checks and much more.