AIR PURIFIERS
Ohio iWave-R Air Cleaner & Residential Air Purifier Installation
The events of the recent global pandemic have changed the world as we know it and brought new awareness to cleanliness and hygiene. Throughout all of this, it's also brought a new perspective to indoor air quality, as some of our products help remove airborne bacteria, viruses, and other organic and biological compounds.
The iWave-R® is a highly innovative device that can be installed inside the air ducts of any home heating or cooling system. We also carry other air purification products such as the Reme Halo®. No matter your air purification goals, we at Five Star Home Services have a solution for your so that the members of your household can breathe healthier, cleaner air. We offer free estimates on our air quality installation services!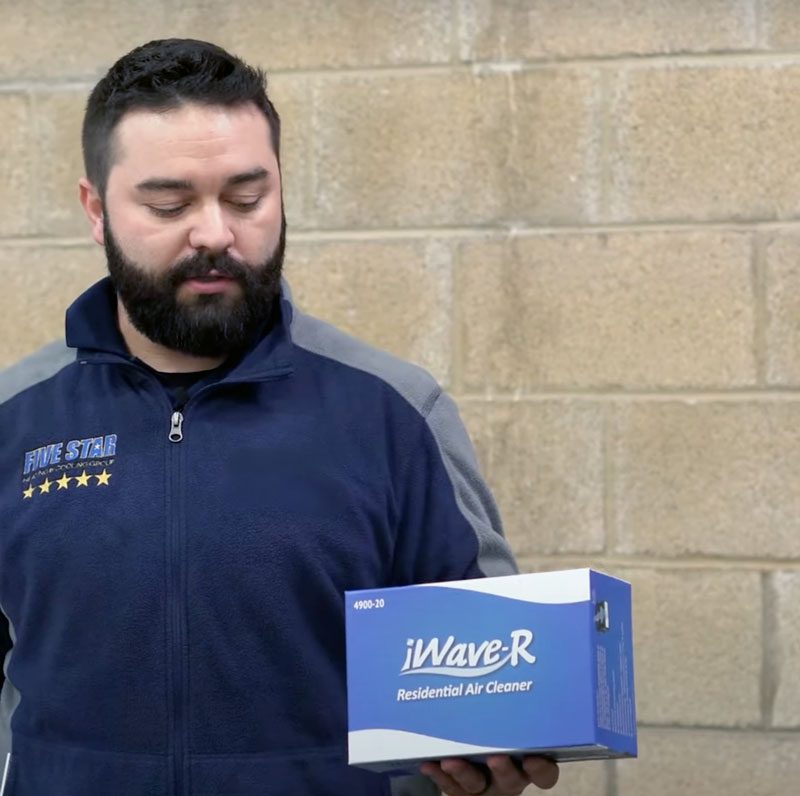 4 Benefits of a Residential Air Cleaner
Air purifiers with HEPA technology filters are said to remove up to 99.7 percent of the airborne particulate matter (PM) circulating indoors. Removing these pollutants can lead to several immediate and long-term health benefits. We cover some of these benefits in the following.
RELIEVES SYMPTOMS OF ASTHMA
According to the CDC, About one in 12 people have asthma issues. People living with asthma have inflamed bronchial tubes. Because of this, indoor pollutants such as pollen, pet dander, or dust mites can irritate their airways, causing trouble breathing. Although vacuuming your carpet, bed, and floors can eliminate these pollutants, some of them remain suspended in the air. Breathing in the polluted air increases the chances of asthma. In any case, adding an air cleaner will improve your air and prevent breathing problems. For people with asthma, they are essential.
NEUTRALIZES UNPLEASANT ODORS
Some chemicals, like gasoline, benzene, and formaldehyde, are known to break down at room temperature and create an off-gassing odor. These chemicals are known as Volatile Organic Compounds (or VOCs). They are commonly found in paints, aerosol sprays, air fresheners, and upholstered furniture. The odor from VOCs can cause nausea, and breathlessness, and even affect your cognitive functions. The best way to prevent the spread of VOCs is the use of an air purifier or air cleaner.
IMPROVES SLEEP
Indoor allergens such as bacteria, dust, dirt, fungi, and dust mites can trigger allergies or cause hay fever. Hay fever can cause you to have a runny nose that lasts up to several weeks. Common symptoms of allergies include frequent coughing, sneezing, nose congestion, watery eyes, or sore throats. These symptoms can disrupt your sleep. If you're lacking adequate sleep, it can cause daytime drowsiness and affect your productivity the following morning. It's best to use a HEPA air purifier to avoid these types of sleep disruptions because it will filter out most of the allergens from your home and room. Cleaner air and better indoor air quality give you a better night's sleep.
ELIMINATES HARMFUL CHEMICALS
Common household cleaners have all sorts of toxic chemicals, like ammonia, chlorine, and phthalates. Exposure to these chemicals in small quantities can be harmless. However, routine exposure can cause serious health issues and lead to cancer, cardiovascular, and neurological disorders. An air cleaner or air purifier with activated carbon can cleanse these chemicals. This helps you prevent the risk of several health problems.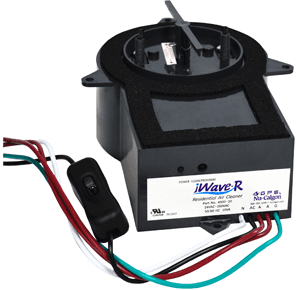 Indoor Air Quality Services
Residential Air Cleaners in Columbus, Dayton & Cincinnati, Ohio
When the iWave-R® ions come into contact with airborne particles that are living and organic, it is designed to kill them. This includes various things like bacteria, mold, organic particles, viruses (including COVID-19, many experts assert), pathogens, and more. They do this by removing the hydrogen molecules. Without these molecules, the pathogens lose their source of energy and die.
Because the ions also attach to allergens such as pollen and other particles, it makes them band together in larger clusters so they're large enough to get trapped in your ventilation system's air filter. The success of this process has been independently proven through laboratory testing, which confirmed it to be both safe and effective. If you're online looking for "iWave-R installation near me" or an "air purifier near me" and live in Greater Cincinnati, Greater Dayton, or Greater Columbus, you're in the right place. Five Star Home Services sells and installs air cleaners at competitive prices throughout the three major metro areas we service.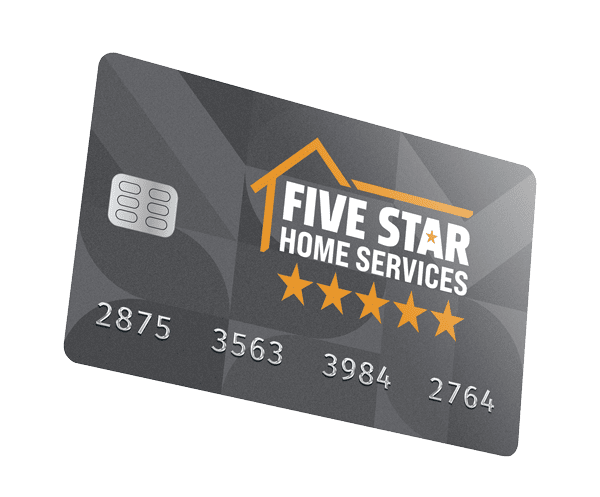 Financing Options
Buy Today, Pay Over Time
If you're in need of a new water heater, furnace, air conditioner, electrical panel, toilet, or something else, and you're wondering how you're going to come up with the money, we encourage you to check out our amazing in-house financing options. We can set up a monthly installment plan that works for your budget.
The Gold Standard in HVAC Services Since 1972
Five Star Home Services has been in the HVAC business since 1972, and there's not a furnace, heat pump, air conditioner, or air quality problem we can't resolve. We don't stop when your HVAC system does. As part of our commitment to customer satisfaction, we make ourselves available after-hours on weekends, and on holidays for emergency HVAC repairs. That's right, 24/7, 365! We can repair all brands and types of heating and cooling equipment, such as Amana, Trane, Rheem, Honeywell, Goodman, Comfortmaker, Carrier, and many more. Our team of local HVAC technicians is fast, friendly, and professional. We proudly serve all of Greater Columbus, Greater Dayton, Greater Cincinnati, and surrounding areas, and we're continuing to grow! Our services include AC repair, AC installation, furnace repair, furnace installation, heat pump repair, heat pump installation, zoned systems, preventative maintenance, heating, and cooling system tune-ups, air purification systems, humidifiers, dehumidifiers, air filtration, ventilation, ductwork installation, air duct modifications, furnace safety checks and much more.