Lighting Installation, Repair & Replacement in Columbus, Dayton & Cincinnati
Do you need help with the lighting in your home? We suggest letting our residential electricians at Five Star Home Services brighten up your home and your life with our affordable lighting services. As one of the top-rated local electricians in Greater Columbus, Cincinnati, Dayton, and surrounding areas, we offer expert lighting solutions you can count on at prices you can afford.
Lighting Services
Choose Five Star for Residential Lighting Jobs in Cincinnati, Dayton & Columbus, Ohio
If you're online looking for a "lighting expert near me" or a "local electrical lighting company near me" and you live in Greater Cincinnati, Greater Columbus, Greater Dayton Ohio, Northern Kentucky, or surrounding areas, you're in the right place.
We at Five Star Home Services can help you with any and all of your lighting needs in one place! Our state-licensed electricians can assist with putting the final touches on your home to make the place shine! We also offer specialty lighting, landscape lighting, recessed lighting, indoor lighting, outdoor lighting and more! Give us a call today and let us take charge of all your lighting needs! Our residential lighting experts can show you all your options and show you solutions that are long-term, affordable and sure to brighten up your home and your life! We'll work with you to design a custom lighting plan for you current home or renovation. Get a free estimate today!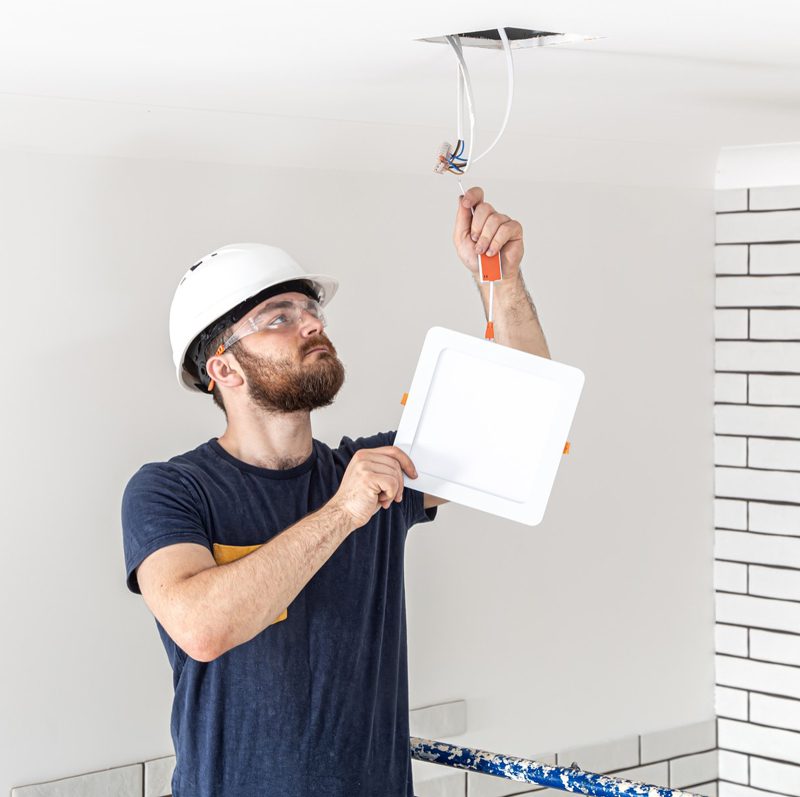 Lighting Installation
Residential Lighting Installation You Can Trust
Five Star Home Services stands out as a leading residential electrical contractor in Greater Columbus, Dayton, Cincinnati, and surrounding areas because of our level of responsiveness to our customers and our ongoing commitment to quality and safety. As a family-owned team of residential electricians throughout the state, we understand how essential it is for us to help our customers protect the investment they make in their homes. We do everything possible to make sure our electrical installations and residential electrical upgrades are up to code, safe, efficient, and of the highest quality possible.

4 Common Residential Lighting Repairs

Your home has a fully-functional electrical system — whether it's your outdoor LED lights or your computer networks and appliances. Because of this, on a long enough timeline, every homeowner is going to encounter some sort of an electric problem requiring immediate attention. Some of the most common problems with lighting include:
POOR BATHROOM LIGHTING
Using a vanity light to light the entire bathroom can leave you wanting light. Although this vanity is essential for ensuring the whole bathroom is fully functional for grooming, counting on a single fixture to light the entire space can leave your bathroom feeling dark and dingy, even if it's a smaller bathroom. The solution is to use multiple lights. Adding a few recessed lights or even a flush mount or semi-flush mount fixture will give you plenty of ambient lighting for the rest of the space and keep your vanity bright.
INAPPROPRIATE PLACEMENT
Not everything functional and beautiful can be placed anywhere in your home. Sometimes we overlook the demands of specific places and apply the same blend of lights everywhere else in the house. Remember that every room has different needs, uses, and demands in a dwelling, and they're designed to serve you differently. The things you can place in a bedroom might not be appropriate for the kitchen or bathroom. Think about the requirements of the specific place and shop accordingly
ISSUES WITH ELECTRICAL WIRING
Sparking or fused bulbs are the problems commonly encountered by the majority of people. These types of issues can arise with poor-quality bulbs. If this happens repeatedly, it means there is an issue with your electrical wiring, and you need to get it repaired at the earliest before it leads to more significant issues.
NEED FOR UNDERCABINET LIGHTING
Even well-executed ambient light can leave kitchen work surfaces too dark for things like cooking. It can prevent any light coming in from above or behind you and keep it away from where you need it. The solution is to install it under cabinet lighting. This is essential for a well-lit kitchen. Focus on functional areas where task lighting is needed. You can also line the cabinets with undercabinet lighting that serves as accent lighting while your kitchen isn't being used. A wide range of under-cabinet lighting styles is available, from basic puck lights to fully integrated kitchen lighting systems with extras like additional outlets or Bluetooth speakers.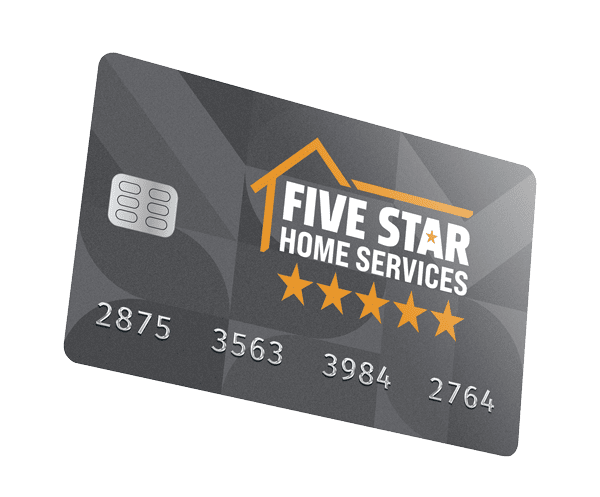 Financing Options
Buy Today, Pay Over Time
If you're in need of a new water heater, furnace, air conditioner, electrical panel, toilet, or something else, and you're wondering how you're going to come up with the money, we encourage you to check out our amazing in-house financing options. We can set up a monthly installment plan that works for your budget.
The Gold Standard in Electrical Services Since 1972
Are you looking for a local electrician or an "electrician near me" in Greater Columbus, Cincinnati, Dayton, or surrounding areas? If so, you're in luck. Five Star Home Services is your local residential electrician. We are your "electric company near me" throughout the three major metro areas we service. Whether you need ceiling fan installation, surge protection, pool light repair, ceiling fan installation cost, a panel upgrade, fire alarm installation, 24-hour electrician, outside lighting fixtures, outside lighting fixtures, led outside lighting, electrical outlet repair, fire alarm installation companies, home fire alarm installation, emergency electrician, outlet repair, surge protection outlet, an electric panel upgrade, outside lighting controls, surge protection, or a 24-hour emergency electrician, we can help. We offer all types of residential and commercial electrical installation services.