Heat Pump Services
Heat Pump Maintenance in Greater Dayton, Greater Columbus & Greater Cincinnati, OH
Season after season, year after year, our heat pumps work hard outside our homes regardless of the weather to give us comfort inside. When they're working, it's very lovely. However, because these year-round HVAC units do so much for us, we must also take care of them. To guarantee your heat pump performs at its best for years to come, save you money on heating and cooling costs, and prolong the equipment's lifespan, there's simply no substitute for professional heat pump maintenance.
Preventative maintenance on our heat pumps enables these heating and cooling units to perform smoothly, in a far more efficient manner, for as long as possible. Seasonal maintenance also reduces, if not eliminates, the need for emergency repair work. No matter what kind of heat pump you have, regular seasonal maintenance will enable you to enjoy a far more comfortable — and far less expensive — heat pump experience. You deserve nothing less than the best from your heat pump. If you're online looking for a "heat pump maintenance expert near me" or "heat pump services near me," and you live in Greater Dayton, Greater Columbus, or Greater Cincinnati, you're in the right place. Five Star Home Services offers affordable heat pump maintenance services throughout the three major metropolitan areas.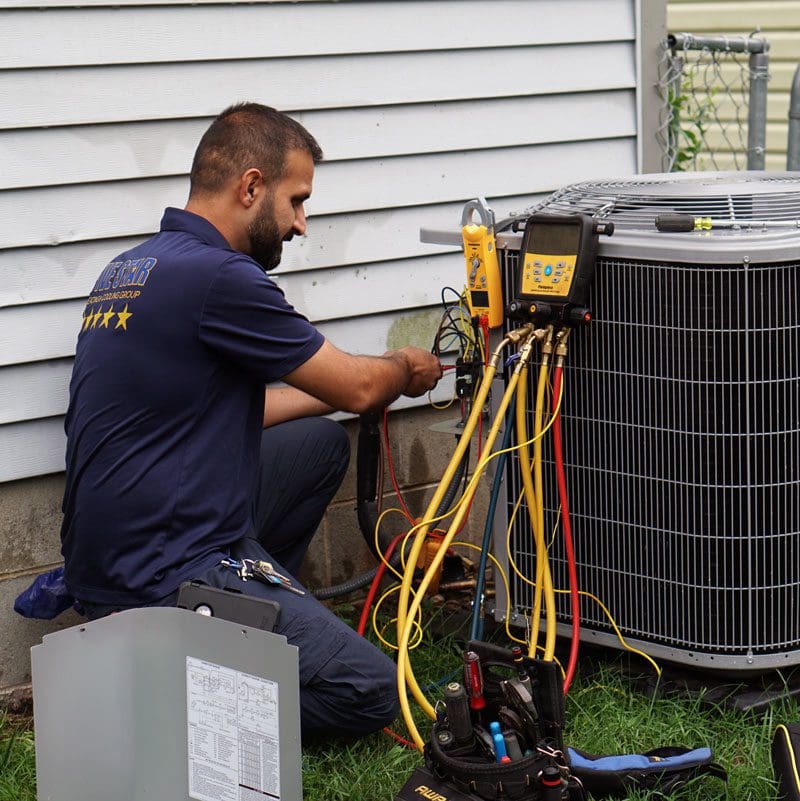 4 Benefits of Heat Pump Maintenance
When it comes to the HVAC equipment in your home, there's absolutely no substitute for professional maintenance. In addition to making your expensive equipment last longer and run better, heat pump tune-ups have a variety of benefits.
AVOID EXPENSIVE REPAIRS
Heat pump repairs are something homeowners all want to avoid. Professional maintenance is the key to helping you do so. During a heat pump maintenance visit, our heat pump technician will inspect, calibrate and clean every component of your system. They perform a complete heat pump tune-up. Our comprehensive maintenance checklist helps with small issues that might be going unnoticed. It could also help prevent bigger problems and even full system failure and breakdown.
IMPROVE YOUR SYSTEM'S EFFICIENCY
Maintenance ensures every part is still in top-notch condition. It guarantees the most efficient heating and cooling for your home. Although there are some tasks homeowners can perform on their own, like checking the condensate line and making sure it's dripping, there's no substitute for professional maintenance. If your condensate line isn't dripping when your cooling unit is on, your unit could very well stop working. Our tune-up technician can clear the line and check to make sure everything else is working.
INCREASED INDOOR COMFORT
We recommend checking air filters once every month and changing them at least once every quarter or as needed. These air filter capture dirt, dust, and other things, in the filter so it doesn't get continually circulated throughout your home. This is one way that your heat pump helps to keep your indoor air quality healthy and clean. Neglecting to check and change your air filter when it's dirty can cause your air filter to get clogged up. This prevents your heat pump from circulating air efficiently. A dirty air filter also causes your heat pump to have to work harder; it shortens its lifespan and costs more in energy because it's working harder and longer than it needs to while providing the same comfort level.
PROLONG EQUIPMENT LIFESPAN
Heat pump replacement can be expensive, and because of this, making your current system last as long as possible, running all day smoothly and all night, season after season, year after year, is the way to go. The best way to keep your heat pump in commission for as long as possible is to have our experts perform regular maintenance, which includes a heat pump tune-up. When you realize how much longer and better your heat pump will run with this service, you'll see why we say the service pays for itself.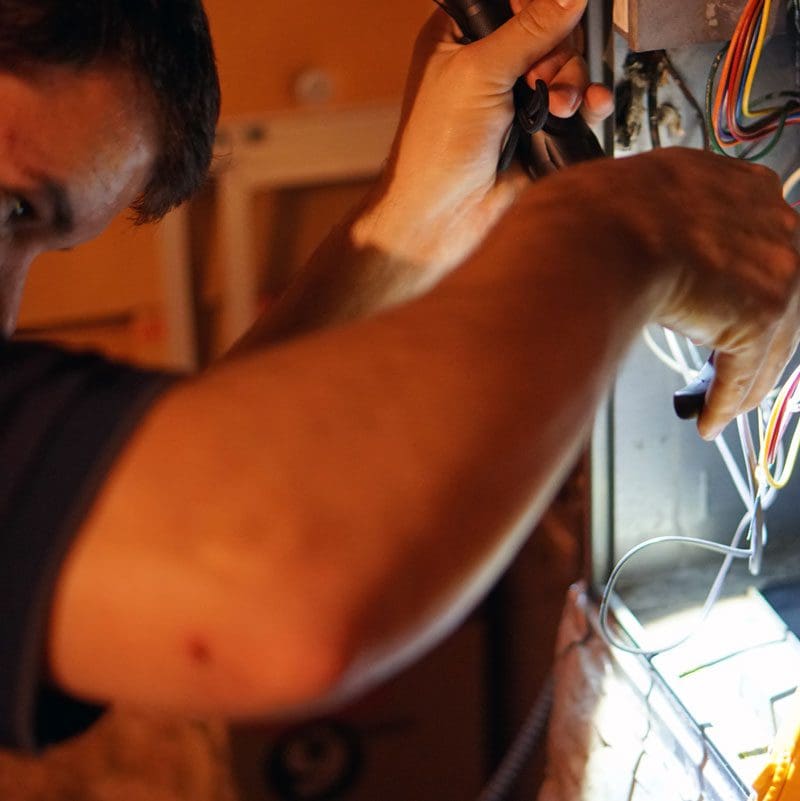 Heat Pump Maintenance
We're the Ohio Heat Pump Experts
The ease and convenience of changing from heating to cooling and back again each passing season are among the many amazing benefits of a heat pump. If you are like many of our customers who've made the popular choice to install a heat pump, we would be happy to help you keep it running at its best to protect your investment.
Taking advantage of our heat pump maintenance services ensures you get the most from it year-round, keeping your energy bills down while extending its expectancy for as long as possible. We offer maintenance programs to help maximize your heating system's performance and eliminate the likelihood of future repairs. In addition, our HVAC technicians will inspect your system from top to bottom to catch minor issues before they become big ones. That will save you time, money, and above all, stress!
Frequently Asked Questions
"Why Is It Important To Change and Replace HVAC Filters?"
The air conditioning experts at ENERGY STAR® recommend changing your air filter every three months at a minimum. Dirt and debris in your filter can obstruct air flow, increasing the workload of your HVAC system. By replacing the filter regularly, you can reduce wear and tear on your air conditioner while allowing the free movement of air for improved indoor comfort.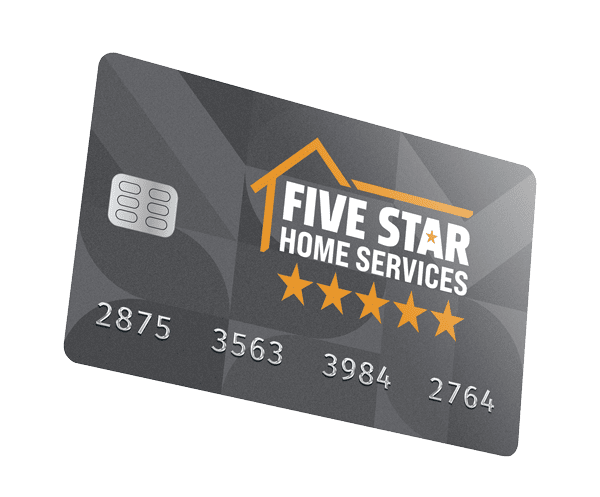 Financing Options
Buy Today, Pay Over Time
If you're in need of a new water heater, furnace, air conditioner, electrical panel, toilet, or something else, and you're wondering how you're going to come up with the money, we encourage you to check out our amazing in-house financing options. We can set up a monthly installment plan that works for your budget.
The Gold Standard in HVAC Services Since 1972
Five Star Home Services has been in the HVAC business since 1972, and there's not a furnace, heat pump, air conditioner, or air quality problem we can't resolve. We don't stop when your HVAC system does. As part of our commitment to customer satisfaction, we make ourselves available after-hours on weekends, and on holidays for emergency HVAC repairs. That's right, 24/7, 365! We can repair all brands and types of heating and cooling equipment, such as Amana, Trane, Rheem, Honeywell, Goodman, Comfortmaker, Carrier, and many more. Our team of local HVAC technicians is fast, friendly, and professional. We proudly serve all of Greater Columbus, Greater Dayton, Greater Cincinnati, and surrounding areas, and we're continuing to grow! Our services include AC repair, AC installation, furnace repair, furnace installation, heat pump repair, heat pump installation, zoned systems, preventative maintenance, heating, and cooling system tune-ups, air purification systems, humidifiers, dehumidifiers, air filtration, ventilation, ductwork installation, air duct modifications, furnace safety checks and much more.