Furnace Installation
Furnace Installation in Columbus, OH & Dayton, OH & Cincinnati, OH
Did you know that installing a new furnace can save you money? It's true. Because heating costs are so high on older units, installing a new high-efficiency furnace can save homeowners money in heating costs and repair bills. Because our new furnaces at Five Star Home Services can be financed in-house and paid for over time, sometimes replacing a furnace essentially pays for itself. Additionally, more recent furnaces can distribute air throughout the home better. Because of this, our high-efficiency heating systems generate a more consistent home heating experience at a lower cost. They are also able to sustain a constant temperature throughout the home better.
Suppose you are online looking for a "furnace installation expert near me," a "heating system replacement company near me," or a "home heating contractor near me," and you live in Greater Columbus, Dayton, or Cincinnati. In that case, you need to call Five Star Home Services today! Not sure what heating system you need? Get a free online estimate today.

4 Common Types of Heating Systems
Letting go of an old heating system can be hard. Suppose you have an aging home heating system that needs to be replaced. However, it can be exciting to learn about the variety of heating system technologies available today as replacement options. These systems are available in different sizes and models to accommodate your home. If you're trying to decide on a mode of heating system, call our professional HVAC technicians for more information.
FURNACE (FORCED AIR DISTRIBUTION SYSTEM)
With a furnace (usually powered by gas), the air is forced through a series of air ducts that distribute heated, conditioned air through the home. Although furnaces can heat the air using electricity, oil, or propane, most homes in Ohio use natural gas. Gas furnaces are the most common type of heating system because the forced air distribution system's ductwork can also be used by your air conditioner during the summer months.
HEAT PUMPS
Heat pumps are used to heat and cool the home. These HVAC units use refrigerant and electricity to transfer heat. It doesn't produce heat directly like a gas furnace. Heat pumps are often much more efficient than other heating systems. However, because they work best in moderate climates where temperatures don't usually drop below freezing, Ohio homeowners with heat pumps need to use an air handler.
BOILER (RADIATOR DISTRIBUTION SYSTEM)
Boilers are another popular type of heating system. Boilers send hot water or steam through pipes to provide heating. Although this allows you to practice zoned heating and cooling, it is also significantly more expensive to install and cost more to run. The reason why furnaces and boilers are known as central heating systems is that the heat is produced in a central area of the home and then distributed throughout.
HYBRID HEATING
Hybrid heating systems combine a heat pump's energy efficiency with a gas furnace's power. While the heat pump is used to heat and cool your home most of the time, the furnace kicks on during extreme temperatures. Because homeowners with hybrid heating aren't only relying on one system, they reduce strain on both units. This significantly reduces the need for repairs and replacements.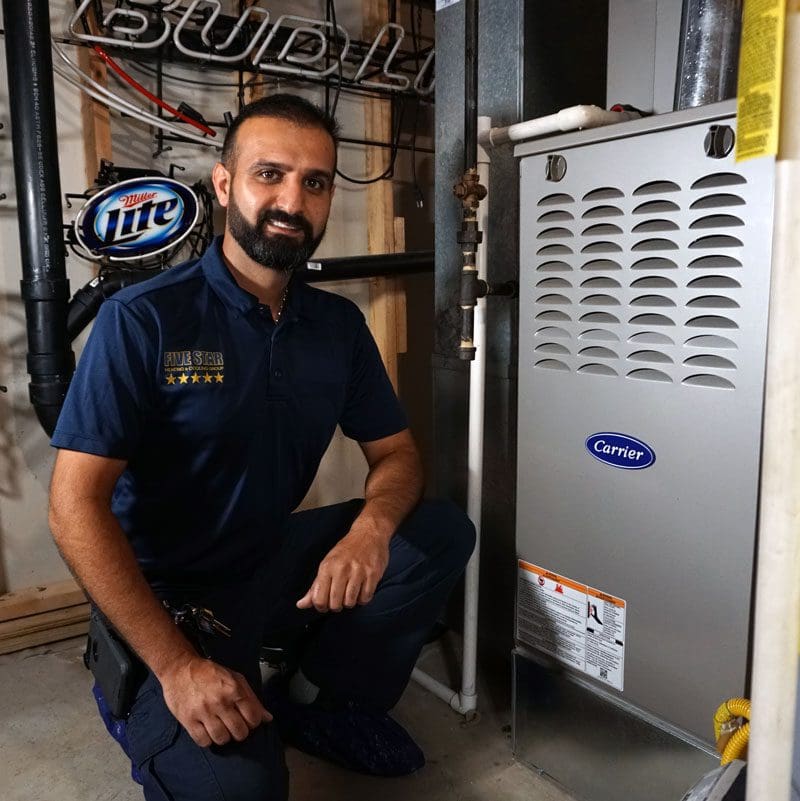 Furnace Installation & Replacement
Upgrade Your Heating System with Five Star Home Services
If you're ready to install a new furnace, we can help you upgrade to a higher-efficiency furnace with an AFUE of 95. Having an Annual Fuel Utilization Efficiency (AFUE) of 95 is a standard rating for the furnaces we install in most homes today. The government requires a minimum AFUE of 90. This equals at least $23 a month in savings when your furnace is in use. If you add on the repair costs of an outdated furnace or aged heater that will need to be replaced sooner or later, you see why we encourage homeowners who have furnaces older than 15 years old to upgrade to a newer heating system. You and your home deserve optimal heating and optimal home comfort during Ohio's frigid winter months. We can get the ball rolling on your new heater or new gas furnace, or electric furnace right away. Call us today at (833) 405-8009.
Frequently Asked Questions
"Why Is It Important To Change and Replace HVAC Filters?"
The air conditioning experts at ENERGY STAR® recommend changing your air filter every three months at a minimum. Dirt and debris in your filter can obstruct air flow, increasing the workload of your HVAC system. By replacing the filter regularly, you can reduce wear and tear on your air conditioner while allowing the free movement of air for improved indoor comfort.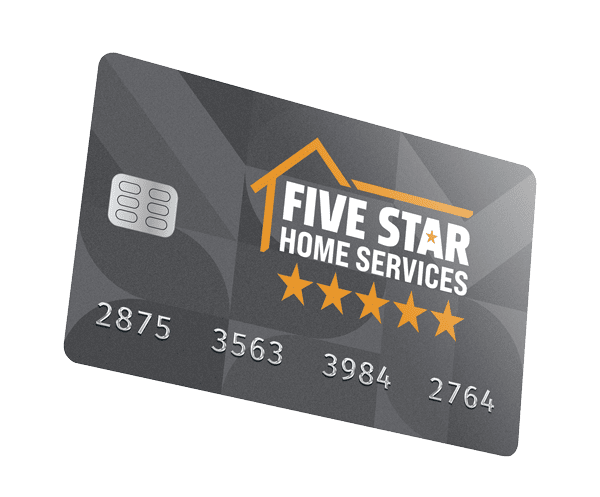 Financing Options
Buy Today, Pay Over Time
If you're in need of a new water heater, furnace, air conditioner, electrical panel, toilet, or something else, and you're wondering how you're going to come up with the money, we encourage you to check out our amazing in-house financing options. We can set up a monthly installment plan that works for your budget.
The Gold Standard in HVAC Services Since 1972
Five Star Home Services has been in the HVAC business since 1972, and there's not a furnace, heat pump, air conditioner, or air quality problem we can't resolve. We don't stop when your HVAC system does. As part of our commitment to customer satisfaction, we make ourselves available after-hours on weekends, and on holidays for emergency HVAC repairs. That's right, 24/7, 365! We can repair all brands and types of heating and cooling equipment, such as Amana, Trane, Rheem, Honeywell, Goodman, Comfortmaker, Carrier, and many more. Our team of local HVAC technicians is fast, friendly, and professional. We proudly serve all of Greater Columbus, Greater Dayton, Greater Cincinnati, and surrounding areas, and we're continuing to grow! Our services include AC repair, AC installation, furnace repair, furnace installation, heat pump repair, heat pump installation, zoned systems, preventative maintenance, heating, and cooling system tune-ups, air purification systems, humidifiers, dehumidifiers, air filtration, ventilation, ductwork installation, air duct modifications, furnace safety checks and much more.