Ohio Electrical Panel Repair & Replacement, Circuit Breaker Repair & Replacement
Five Star Home Services is your local connection for all things electrical in Greater Columbus, Dayton, Cincinnati, and surrounding areas. As a team of local electricians, we proudly service and install new breaker boxes, fuse panels, electrical boxes, and electrical panels. We are open 365 days a year with 24-hour emergency electrical support, so if you lose power or your lights go out during the night, we encourage you to give us a call.
Panels & Breakers
Local Electrical Panel & Circuit Breaker Experts
Breaker boxes and electric service panels are the link between electrical wires coming into your home from the power lines and the internal wires and circuitry of your home's electrical system. These panels are usually located in basements, hallways, garages, closets or pantries. Breaker boxes serve as the central distribution point connecting the service wires from the outside to the exit wires inside that split off and provide power to all the different rooms and parts of the home in addition to any outbuildings and outdoor lighting. These exit wires are called branch circuits or branch wire circuits. In single-family dwellings, the homeowner owns the electric service panel. Because of this, they are responsible for any issues related to the panel and any work needing to be performed on it.
Five Star Home Services is the fastest, most qualified electrician for every phase of your home or business's electrical project. Why run the risk of making an electrical problem even more complicated, or risking your home or safety, when you can call a local professional electrician near you to take care of those faulty outlets in your home or building or run a wire to that new lighting fixture? Call today! (833) 405-8009.
Electrical
$100

off
Meter
Replacement
*Not valid with any other offer or on previous sales. Must be presented at time of service. Some restrictions may apply, call for details.
Learn More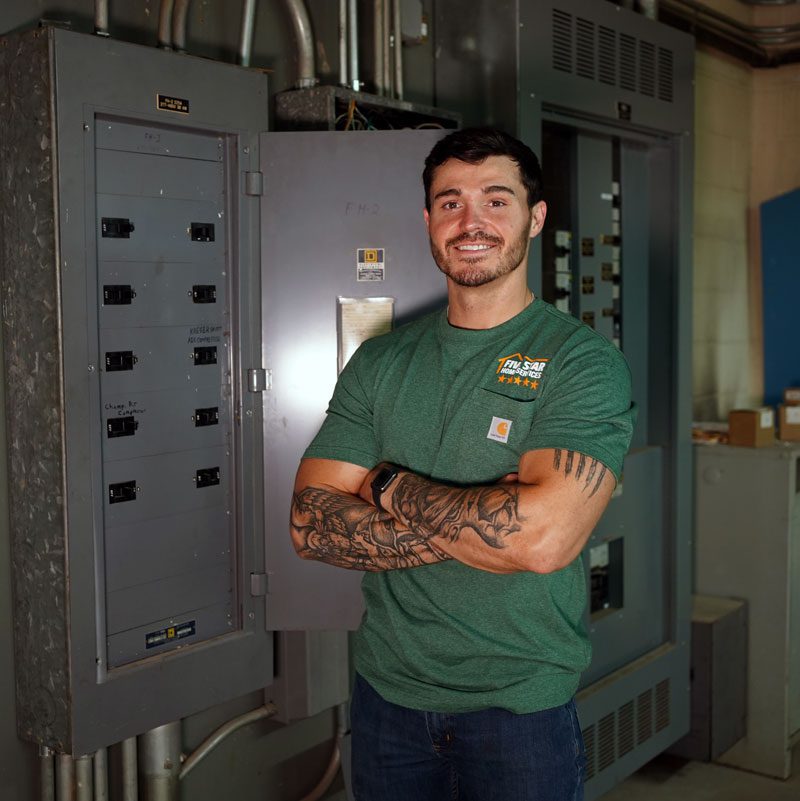 Circuit Breakers
Circuit Breaker Installation You Can Trust
Five Star Home Services stands out as a leading residential electrical contractor in Greater Columbus, Dayton, Cincinnati, and surrounding areas because of our level of responsiveness to our customers and our ongoing commitment to quality and safety. As a family-owned team of residential electricians throughout the state, we understand how essential it is for us to help our customers protect the investment they make in their homes. We do everything possible to make sure our electrical installations and residential electrical upgrades are up to code, safe, efficient, and of the highest quality possible.

4 Signs You Have an Electrical Problem

Electrical malfunctions cause more than 50,000 house fires each year, according to Electrical Safety Foundation International. The majority can be prevented.
NOT ENOUGH OUTLETS
A lot of people don't think about it, but not having enough electrical outlets is a problem. This is an electrical issue, whether you realize it or not. While extension cords and power strips can work for temporary fixes, they aren't meant to be the only option. If using an extension cord is your permanent solution to a lack of outlets in a room, you have to make sure you're using at least a 14-gauge heavy-load cord or a UL-listed surge protector.
Otherwise, if you fill up a receptacle or use an extension cord or power strip, you run the risk of an electrical fire. In addition to this, you also run the risk of damaging electrical devices. Extension cord safety is something that should be taken seriously. Don't daisy-chain two or more together cords together or ever try using them in an attic or crawl space. If you need more outlets, you need to call an electrician at Five Star Home Services. We are your friendly neighborhood electrician serving all of Ohio's residential electrical needs in one place.
OVERLOADED CIRCUIT
Circuit overload occurs when the amount of electricity flowing to an appliance or device exceeds whit it can handle. For instance, if your lamp is rated for a maximum 60-watt bulb and you don't feel like that's bright enough, you decide to put in a 100-watt bulb and overload the lamp. In the worst-case scenario, the heat from the bulb melts the socket and the insulation in the fixture wires. If this causes the wires to spark, you couhaveith an electrical fire. In any case, if your lamp or fixture doesn't have a max wattage listed, it's not a good idea to go over 60. If you're resetting a tripped breaker constantly, check to see what's plugged into the circuit. Check the wattage and determine which bulb you're using if it's a lamp.
UNCOVERED JUNCTION BOXES
Uncovered junction boxes are a hidden problem lurking inside walls you don't think about. A junction box is a professional casing used for various wires. They get installed during construction. They also get replaced often with an electrical upgrade.
If you take a section of your wall out for a remodeling project, these boxes are small plastic or metal boxes that are roughly 2″ by 3″. That's your junction box, where a wire runs from the main electrical panel and joins other wires that run out to your electrical fixtures.
Junction boxes should always have a proper cover. If they don't, you have a safety issue. The purpose of an enclosed box is to protect you from electrical shocks. They also prevent fires from spreading that start because of damaged wires.
SAGS AND DIPS
Sags and dips in power levels are closely related to power surges. Small appliances are usually the culprit behind these issues. It's essentially an intermittent drop in electrical voltage. They usually only last a second. They are also known as "brown-outs." It happens when your lights get dim and then get bright again, without going off all the way.
Brown-out also happens when you have too many large appliances running at the same time. These appliances could be drawing too much from an outdated electric panel or could be outdated and require too much power. Additionally, old or faulty wiring can also be part of the blame.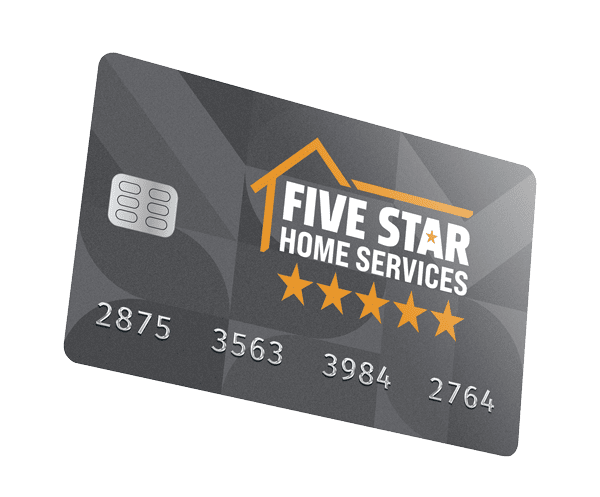 Financing Options
Buy Today, Pay Over Time
If you're in need of a new water heater, furnace, air conditioner, electrical panel, toilet, or something else, and you're wondering how you're going to come up with the money, we encourage you to check out our amazing in-house financing options. We can set up a monthly installment plan that works for your budget.
The Gold Standard in Electrical Services Since 1972
Are you looking for a local electrician or an "electrician near me" in Greater Columbus, Cincinnati, Dayton, or surrounding areas? If so, you're in luck. Five Star Home Services is your local residential electrician. We are your "electric company near me" throughout the three major metro areas we service. Whether you need ceiling fan installation, surge protection, pool light repair, ceiling fan installation cost, a panel upgrade, fire alarm installation, 24-hour electrician, outside lighting fixtures, outside lighting fixtures, led outside lighting, electrical outlet repair, fire alarm installation companies, home fire alarm installation, emergency electrician, outlet repair, surge protection outlet, an electric panel upgrade, outside lighting controls, surge protection, or a 24-hour emergency electrician, we can help. We offer all types of residential and commercial electrical installation services.