Cooling & Air Conditioner Repair, Maintenance & Installation in Columbus, Dayton, & Cincinnati
Our team of local AC technicians is fast, friendly, and professional, and our rates are affordable. We proudly serve Greater Columbus, Greater Dayton, Greater Cincinnati, and surrounding areas. If your air conditioner needs refrigerant, defrosted, or repaired, call Five Star Home Services.
A/C Repair
Air Conditioner & Heat Pump Services in Central & Southwest Ohio
Once the weather in Ohio gets hot and humid, homeowners need to ensure their cooling systems are prepared for those so-called "dog days" of summer that lay ahead. Whether your air conditioner or heat pump is on its last leg and needs to be repaired, or you're looking for an honest AC technician to come over and perform seasonal maintenance, we at Five Star Home Services can help. We offer all types of air conditioning services, including A/C repair, A/C maintenance, A/C installation, and A/C replacement. We also offer affordable heat pump repair, heat pump tune-ups, and heat pump installation. We proudly service Cincinnati, OH, Columbus, OH, Northern Kentucky, and Dayton, OH, with our Five Star cooling services!
Save 10% on a Service Call
10%

off
With any completed repair
*Not valid with any other offers. Must be presented at time of service. 
A/C Installation & REplacement
Get the Right Size Air Conditioning Unit with Five Star
To maximize energy efficiency, purchase the correct size air conditioner for the area you want to cool. When it comes to A/C, bigger does not always equal better. If you install an air conditioner that is bigger than what you need, it can cost you more to run the unit. It can also cost you more money to purchase and install. If your air conditioning system is too big, it will cycle off and on more frequently. This causes the indoor temperature to fluctuate more, reduces the amount of moisture removed, and creates a less comfortable climate. It's also harder on equipment and makes shortens its lifespan.

4 Home Cooling Tips for Ohio Homeowners

During the hot months of summer, a lot of Ohio homeowners look for ways to beat the heat. In the following, our home cooling heroes offer several tips to help you keep your home cool and save you money on your home cooling costs when it gets hot outside.
BLOCKING HEAT FROM REACHING THE HOME
Several ways to prevent direct sunlight from heating your home during the summer. These tips help to keep you cool while lowering air conditioning usage: Keep blinds and drapes closed from mid-morning through the early evening. Seal potential air leaks around windows and doors to keep cool air inside. Install a plastic film that can stick to your windows and block the heat while allowing light through. Plant trees outside the home, especially on the southern and western-facing sides.
CENTRAL AIR CONDITIONERS
Central air conditioners are an easy, but more expensive way to keep a home cool. They are best used with other cooling methods. While using a central air conditioner, it's not good to set the thermostat lower than the desired temperature. This doesn't cool the place faster. The recommended temperature setting for saving money is 78 degrees. Raising the temperature five to seven degrees for eight hours can reduce your home's electric bill by as much as ten percent. Using a smart thermostat, Wi-Fi thermostat or programmable thermostat makes it easier to program desired temperatures at certain times of the day and saves you money on cooling costs while you're away.
Using Fans
Fans help keep the air flowing. They create a breeze that makes your home feel cooler. Using fans during mild weather and during the night, instead of an air conditioner at times, can save you up to 50% on cooling costs. Additionally, keeping fans running can make adjusting the thermostat up a few degrees easier to reduce energy use. During the summer, ceiling fan blades should constantly move in a counterclockwise direction so the air they blow pushes air down toward the floor. Be sure to turn off these fans when leaving a room to save electricity. Although fans don't cool homes, they make you feel cooler.
Clean and change your filters regularly
Taking proper care of your filters is probably the easiest and most effective way to keep your A/C unit healthy. Take note of the best filter for your air conditioner and adhere to the appropriate guidelines for cleaning or changing it. Vacuum and rinse reusable filters between your maintenance visits and replace them every few years for optimum air quality. If you use disposable filters, write the date on the filter when you return it. Make checking your filters a habit by grouping the chore with any other regular monthly occurrence, such as paying your rent or credit card bill.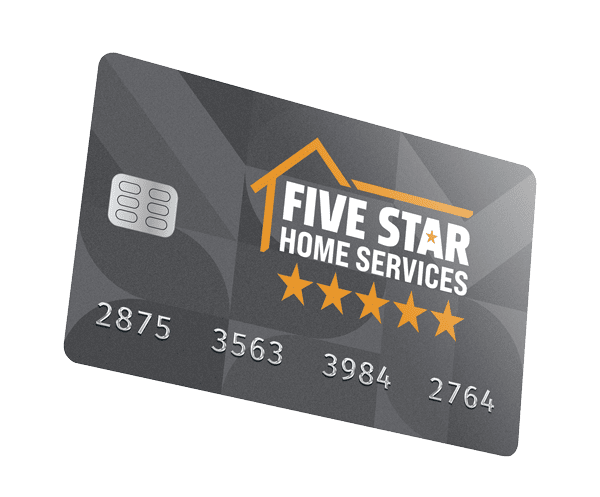 Financing Options
Buy Today, Pay Over Time
If you're in need of a new water heater, furnace, air conditioner, electrical panel, toilet, or something else, and you're wondering how you're going to come up with the money, we encourage you to check out our amazing in-house financing options. We can set up a monthly installment plan that works for your budget.
The Gold Standard in HVAC Services Since 1972
Five Star Home Services has been in the HVAC business since 1972, and there's not a furnace, heat pump, air conditioner, or air quality problem we can't resolve. We don't stop when your HVAC system does. As part of our commitment to customer satisfaction, we make ourselves available after-hours on weekends, and on holidays for emergency HVAC repairs. That's right, 24/7, 365! We can repair all brands and types of heating and cooling equipment, such as Amana, Trane, Rheem, Honeywell, Goodman, Comfortmaker, Carrier, and many more. Our team of local HVAC technicians is fast, friendly, and professional. We proudly serve all of Greater Columbus, Greater Dayton, Greater Cincinnati, and surrounding areas, and we're continuing to grow! Our services include AC repair, AC installation, furnace repair, furnace installation, heat pump repair, heat pump installation, zoned systems, preventative maintenance, heating, and cooling system tune-ups, air purification systems, humidifiers, dehumidifiers, air filtration, ventilation, ductwork installation, air duct modifications, furnace safety checks and much more.