A/C Maintenance
Routine Air Conditioner Maintenance in Columbus, Dayton & Cincinnati, Ohio
Because nearly 95% of all the air conditioning repairs we come across are caused by things that could have been avoided with maintenance, we at Five Star Home Services strongly suggest homeowners keep up on their AC equipment. Air conditioning maintenance is a very affordable and cost-effective way to avoid the need for emergency AC repairs and premature replacement. Using this fast and affordable service enables an AC technician to have a close and detailed look at your system and inspect it for all sorts of things that could cause problems down the road, like during the hot and humid months of summer when you need it the most. This inspection and servicing include an A/C tune-up and a detailed analysis of your A/C refrigerant levels and lines, A/C belt, A/C motors, AC controls, electrical wiring, AC terminals, and more. When conducting seasonal maintenance, our experts also check fan motors, drainage lines, air filters, connectors, and much more.
If you're online looking for an "A/C maintenance expert near me" or "affordable air conditioning maintenance services near me" and you live in the Greater Columbus, Greater Cincinnati, or Greater Dayton area, call Five Star Home Services today. We offer AC maintenance plans and low-cost AC maintenance services all summer long.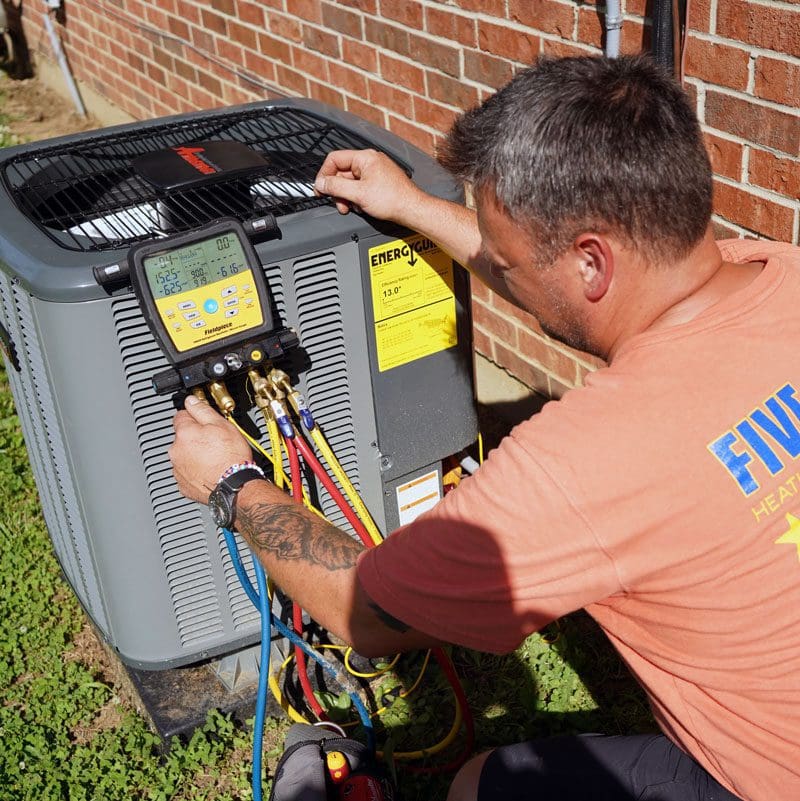 4 Benefits of Air Conditioner Maintenance
Have you given your A/C the tender love and care it needs this year? With the cooling season approaching, you should consider scheduling an air conditioner tune-up appointment before hot weather rolls into Ohio. Below we list five benefits of an air conditioner tune-up that you could miss out on.
INCREASED AC LIFE
Last but not least, investing in preventative maintenance helps lengthen the life span of your air conditioner. Like cars, air conditioners need regular servicing to keep running well. Failure to provide professional care can cause the equipment to give out early or fail prematurely. Neglecting maintenance allows the wear and tear to go unchecked. Air conditioners are designed to last 15 years on average if given the right care.
INCREASED HOME COMFORT
During a maintenance appointment, our HVAC technicians help you ensure your system is cooling as effectively as possible. If you have hot and cold areas in your home, a maintenance checkup might find the cause of this problem. When your air conditioner cools your home evenly, it provides far more comfortable temperatures throughout the house.
DECREASED ENERGY BILLS
As we noted, increased efficiency means lower home cooling costs. When you invest in A/C maintenance, you will likely notice your energy bills dropping. The air conditioner isn't working as hard to keep your home cool. During a tune-up, our team will optimize all the A/C functions. This cools the home and uses less energy.
DECREASED NEED FOR REPAIRS
A well-maintained air conditioner is less likely to break down or have issues. During a maintenance appointment, our HVAC technicians can inspect all the components and moving parts and look for potential problems. By repairing these issues proactively, we reduce the risks of expensive repairs and breakdowns. No one has the time or likes dealing with A/C breakdowns. Maintenance helps reduce the risks.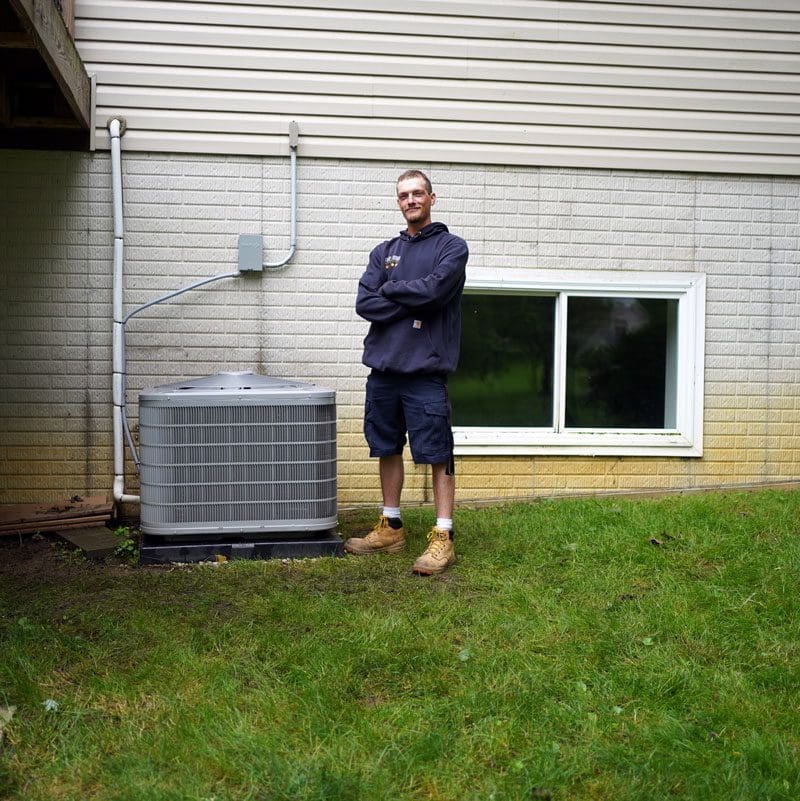 A/C Maintenance
Is Your Cooling System Ready for Another Ohio Summer?
Residential air conditioning units are intricate systems that are made to last. Air conditioners can often go unnoticed when they're working correctly and keeping our homes cool during Ohio's hot summer months. Nevertheless, when there's a problem, we certainly know it, and because we feel it, we are quick to act. No one likes sitting around in the muggy heat in their home without air conditioning. This is the 21st century, after all! Our air conditioning systems aren't so much a luxury during Ohio's hot and humid summer months. Our air conditioners are a necessity.
Additionally, our HVAC technicians can replace any damaged or broken parts during their analysis. In short, seasonal maintenance enables us to find minor issues before they escalate into major problems that usually cause AC breakdowns. Finally, because care allows our team of technicians to assess your system, make recommendations, and perform essential cleanings and tasks, this extends the lifespan of your air conditioner and increases its efficiency.
Frequently Asked Questions
"Why Is It Important To Change and Replace HVAC Filters?"
The air conditioning experts at ENERGY STAR® recommend changing your air filter every three months at a minimum. Dirt and debris in your filter can obstruct air flow, increasing the workload of your HVAC system. By replacing the filter regularly, you can reduce wear and tear on your air conditioner while allowing the free movement of air for improved indoor comfort.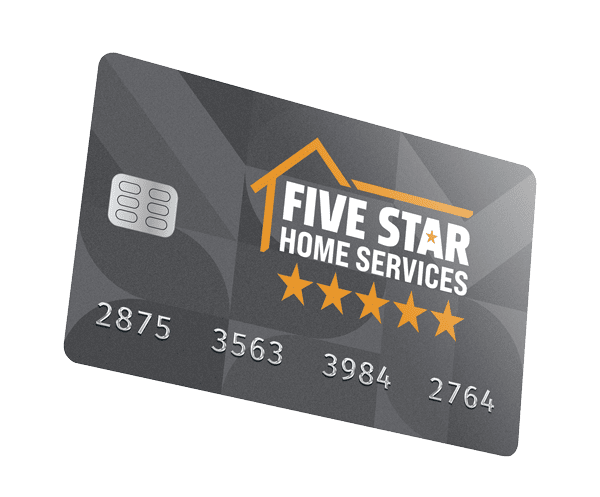 Financing Options
Buy Today, Pay Over Time
If you're in need of a new water heater, furnace, air conditioner, electrical panel, toilet, or something else, and you're wondering how you're going to come up with the money, we encourage you to check out our amazing in-house financing options. We can set up a monthly installment plan that works for your budget.
The Gold Standard in HVAC Services Since 1972
Five Star Home Services has been in the HVAC business since 1972, and there's not a furnace, heat pump, air conditioner, or air quality problem we can't resolve. We don't stop when your HVAC system does. As part of our commitment to customer satisfaction, we make ourselves available after-hours on weekends, and on holidays for emergency HVAC repairs. That's right, 24/7, 365! We can repair all brands and types of heating and cooling equipment, such as Amana, Trane, Rheem, Honeywell, Goodman, Comfortmaker, Carrier, and many more. Our team of local HVAC technicians is fast, friendly, and professional. We proudly serve all of Greater Columbus, Greater Dayton, Greater Cincinnati, and surrounding areas, and we're continuing to grow! Our services include AC repair, AC installation, furnace repair, furnace installation, heat pump repair, heat pump installation, zoned systems, preventative maintenance, heating, and cooling system tune-ups, air purification systems, humidifiers, dehumidifiers, air filtration, ventilation, ductwork installation, air duct modifications, furnace safety checks and much more.