Wiring & additions
Electrical Wiring Repair & Wiring Installation in Columbus, OH, Dayton, OH & Cincinnati, OH
Whether you're looking to install a large appliance that needs a special outlet or renovate your home and change things up a bit, any sort of electrical outlet work and electrical wiring work should be handled by a professional electrician. If you need to repair or install new electrical switches and/or outlets to keep your place efficient and safe, you should give us a call. Modern electrical outlets offer homeowners reliable power delivery that's safe and efficient.
If you're online looking for an "electrical outlet expert near me" or a "wiring expert near me" and you live in Greater Columbus, Dayton, Cincinnati, or surrounding areas, you're in the right place. Five Star Home Services can handle all your outlet and wiring needs in one place.
We offer affordable electrical switches and outlet services to homeowners throughout the three major metropolitan areas we serve. Our expert electricians make sure your home is equipped with the best electric receptacles for the best prices to ensure that your place stays safe and you are optimizing your energy. We've developed great relationships with our clients because they know we put their electrical needs first, and we will always deliver honest, long-term solutions at prices that are fair and affordable.

4 Signs of an Electrical Wiring Problem
Outdated, damaged, or poorly installed and maintained wiring is not something to take lightly. According to the National Fire Protection Association (NFPA), "Home fires involving electrical failure or malfunction caused an estimated average of 440 civilian deaths and 1,250 civilian injuries each year in 2012-2016, as well as an estimated $1.3 billion in direct property damage a year." Don't let your household be one of them. Keep your senses alert for these easy-to-spot warning signs of faulty electrical wiring.
FREQUENT CIRCUIT BREAKER TRIPS
It's common for a home circuit breaker to trip. That's what they're designed to do – shut off your power through the circuit whenever the system is overloaded. In most cases, you can just switch it back on and continue with your tasks. However, if your circuit breaker trips often – multiple times a month or more – that's a sign that there is a deeper, potentially dangerous problem in your home's electrical wiring or you are taxing that circuit with many high-energy demanding devices or appliances.
DISCOLORATION, SCORCHING AND SMOKE
Keep an eye open at the outlet points in your home. If you notice any discoloration or scorch marks on your outlets, that is a sign that the wiring in your home has been damaged and is releasing heat. That heat is already damaging your home and has the potential to do much worse if left unchecked.
FRAYED OR CHEWED WIRING
Usually caused by rodents, pets, and amateur handymen, any damaged wiring like this is a significant shock and fire hazard. Therefore, it's of the utmost importance that if you find or suspect any problems of this kind, you should contact a licensed electrical contractor to inspect and replace the damaged wiring and look for any ancillary damage.
THEY ARE REQUIRED FOR NATIONAL ELECTRIC CODE
Today's National Electric Code requires that all dwellings be equipped with ground fault circuit interrupters. Ground fault circuit interrupters are also known as GFCI outlets. They are found in parts of the home that are nestled in wet or damp areas. GFCI outlets can be installed in bathrooms, kitchens, laundry rooms, outdoor areas, crawl spaces, garages, and more. Because of recent changes in the electrical code, GFCI outlets are now required for all single-phase outlets at 125 volts.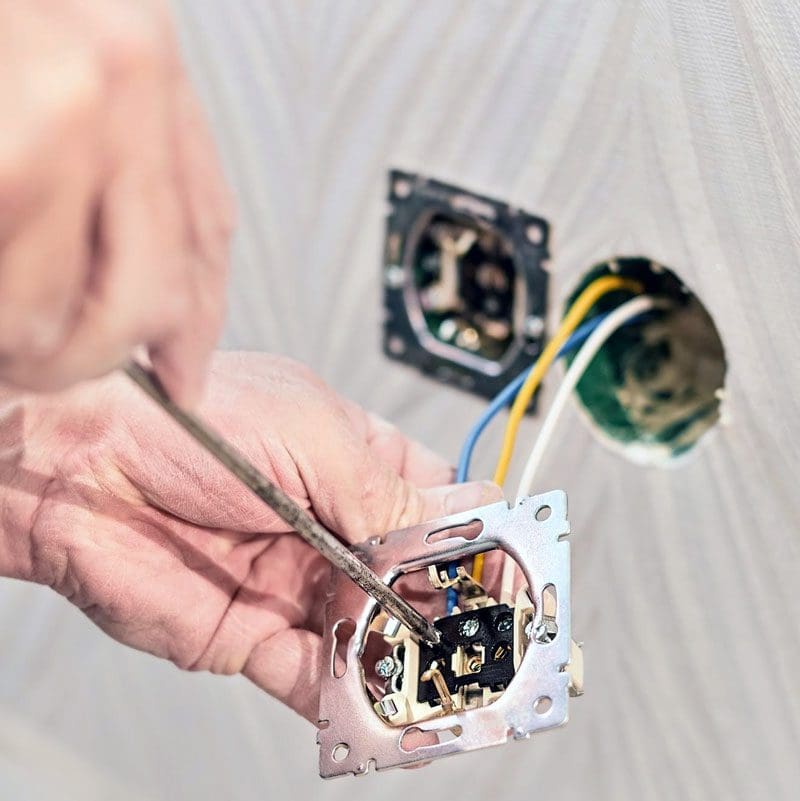 Electrical Services
Focusing on Electrical Outlets in Southwest Ohio & Central Ohio
If it seems like the electrical outlets in your home or building aren't working as well as they once did, or if they aren't able to hold the power plug in place, it might be time to repair or replace that outlet. Having outdated power outlets can cause severe electrical shock and become a fire hazard. If you are finding that your electrical outlets spark when you plug or unplug an appliance, it is a sign that you need to talk to an electrician about installing a new outlet. You should never try to DIY electrical work or risk repairing or replacing your electrical outlets without the help of a professional electrician that's licensed and fully insured.
The standard household electrical outlet has two 3-pronged plug-ins and polarized receptacles. Each receptacle has a 120-volt 'hot' wire and a neutral and ground wire because NEC electrical code requires a ground or bound wire that guarantees functional and safe power delivery to your home. Call our team of local expert Five Star electricians in Greater Dayton, Columbus, Cincinnati, and surrounding areas for your electrical outlet and electrical wiring work. We can handle all your electrical needs at prices so affordable it might shock you!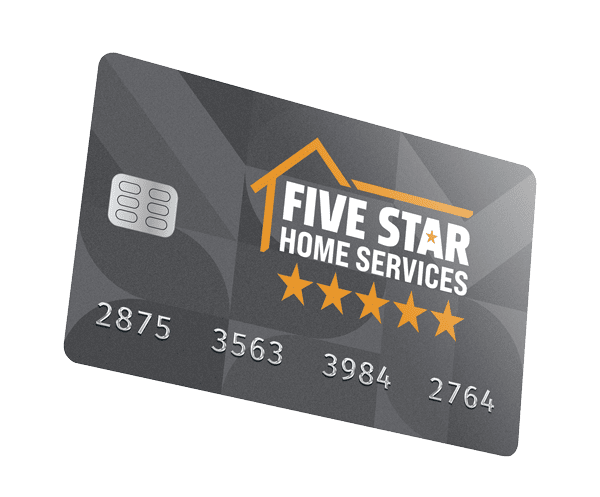 Financing Options
Buy Today, Pay Over Time
If you're in need of a new water heater, furnace, air conditioner, electrical panel, toilet, or something else, and you're wondering how you're going to come up with the money, we encourage you to check out our amazing in-house financing options. We can set up a monthly installment plan that works for your budget.
The Gold Standard in Electrical Services Since 1972
Are you looking for a local electrician or an "electrician near me" in Greater Columbus, Cincinnati, Dayton, or surrounding areas? If so, you're in luck. Five Star Home Services is your local residential electrician. We are your "electric company near me" throughout the three major metro areas we service. Whether you need ceiling fan installation, surge protection, pool light repair, ceiling fan installation cost, a panel upgrade, fire alarm installation, 24-hour electrician, outside lighting fixtures, outside lighting fixtures, led outside lighting, electrical outlet repair, fire alarm installation companies, home fire alarm installation, emergency electrician, outlet repair, surge protection outlet, an electric panel upgrade, outside lighting controls, surge protection, or a 24-hour emergency electrician, we can help. We offer all types of residential and commercial electrical installation services.