Furnace & Heating System Services in Dayton, OH, Columbus, OH & Cincinnati, OH
If you live in the Midwest, you know how brutally cold it gets during the wintertime. Once this cold weather begins settling into the Central and Southwest Ohio areas during the fall, homeowners in the Greater Dayton, Greater Columbus, and Greater Cincinnati areas need to make sure their furnaces and heating systems are in prime working order and reliable before it's too late.
Furnace Repair
Residential Furnace Repair, Maintenance & Installation
Five Star Home Services strives to be the best heating service provider in Greater Dayton, OH, Greater Columbus, Ohio, and Greater Cincinnati. We assure you that we will be here for all your furnace needs this coming winter season. Our NATE-certified HVAC technicians are prepared to service and repair almost any issue you have during their visit. In addition, each of our technicians drives a fully equipped van with everything they need to service your HVAC system and help you to feel comfortable in your home again. Whether your heating system is starting to indicate there might be issues, show signs of old age, or need immediate repairs, you can rest assured that we have you covered. We offer all sorts of emergency heating system repairs 24 hours a day, 365 days a year, including holidays and weekends.
Save 10% on a Service Call
10%

off
With any completed repair
*Not valid with any other offers. Must be presented at time of service.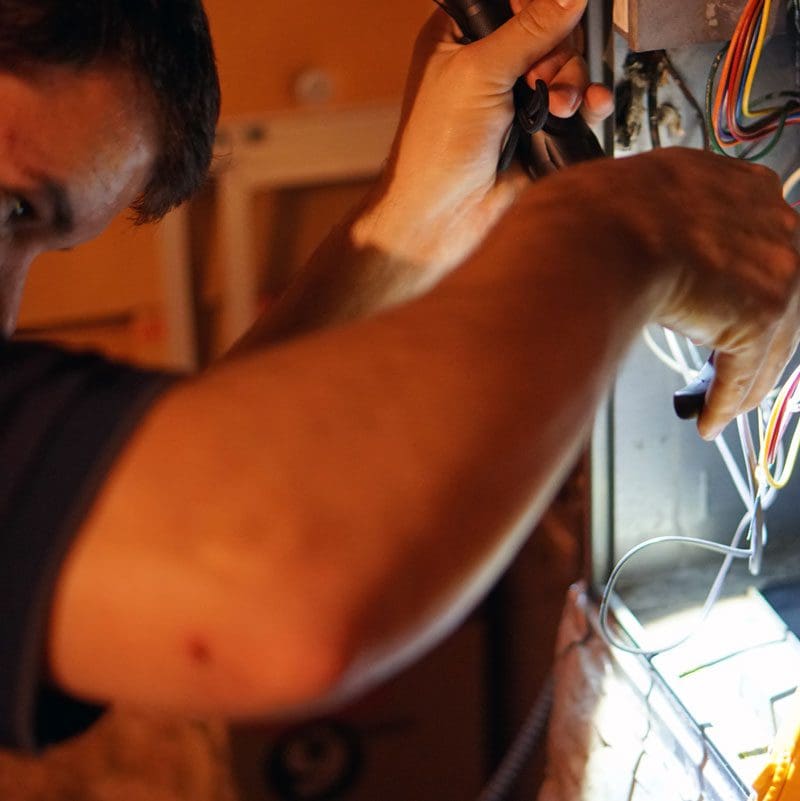 Furnace Maintenance
Furnace Tune-Ups in Cincinnati, Columbus, and Dayton, OH
Although furnace maintenance does indeed help prevent furnace problems during the winter, in addition to keeping your heating bills in check and making your equipment perform longer, failing to have it performed doesn't mean it's going to break down during the winter. Preventative maintenance saves you the stress of an unexpected expense happening at the worst times. Imagine having to spend your holiday budget on a new furnace unexpectedly!
Having heating system maintenance performed regularly will increase your heater's efficiency in addition to its service lifespan. Who doesn't want to make their furnace heat their home better for longer? No one likes replacing an expensive heating system! In addition to all the benefits we've already mentioned, there's another benefit. For homeowners who have new systems, maintenance is required to keep the warranty valid. Schedule a maintenance appointment with Five Star today!
Furnace Installation & REplacement
Furnace & Heating System Installation & Replacement in Central & Southern Ohio
Did you know that installing a new furnace can actually save you money? It's true. Because heating costs are so high on older units, having a new high-efficiency furnace installed can save homeowners money in heating costs and repair bills. Because our new furnaces at Five Star Home Services can be financed in-house and paid for over time, sometimes replacing a furnace essentially pays for itself. Additionally, newer furnaces are able to distribute air throughout the home better. Because of this, our high-efficiency heating systems generate a more even home heating experience at a lower cost. They are also able to sustain a constant temperature throughout the home better.
If you are online looking for a "furnace installation expert near me," a "heating system replacement company near me" or a "home heating contractor near me" and you live in Greater Columbus, Dayton or Cincinnati, you need to call Five Star Home Services today! Not sure what heating system you need? Get a free online estimate today.

4 Residential Heating Tips for Ohio Homeowners
Many Ohio homeowners look for ways to beat the heat during the hot summer months. In the following, our HVAC heroes offer several tips to help you keep your home comfortable and save money on energy costs year-round.
Change Your Air Filters!
Air filters become clogged over time, and this especially becomes a problem when it is dusty outside. The air filter will be filled with dust, debris, and other particles that you want to clean out. A daily buildup of these particles can lead to your air conditioner working much harder, which is going to raise your energy bill much higher, and it will also increase the risk of it breaking down from problems. When you regularly replace or clean the air filter, you lower the load that the HVAC unit has to clean. Order air filters directly to your doorstep with Five Star Home Services!
Use ceiling fans
Ceiling fans help keep a room cool by way of something called evaporative cooling and convective cooling. This means they only serve their purpose while someone is in the room. Even still, using a ceiling fan can lower the temperature of a room by 4 degrees, according to the US Department of Energy. Ceiling fans come in all shapes and sizes, but if you're looking for the best fit, ENERGY STAR is highly recommended to get the best efficiency for your dollar.
Invest in a programmable thermostat
The best way to lower heating and cooling costs is to get a programmable thermostat. These devices can track your energy habits and eventually learn to automate the temperature in your house without the need to micromanage the output. Unsurprisingly, modifying the thermostat too much or turning it off for several hours to "give it a break" aren't considered cost-efficient, so smart thermostats are growing in popularity because of their proven money-saving capabilities.
Maintain Your Doors And Windows
Peeling weatherstripping and ill-fitting doors and windows can let in drafts, allowing your home's heat to drift outdoors. Replace weatherstripping as needed and adjust thresholds so no cold air gets in through gaps. You can also use plastic window kits to help insulate from leaks.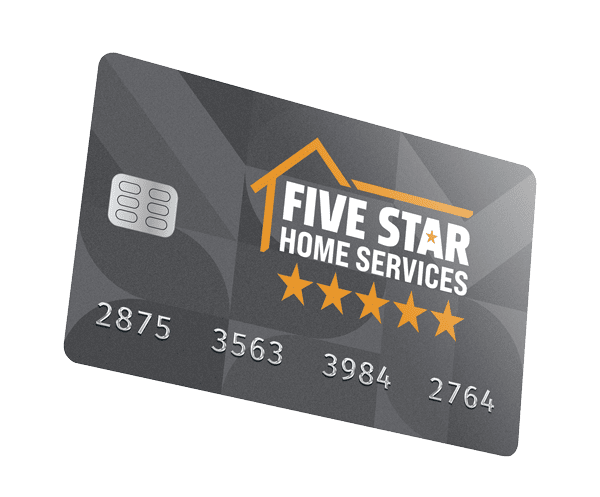 Financing Options
Buy Today, Pay Over Time
If you're in need of a new water heater, furnace, air conditioner, electrical panel, toilet, or something else, and you're wondering how you're going to come up with the money, we encourage you to check out our amazing in-house financing options. We can set up a monthly installment plan that works for your budget.
The Gold Standard in HVAC Services Since 1972
Five Star Home Services has been in the HVAC business since 1972, and there's not a furnace, heat pump, air conditioner, or air quality problem we can't resolve. We don't stop when your HVAC system does. As part of our commitment to customer satisfaction, we make ourselves available after-hours on weekends, and on holidays for emergency HVAC repairs. That's right, 24/7, 365! We can repair all brands and types of heating and cooling equipment, such as Amana, Trane, Rheem, Honeywell, Goodman, Comfortmaker, Carrier, and many more. Our team of local HVAC technicians is fast, friendly, and professional. We proudly serve all of Greater Columbus, Greater Dayton, Greater Cincinnati, and surrounding areas, and we're continuing to grow! Our services include AC repair, AC installation, furnace repair, furnace installation, heat pump repair, heat pump installation, zoned systems, preventative maintenance, heating, and cooling system tune-ups, air purification systems, humidifiers, dehumidifiers, air filtration, ventilation, ductwork installation, air duct modifications, furnace safety checks and much more.