Interior Lighting
Interior Lighting Installation in Columbus, Dayton, & Cincinnati, Ohio
Electricity and lighting play such an essential role in our modern lives that we can hardly imagine having to go without them. Before artificial lighting, we were very much limited by the number of daylight hours. Fire helped extend our days, and so did gas and oil lamps and lighting. However, in our modern world, indoor electrical lighting allows us to stay awake longer, come up with new ideas, be innovative and, quite literally, change the world at record speeds.
If you're online looking for a "lighting expert near me" or a "electrical lighting service near me" and you live in Greater Columbus, Cincinnati or Dayton, you're in the right place. Five Star Home Services has all your residential lighting needs, in addition to your electrical, HVAC and plumbing needs, covered in one place.
Choosing the right interior lighting for your home affects your quality of life, in addition to your safety and success. Make sure you and your loved ones have the indoor lighting you all need to improve your quality of life. Lighting can be functional and attractive, whether inside a home or outside. Whether you have under-cabinet lighting illuminating your kitchen or motion sensor lighting in your backyard, your lights play an essential role in your home and daily life. When you're ready to upgrade your home's lighting design, we at Five Star Home Services are ready to help. Call us today at (833) 405-8009.

4 Types of Interior Lighting
At Five Star Home Services, we can install various types of indoor lighting for your Ohio home.
CEILING LIGHTS
Ceiling-mounted lights give you the most light in a room. They can be flushed ceiling lights or semi-flushed. Flushed light fixtures are often dome-shaped, and they touch the ceiling. Semi-flushed lighting only leaves a small gap between the fixture and the ceiling. This creates an uplit reflection. Beyond the use of natural sunlight, these ceiling-mounted lights are the way to flood a room with light. They work best in large spaces, like kitchens, bedrooms, and living rooms. They can be incorporated with ceiling fans or mounted in more than one part of the room. You should also keep lighting fixtures clean to ensure they are bright year-round.
WALL SCONCES
Whether they flank a fireplace mantle or a bathroom mirror, these lighting solutions offer enough ambient light to brighten an entire room as well. Wall sconces are light fixtures that come in a variety of sizes and styles. You can put wall sconces in stairways and hallways to light transitions from room to room or on different levels of the house.
FLOOR LAMPS
This type of lighting allows a homeowner to light a room without installing overhead lighting. This can clash with contemporary or modern interior designs, nevertheless. They are also an excellent ambient light option for second-story rooms or spaces with hard-to-reach vaulted ceilings. Floor lamps with high-wattage light bulbs offer the type of ambient lighting sufficient to brighten almost any room. Because of this, you may not ever need to turn on your ceiling lights.
AMBIENT LIGHTING
This type of lighting is for setting the mood of a room. Ambient lighting is the most dominant lighting in space; they usually turn on with a flip of a switch and illuminate an entire room while remaining conspicuous. Ambient lighting never calls attention to itself. It's an omnipotent option that showers light from above.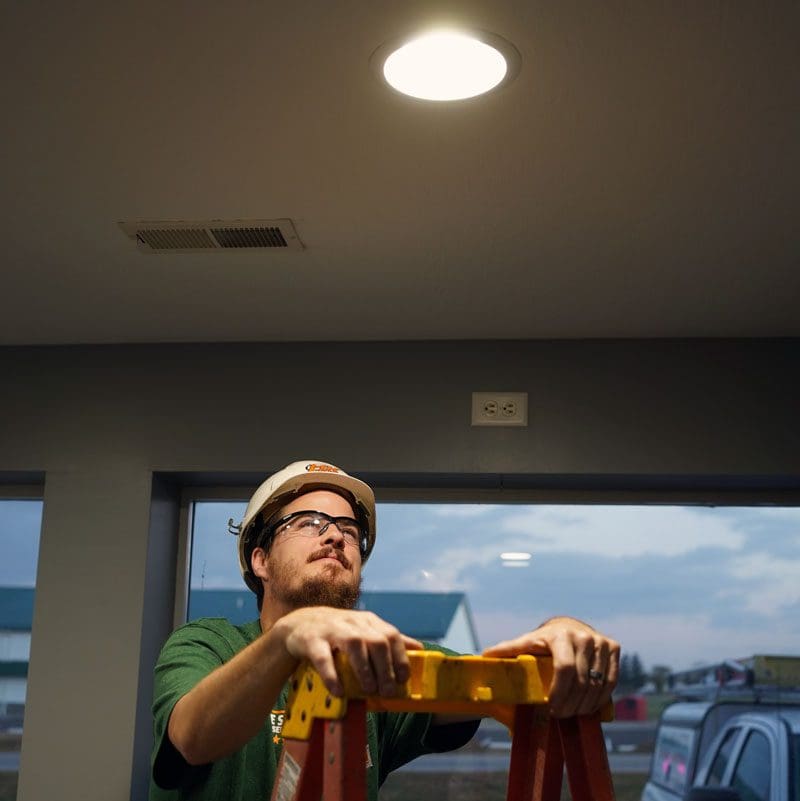 Electrical Services
Interior Lighting Installation in Central & Southern Ohio
Five Star Home Services helps you customize any additional lighting needs by installing track or accent lights. Use track and accent lighting to illuminate your home's architecture and creative style, enhancing its personality and individuality. Customized lighting is a great way to add a finishing touch to the look of your home. Some examples of these jobs include cabinets, walls, stairs, porches, and more. Our expert electricians are waiting to hear your lighting project ideas and make them a reality. Get a free online estimate today!
Are you looking for an affordable way to revamp your interior? Recessed lighting offers the ideal blend of form and function to give your space a new look. Well-chosen, carefully placed lights can highlight a room's best features, improve lighting in poorly lit areas, and offer a decorative element to your home. Five Star can improve existing accent lighting or install new ones for you. Call us at (833) 405-8009 for fast and courteous service. Nestled within the ceiling rather than on the surface, recessed lighting consists of the trim and the housing. The housing fixture holds the bulb and is installed inside the ceiling. The trim is the finished edge you see when looking up the fixture. We service Dayton, Cincinnati, Columbus, and Northern KY!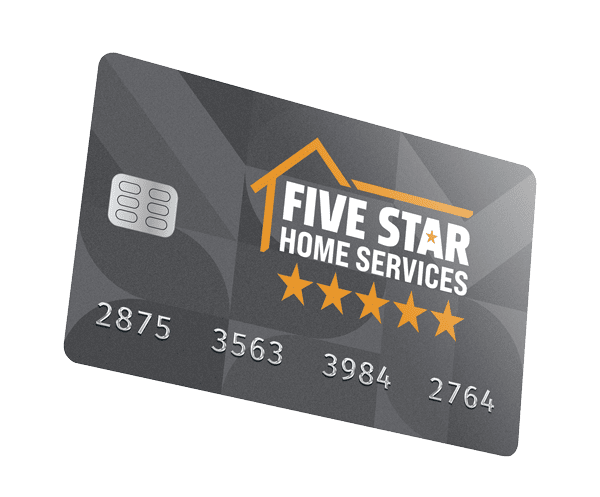 Financing Options
Buy Today, Pay Over Time
If you're in need of a new water heater, furnace, air conditioner, electrical panel, toilet, or something else, and you're wondering how you're going to come up with the money, we encourage you to check out our amazing in-house financing options. We can set up a monthly installment plan that works for your budget.
The Gold Standard in Electrical Services Since 1972
Are you looking for a local electrician or an "electrician near me" in Greater Columbus, Cincinnati, Dayton, or surrounding areas? If so, you're in luck. Five Star Home Services is your local residential electrician. We are your "electric company near me" throughout the three major metro areas we service. Whether you need ceiling fan installation, surge protection, pool light repair, ceiling fan installation cost, a panel upgrade, fire alarm installation, 24-hour electrician, outside lighting fixtures, outside lighting fixtures, led outside lighting, electrical outlet repair, fire alarm installation companies, home fire alarm installation, emergency electrician, outlet repair, surge protection outlet, an electric panel upgrade, outside lighting controls, surge protection, or a 24-hour emergency electrician, we can help. We offer all types of residential and commercial electrical installation services.