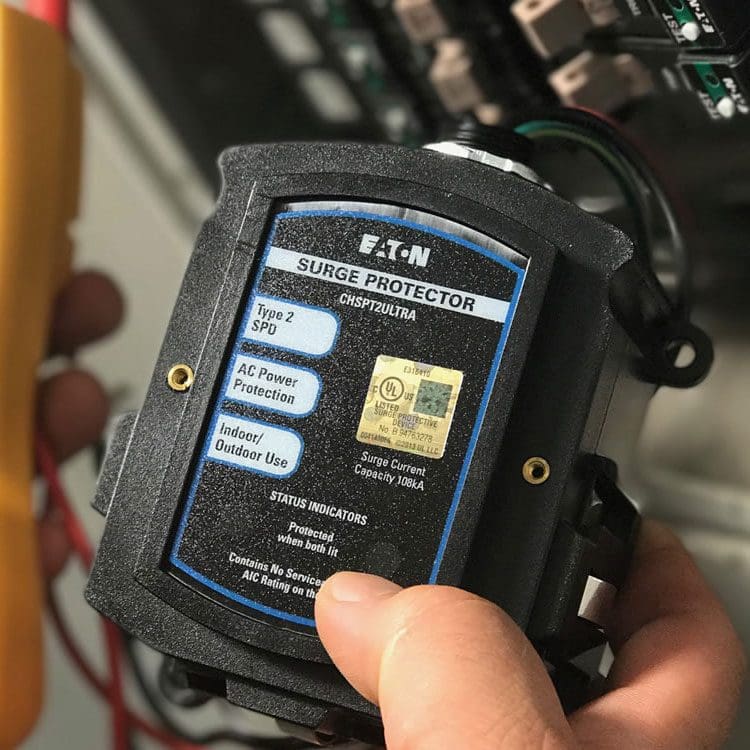 Whole-House Surge Protector Installation in Columbus, Dayton & Cincinnati
Surge protectors are essential for extending the lifespan of your home's appliances and electronics. Power surges put your electronics at risk like nothing else. Whether it be a lightning strike, a power outage, a grid malfunction, or some other type of electrical problem, power spikes can be very expensive. The best way to protect your precious appliances and electronics from power surges, as such, is to install a surge protector.
Whole-house surge protectors block power surges instantly and prevent them from entering the home's electrical circuits. Because of this, they provide the most comprehensive protection for the entire home. Although the smaller, individual plug-in surge suppressors might help in addition to the larger versions, they aren't sufficient on their own to protect electronics because whole-home surge protection is something that's hard-wired into the home by an electrician.
If you have a home office or expensive electronics and sensitive appliances in your home, you should consider having a whole house surge protector installed. Whole house surge protection and whole house surge suppression are truly the most reliable ways to preserve your valuable electronics and in-home appliances.
Featured Deal
FREE Instant Online Estimate
If you're experiencing issues with your HVAC, plumbing, or electrical system in Central Ohio or Southwest Ohio, don't hesitate to book a FREE online estimate with Five Star Home Services. We're ready to help! We'll guide you in the right direction for your situation and budget. We also offer great financing plans for Ohio homeowners. This service includes:
Free in-home estimate
Expert recommendations for replacement or repair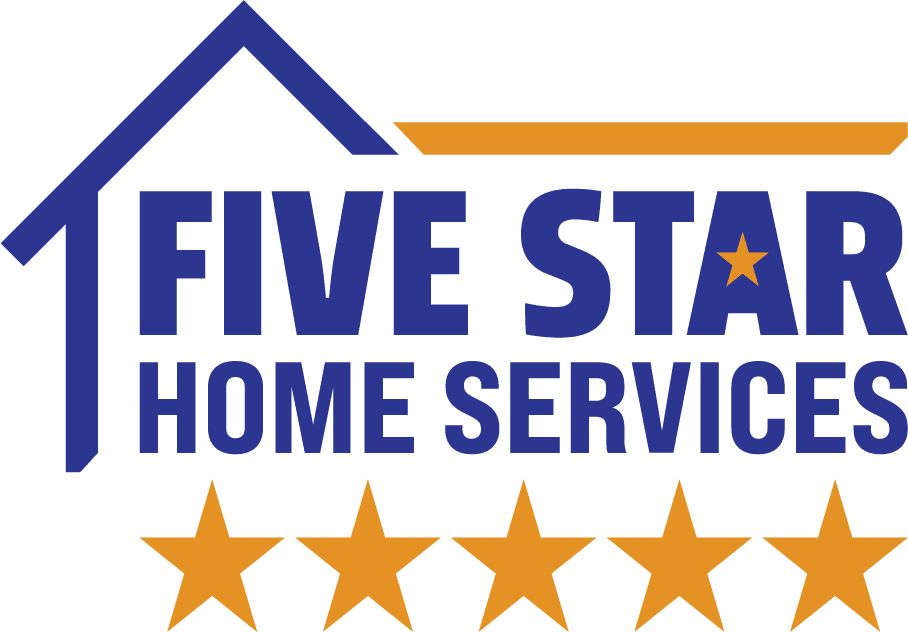 $0 Instant Online Estimate
Book a Free Estimate

4 Benefits of a Whole-House Surge Protector
Transient Surges Protection
Short transient surges usually come from inside the home. It could be something like a high-power air conditioner's motor that generates the surge. Spikes don't usually cause serious damage in a single event. However, the impacts add up over time. They can decrease performance and shorten their lifespan. It's harder on larger appliances like microwaves, ovens, refrigerators, and washing machines. Larger appliances turning on and off periodically are often the source of internal surges.
Protect Your High-Tech Gadgets
The average home has more devices and appliances now than ever before. Without a whole house surge protector, these expensive products are vulnerable to power surges. Most appliances you buy today have sensitive circuit boards and other components. Smart phones and tablets are also vulnerable to power surges. A single power surge can damage a circuit board beyond repair and disable the appliances connected to it, wiping vast amounts of data contained on personal devices.
Electrical Fire Prevention
Surges in your home's wiring can cause sparks, overheating, fires, and electrical arcing. Having this protection against surges of 40,000 amps, high external voltages can't reach internal circuits, and damage is prevented during internal surges Because faulty outlets, wiring problems, and aging appliances are among the most common causes of residential fires, it is essential to address these problems to maximize home safety. If there's any sort of hidden problem, surge protection can lower the risks when abnormally high voltages affect your electrical system.
Prevent Damage to Appliances and Devices
If your fridge fails because of a power surge, you won't be able to keep your food sufficiently cold. A surge can cause an air conditioner or heater to breakdown; it can make your home uncomfortably chilly in winter and in the summer it can become dangerously hot. The damage can be quite expensive. Some of these home appliances cost several thousand dollars to replace. Not to mention the loss of the use of the appliance. In any case, whole house surge protectors help you avoid damage that could require replacing them as well.
We Service all Electrical Brands
Columbus, Dayton, & Cincinnati Electrical Contractor
Are you looking for a local electrician or an "electrician near me" in Greater Columbus, Cincinnati, Dayton or surrounding areas? If so, you're in luck. Five Star Home Services is your local residential electrician. We are your "electric company near me" throughout the three major metro areas we services. Whether you need ceiling fan installation, surge protection, pool light repair, ceiling fan installation cost, panel upgrade, fire alarm installation, 24-hour electrician, outside lighting fixtures, outside lighting fixtures, led outside lighting, electrical outlet repair, fire alarm installation companies, home fire alarm installation, emergency electrician, outlet repair, surge protection outlet, electric panel upgrade, outside lighting controls, surge protection, or a 24-hour emergency electrician, we can help. We offer all types of residential and commercial electrical installation services. We can restore power to dead electrical outlets, circuit breakers, electrical panels and fuse boxes. If your home ever experiences any sort of power outage, it is essential, for your own safety, that you call our residential electrical contractors. We encourage you never to attempt to try and repair these electrical issues without calling us first! Our residential electricians are highly skilled at helping homeowners and business owners with home improvement projects that require the installation of any kind of lighting, including new ceiling lights or ceiling fans, recessed lighting, lighting under cabinets, hallway lighting, bathroom lighting, landscape lighting, basement lighting, other types of outdoor lighting, garage lighting and more.
Avoid a Residential Power Surge in Central Ohio & Southwest Ohio
Power surges usually follow wiring inside a home. Because of this, it can threaten any device that's plugged into it. However, if you plug a device into a low-cost, multi-outlet surge suppressor, you might have a false sense of security that could cost you. Complete protection from power surges needs to be hard-wired into the home's main electrical panel by a licensed electrician like our surge protection experts here at Five Star Home Services. Our electrical experts offer hard-wired surge protectors for the entire home or building at prices our competitors can't beat.
If you're ready to upgrade the surge protection you have for your whole home, call Five Star right away. We install whole-home surge protectors fast and affordable to protect all your appliances and electronics for years to come. We also provide whole-home generator repair, maintenance, and installation. So get started with a free online estimate today!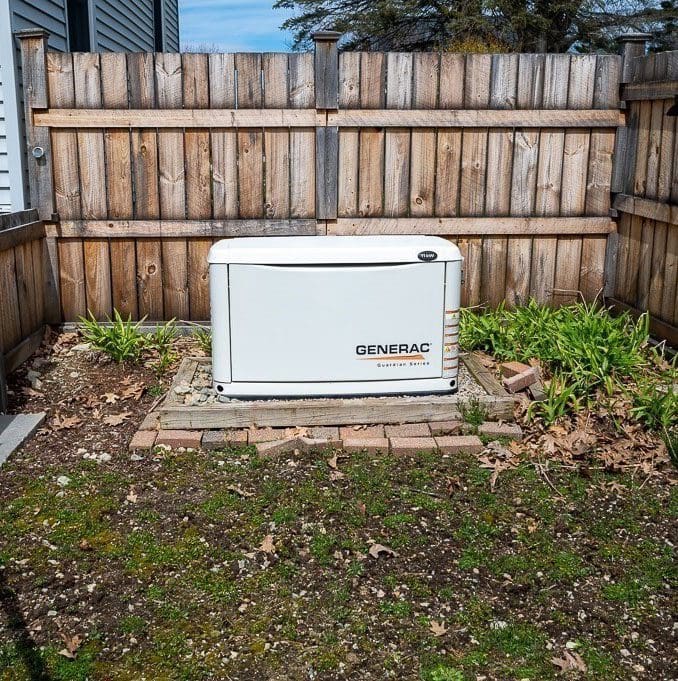 The Best in Home Services. Free Estimates
Schedule Now Service Call
with a paid repair