TAnkless Water Heaters
Tank Water Heater & Tankless Water Installation & Repair in Central and Southwest Ohio
Over the past few years, tankless water heaters have increased dramatically in popularity. Also known as on-demand water heaters, tankless water heaters provide homeowners with heated water as needed. They save you money and space because they eliminate the need for a storage tank. Although this type of water heater has a slower flow rate, they're still the ideal choice for a lot of homeowners in Greater Columbus, Dayton, and Cincinnati, especially the ones that don't need a large volume of heated water all at once. When it comes to purchasing a tankless water heater, expert installation is a must. Storage tank water heaters are commonly found in most homes. Their components are an insulated tank, typically holding 30-50 gallons of water, to heat and store the water until it's needed. A pipe emerges from the top to deliver hot water to its destination, kitchen, bathroom, or other sinks.
If you're online looking for a "tankless water heater repair near me" or a "tank water heater installation company near me" and you live anywhere in or around Greater Columbus, Greater Cincinnati and Greater Dayton or Northern Kentucky, you're in the right place. Five Star Home Services offers affordable tankless water heater installation services all year long. We are open 24-hours a day, 365 days a year, including all holidays.

4 Benefits of Tankless Water Heaters

Tankless water heaters can be a good choice for homeowners in some situations. However, traditional water heaters still have many advantages as well. Some of those benefits include:
CHEAPER INITIAL COSTS
The installation of a traditional water heater costs around $1,000 on average. Compare that to purchasing and installing a new tankless water heater, and you'll see a difference. Tankless water heater installation costs as much as $3,000 on average. Additionally, traditional water heaters are easier to install.
LARGER SUPPLY OF HOT WATER
Tankless heaters are designed to produce hot water quickly to a specific part of the house. The water is already heated. It is stored in a tank and ready to go when you need it. It might cost more to keep the water heated, but you're much less likely to run out when needed.
LOWER MAINTENANCE OVER THEIR LIFETIME
With a tankless water heater, an expert should come over at least once a year to remove any lime buildup from the equipment. There is less maintenance required on traditional models as long as the home's water isn't hard.
TRADITIONAL WATER HEATERS HAVE IMPROVED
Traditional water heaters are much more efficient today than they were even a few years ago. When you purchase one from a reputable manufacturer, their warranties offer excellent protection for your investment.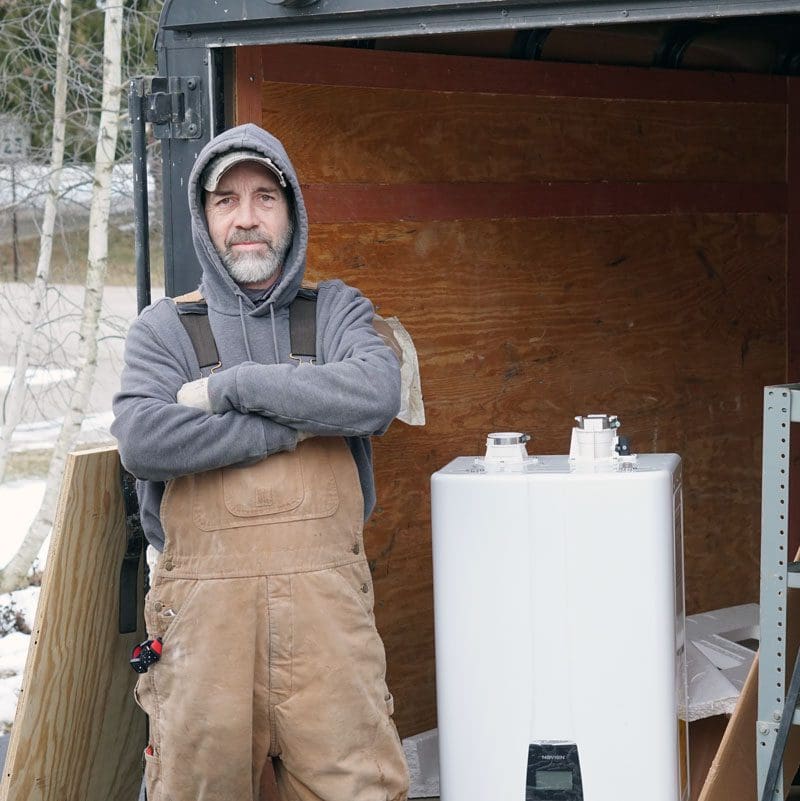 Water Heaters
Tank Water Heater & Tankless Water Heater Experts
Our team of a highly trained team of repair and install technicians can ensure that everything is done correctly, allowing you to enjoy dependable hot water on demand. We offer a same-day replacement if we can't repair your water heater. We can help you in determining which model of tankless hot water equipment is most appropriate for your specific needs, as well as one that works with your budget. Remember also, we also offer in-house financing on new water heater installations so you can enjoy your hot water today and pay for it over time with manageable monthly payments.
We at Five Star Home Services carry tankless, electric, and gas water heaters from trusted industry brands such as Navien®, Bradford White®, and more. We service all brands and all styles of hot water heaters, including traditional (tank) water heaters, tankless water heaters, and electric and gas models.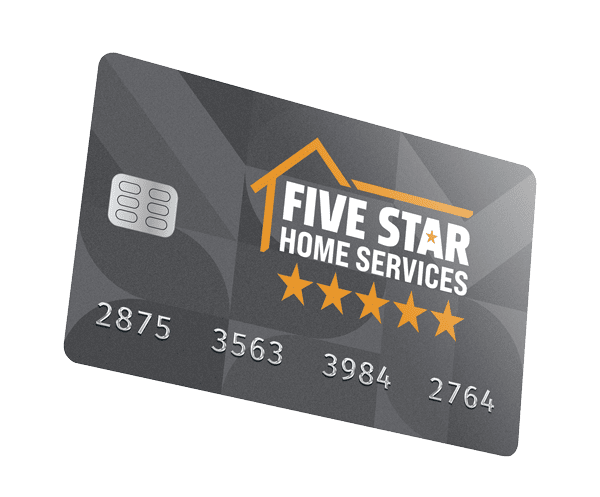 Financing Options
Buy Today, Pay Over Time
If you're in need of a new water heater, furnace, air conditioner, electrical panel, toilet, or something else, and you're wondering how you're going to come up with the money, we encourage you to check out our amazing in-house financing options. We can set up a monthly installment plan that works for your budget.
The Gold Standard in Plumbing Services Since 1972
Keeping an eye on your plumbing is essential to ensure that more minor issues do not turn into larger messes that cost you more money in the long run. If you notice any of the following problems, it's time to call Five Star Home Services! If you're making the investment of building or remodeling your home, it's essential to make sure that you choose an experienced, licensed plumber who uses only quality materials and artistry. We'll work closely with you to select the best fixtures and installation to fit your needs, timeline, and budget.
Call us for help with all types of sewer, excavation, and drain issues, including sewer repair, sewer cleaning, sewer jetting, drain jetting, hydro jetting, plumbing video inspections, drain camera services, clogged sewers, clogged drains, excavation, sewer snaking, drain cleaning, clogged drains, drain snaking, sewer line services, clogged toilets, sewer drain repairs, downspout cleaning, French drains, downspout drains and more.