Sump Pumps
Ohio Sump Pump Repair, Installation & Replacement
Most people don't think about their sump pump much until there's a downpour. Once the rain hits, you hope your sump pump works correctly so your basement doesn't sustain serious water damage. Because sump pumps can stop working at any time for almost any reason, being mindful of this and utilizing expert sump pump care is essential. If you're having an issue with your sump pump and need sump pump repair, sump pump replacement, sump pump installation or sump pump maintenance, you're in the right place.
Our sump pump experts at Five Star Home Services have seen it all. If your sump pump isn't running like you need it to, give us a call. We can come over and investigate the problem right away. We can examine your sump pump during our visit and offer all sorts of preventive maintenance tips, so it doesn't end up quitting when you need it most. We have all the skills and expertise needed — whether you need a sump pump repair or sump pump replacement. Additionally, all of our services are backed by a 100% Customer Satisfaction Guarantee for a year. Give us a call today at (833) 405-8009 or book an appointment online.

4 Benefits of a Residential Sump Pump
A sump pump removes water build-up in basements and other crawlspaces by depositing it into a building's wastewater system. They are helpful for any home or building with a high water table. Sump pumps require professional help to install but are simple to operate once hooked up to your drainage system. Five Star Home Services can provide professional support, and we can also tell you how a sump pump can help you and your home:
PREVENT FLOODING DAMAGE
While sump pumps are good at dealing with gradual water build-up, they thrive when dealing with large-scale flooding. For example, if torrential downpours cause your basement to flood, you could easily have over a foot of flooding. This could be disastrous if you store anything valuable in the basement. Fortunately, a working sump pump can prevent this problem.
REDUCED FIRE RISK
Flooding is a significant cause of electrical fires. The water that builds up in your basement can cause short circuits in any appliances you might have, like washing machines and heating systems. Your appliances will be ruined even if the water doesn't cause a fire. A sump pump can protect your devices from water damage and electrical fires caused by said damage.
INCREASE PROPERTY VALUE
This may be an obvious advantage, but homeowners like it when their current or future homes are protected from damage. Installing a sump pump in your home can help maintain its value and keep the structure of the house from being compromised by water damage.
REDUCED MOLD AND MILDEW
If you have stagnant puddles of water and constant dampness in your basement, mold, and mildew are likely to grow there. Not only can this damage building materials and other goods, but it can also cause various health problems. A sump pump can keep your basement dry and prevent mold and mildew growth.
Water Services
Professional Sump Pump Repair & Replacement in Central & Southern Ohio
Sump pumps require electricity. As noted, they operate in and around water. It is essential that the outlet you connect to the pump features a ground fault circuit interrupter (GFCI). It is also recommended that you hire a professional to install a battery backup sump pump for peace of mind in the event of loss of electricity. Flooding often accompanies severe storms, as do power failures. If your sump pump detects water but has no power source to operate, you may be exposed to possible basement flooding.
We can examine your sump pump during our visit and offer all sorts of preventive maintenance tips so it doesn't end up quitting when you need it most. Because your sump pump is a sort of safeguard you need to protect your home from water damage and basement flooding, trust our sump pump specialists at Five Star Home Services to confirm your equipment is doing its job.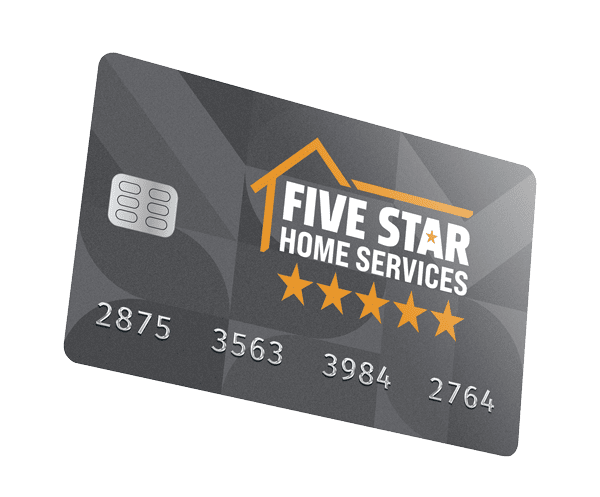 Financing Options
Buy Today, Pay Over Time
If you're in need of a new water heater, furnace, air conditioner, electrical panel, toilet, or something else, and you're wondering how you're going to come up with the money, we encourage you to check out our amazing in-house financing options. We can set up a monthly installment plan that works for your budget.
The Gold Standard in Plumbing Services Since 1972
Keeping an eye on your plumbing is essential to ensure that more minor issues do not turn into larger messes that cost you more money in the long run. If you notice any of the following problems, it's time to call Five Star Home Services! If you're making the investment of building or remodeling your home, it's essential to make sure that you choose an experienced, licensed plumber who uses only quality materials and artistry. We'll work closely with you to select the best fixtures and installation to fit your needs, timeline, and budget.
Call us for help with all types of sewer, excavation, and drain issues, including sewer repair, sewer cleaning, sewer jetting, drain jetting, hydro jetting, plumbing video inspections, drain camera services, clogged sewers, clogged drains, excavation, sewer snaking, drain cleaning, clogged drains, drain snaking, sewer line services, clogged toilets, sewer drain repairs, downspout cleaning, French drains, downspout drains and more.