Gas Water Heaters
Ohio Gas Water Heater Repair, Maintenance & Installation
Although electric water heaters are very common and even popular in homes throughout Greater Columbus, Dayton and Cincinnati, gas water heaters are also increasing in popularity. The first thing to look at before installing a gas water heater is the availability of gas in your area. When it comes to gas water heater services, it is always essential to work with a plumbing expert. For some, switching to gas is a good alternative if they already have gas appliances hooked up and a good connection to gas. However, gas might not always be the best option in some areas, especially if there are gas lines running near the home. To ensure you get the best services possible, call the local professionals at Five Star Home Services to help you choose the best style and model of gas heater for your home.
If you're online looking for a "gas water heater installation expert near me" or a "gas water heater expert near me" in Greater Dayton, Greater Cincinnati and Greater Columbus, you're in the right place. Five Star Home Services has all your needs covered in one place. We offer affordable gas water installation services throughout the year with a best-price guarantee and a 100% customer satisfaction guarantee you can take to the bank.

4 Benefits of Installing a Gas Water Heater

Gas water heaters offer a wide range of benefits. Some of those benefits include the following:
EASY INSTALLATION
Gas water heaters are usually easy to install, provided the home is already set up for gas. This process is even easier if you're looking to replace an existing gas water heater. This also means it costs less and can be done quicker.
LOWER OPERATING COSTS
Gas water heaters are cheaper to use than electric water heaters. In fact, it is usually only one-third of the cost of electricity. It is more expensive than natural gas. However, it is still significantly cheaper to use than electricity.
FASTER WATER HEATING
Gas water heaters recover a lot more quickly compared to electric water heaters. If you have a lot of hot water use in your home, your supply will be replenished more rapidly with a gas water heater.
MEETS ALL YOUR NEEDS
Because of the faster recovery rate with a gas water heater, you are much more likely to be able to meet all your needs with a tankless gas water heater. Although an electric tankless water heater might not meet all your needs, installing a gas tankless water heater is much more likely.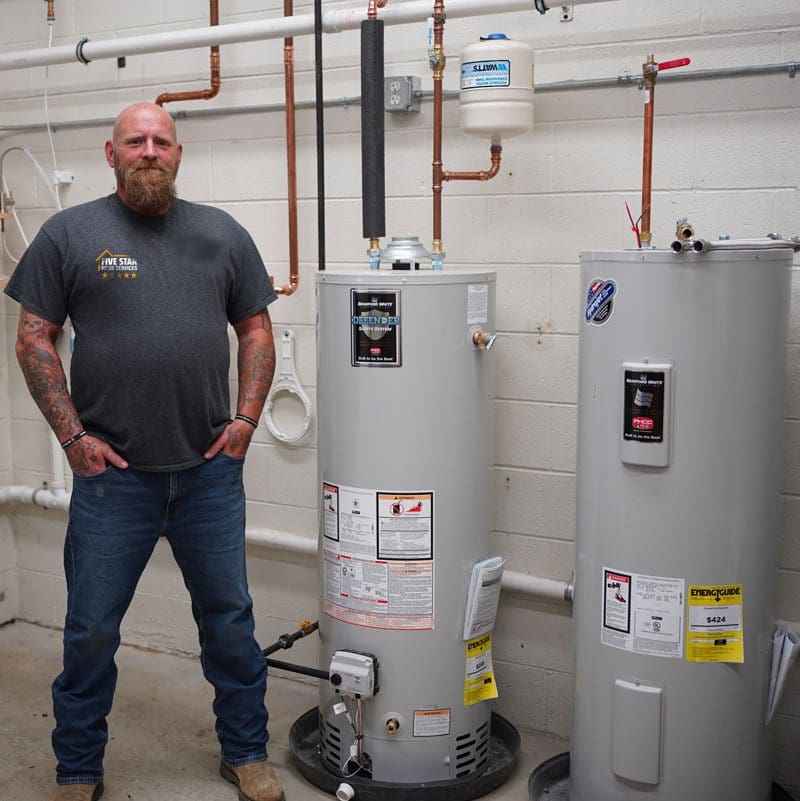 Water Heater Services
Peace of Mind for Your Ohio Gas Water Heater Installation
If you compare the efficiency of an electric water heater to that of a gas water heater, you'll see electric water heaters are more efficient. However, natural gas is used to power other home appliances, including stoves, ovens, clothing dryers, and more, so they are often the ideal choice when installing a new water heater. Gas is also much more affordable. Because of this, it's no surprise that so many homeowners use gas to keep their indoor water supply heated. In general, gas is less expensive than electricity. This is why so many tend to prefer it. It's also worth noting that gas boils water much faster than electricity.
Water heaters can be dangerous when not installed by licensed, experienced plumbers. Incorrectly installed water heaters can increase your risk of house fires. They can even build up pressure and explode, going right through your home's roof. Our skilled plumbers at Five Star Home Services offer years of experience with plumbing and water heaters. Choose our team for all your Ohio water heater installation needs, and rest easy knowing you, your home, and your family are safe.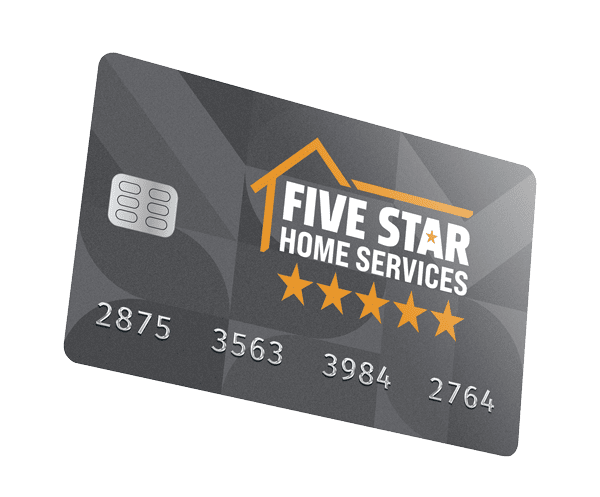 Financing Options
Buy Today, Pay Over Time
If you're in need of a new water heater, furnace, air conditioner, electrical panel, toilet, or something else, and you're wondering how you're going to come up with the money, we encourage you to check out our amazing in-house financing options. We can set up a monthly installment plan that works for your budget.
The Gold Standard in Plumbing Services Since 1972
Keeping an eye on your plumbing is essential to ensure that more minor issues do not turn into larger messes that cost you more money in the long run. If you notice any of the following problems, it's time to call Five Star Home Services! If you're making the investment of building or remodeling your home, it's essential to make sure that you choose an experienced, licensed plumber who uses only quality materials and artistry. We'll work closely with you to select the best fixtures and installation to fit your needs, timeline, and budget.
Call us for help with all types of sewer, excavation, and drain issues, including sewer repair, sewer cleaning, sewer jetting, drain jetting, hydro jetting, plumbing video inspections, drain camera services, clogged sewers, clogged drains, excavation, sewer snaking, drain cleaning, clogged drains, drain snaking, sewer line services, clogged toilets, sewer drain repairs, downspout cleaning, French drains, downspout drains and more.