Ohio Water Heater Repair, Installation, and More
Five Star Home Services offers all types of plumbing services, including water softeners, water heaters, tankless water heater installation, and more. We repair and replace water heaters in Columbus, OH, Dayton, OH, and Cincinnati, OH areas. If you have a water leak, no hot water, or discolored water, give us a call. We offer 24/7 emergency service.
Tank(Less) Water Heaters→
WAter Heaters
We Restore Hot Water in Columbus, Dayton & Cincinnati, OH
Whether you need to repair or replace your water heater, Five Star Home Services has all the skills and knowledge you need. Our plumbing technicians can perform any water heater repair that comes our way in Greater Columbus, Dayton, Cincinnati, and surrounding areas. We offer emergency water heater repair, tankless water heater repair, gas water heater repair, and electric water heater repair all year.
We also carry all the top products — from tankless water heaters and hybrids to traditional tank water heaters and more —so we know how every unit runs and can get the job done swiftly and professionally. Additionally, our services are supported by a 100% Customer Satisfaction Guarantee for a year. Five Star Home Services is the top-rated company to call as we have been working in area homes for half a century. We have a long track record of excellence. Most importantly, we stop at nothing to ensure you get the most value for your money.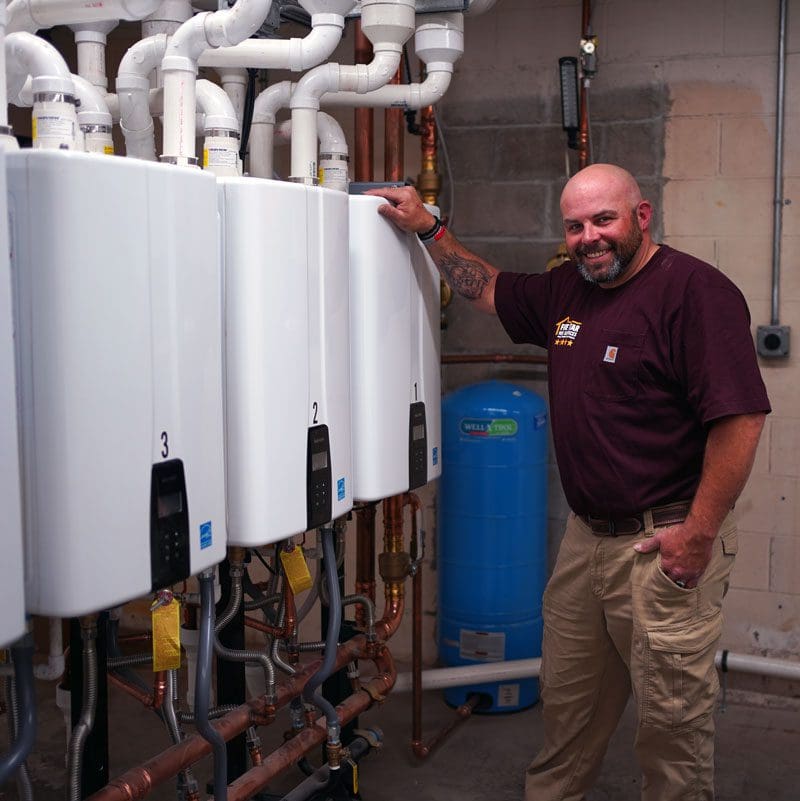 Water Heater Installation & REplacement
Water Heater Installation You Can Trust in Central & Southern Ohio
Are you looking for a nearby plumber or plumbing contractor in Greater Dayton, Cincinnati, Columbus, or surrounding areas for a plumbing installation? Five Star Home Services can help with all types of plumbing installations, including electric water heater installation, gas water heater installation, tankless water heater installation, water softener installation, garbage disposal installation, sump pump installation, gas line installation, toilet installation, faucet installation, shower installation, bathtub installation and more. We proudly work with products from names like Bradford White®, Navien®, Bliss Tubs®, and more.

4 Water Conservation Tips for Ohio Homeowners

Our plumbing experts and the EPA offer several tips for Ohio homeowners looking to conserve water:
TIPS FOR EVERY ROOM IN THE HOUSE WITH PLUMBING
We suggest not waiting to take care of plumbing problems. Repair leaky faucets, both indoors and out. Also, consider replacing old equipment (such as toilets, dish washers, water heaters, and laundry machines) without delay. Using outdated equipment will cost more, and the product needs to be replaced sooner or later. Upgrading to something with higher efficiency saves money over time.
TIPS FOR THE KITCHEN
For water usage in the kitchen, we suggest peeling and cleaning vegetables in a large bowl of water instead of under running water when cooking. Fill your sink or basin when washing and rinsing dishes. Additionally, you should only use the dishwasher when it's complete. When buying a dishwasher, select one with a "light-wash" option. Only use garbage disposals when necessary (composting is a great alternative). We also encourage installing faucet aerators.
TIPS FOR THE BATHROOM
We recommend taking shorter showers instead of baths. Homeowners turn off the water to brush their teeth, shave, and soap in the shower. We recommend filling the sink to shave. You should also repair any leaky toilets. You can also add 12 drops of food coloring into the toilet's tank to check for leaks. If the color appears in the bowl about an hour later when you study, your toilet leaks. Homeowners can install a toilet dam, faucet aerators, and low-flow showerheads to conserve water.
LAUNDRY TIPS TO SAVE WATER
Experts agree that homeowners should only run full loads of laundry when doing laundry. If you're purchasing a new washing machine, you should only buy a water-saving model that can be adjusted to the load's size.
Plumbing That Won't Drain Your Bank Account.
We stand behind every installation we perform. We provide warranty coverage and a workmanship guarantee you will not find elsewhere! Call us today at (833) 405-8009.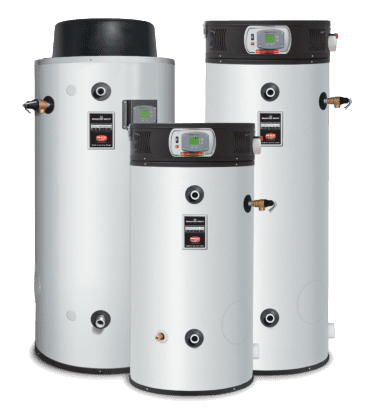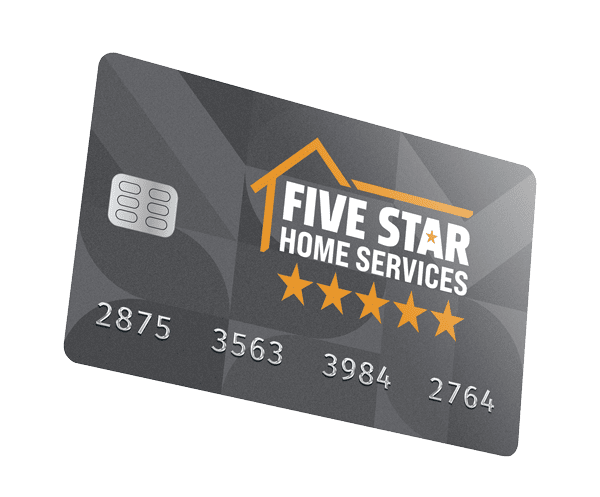 Financing Options
Buy Today, Pay Over Time
If you're in need of a new water heater, furnace, air conditioner, electrical panel, toilet, or something else, and you're wondering how you're going to come up with the money, we encourage you to check out our amazing in-house financing options. We can set up a monthly installment plan that works for your budget.
The Gold Standard in Plumbing Services Since 1972
Keeping an eye on your plumbing is essential to ensure that more minor issues do not turn into larger messes that cost you more money in the long run. If you notice any of the following problems, it's time to call Five Star Home Services! If you're making the investment of building or remodeling your home, it's essential to make sure that you choose an experienced, licensed plumber who uses only quality materials and artistry. We'll work closely with you to select the best fixtures and installation to fit your needs, timeline, and budget.
Call us for help with all types of sewer, excavation, and drain issues, including sewer repair, sewer cleaning, sewer jetting, drain jetting, hydro jetting, plumbing video inspections, drain camera services, clogged sewers, clogged drains, excavation, sewer snaking, drain cleaning, clogged drains, drain snaking, sewer line services, clogged toilets, sewer drain repairs, downspout cleaning, French drains, downspout drains and more.