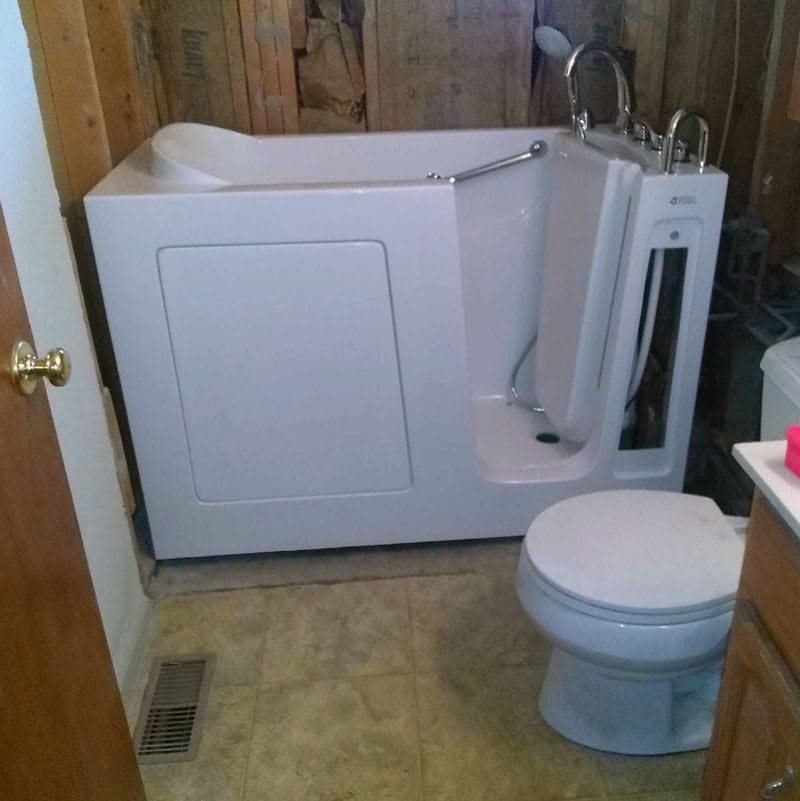 Bliss Walk-In Tubs® Installation in Columbus, Dayton & Cincinnati, Ohio
Can you imagine soaking in a large spacious walk-in bath tub by Bliss Tubs? There's nothing as luxurious and sophisticated as our line of walk-in bathtubs. Bliss tubs exceed everyone's expectations and needs. The kind of bathing experience that comes with a Bliss Tub is unmistakable. Bliss truly does enhance a person's quality of life and helps them remain self-reliant. By hiring a local bathroom expert at Five Star Home Services, you get to choose to build your tub in an open and spacious area or a smaller place. Bliss tub offers a wide range of sizes that give you comfort and freedom.
We at Five Star Home Services are well-known for our professional installation services. Homeowners who upgrade to these unique bathtubs agree it's worth the investment. We can convert a standard bathroom into a more sophisticated bathroom that's something you cherish for years to come. Bliss Tubs have water jets, air jets, air massage features, and more If you'd like to learn about Bliss Walk-in Tubs, call Five Star Home Services.
Featured Deal
FREE Instant Online Estimate
If you're experiencing issues with your HVAC, plumbing, or electrical system in Central Ohio or Southwest Ohio, don't hesitate to book a FREE online estimate with Five Star Home Services. We're ready to help! We'll guide you in the right direction for your situation and budget. We also offer great financing plans for Ohio homeowners. This service includes:
Free in-home estimate
Expert recommendations for replacement or repair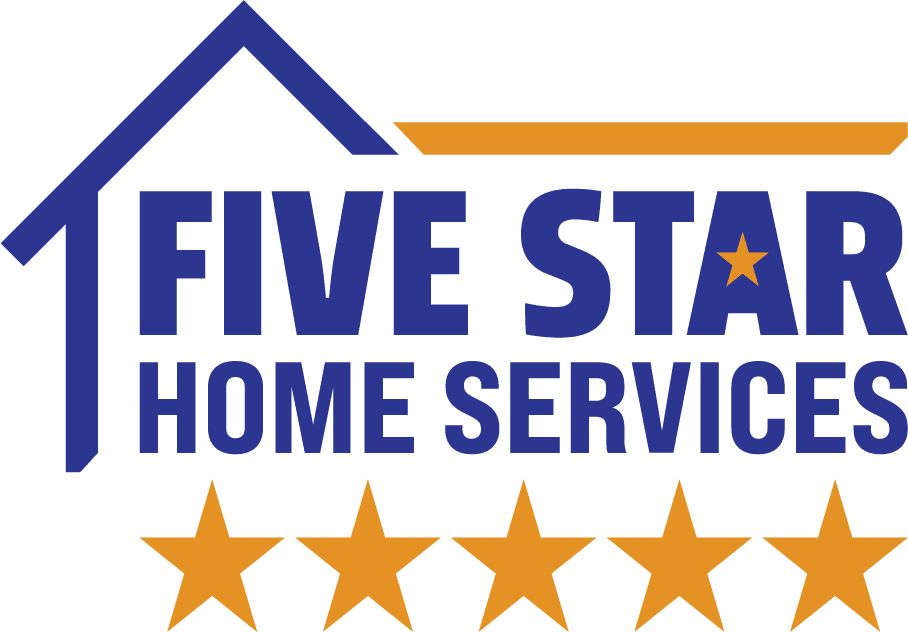 $0 Instant Online Estimate
Book a Free Estimate

4 Benefits of Bliss Walk-In Tub® Installation
Improves Safety & Independence
Because there is increased safety with a walk-in bathtub, this promotes greater independence. And Bliss prides itself on making tubs that exemplify these two things. You will be able to get in and out of the tub safely, which can lead to better bathing, needing less assistance, and taking control of how you take care of yourself daily.
Provides Symptom Relief
A lot of people invest in walk-in tubs because they cannot provide symptom relief for illnesses and injuries. The hydro jets that can be added to a walk-in tub allow for increased circulation and the calming of muscles with warm water and a feeling of well-being, knowing that this time is spent relaxing and stimulating your body to make it feel its absolute best.
Promotes Relaxation & Well-Being
One of the most prolific benefits of a walk-in tub is the feeling of relaxation. This calming experience gives you the time to actually calm and relax muscles during the day or night. Increasing your sense of well-being is always an added benefit when you install a walk-in tub.
Increases Overall Hygiene
With mobility being decreased, a lot of people don't bathe as much as they once did. Because of the accessibility and safety of the Bliss walk-in tub, you can increase your hygiene because of the ease of getting in the tub and out, and this can improve your overall happiness and increase your independence.
We Service all Plumbing Brands
Professional Bathtub Installation in Columbus, Cincinnati & Dayton, Ohio
Bathroom upgrades are also a great way to give older, more traditional homes a new, modern look. If you are looking to upgrade your bathroom, you should hire a certified plumbing professional to do the work. By hiring a company such as Five Star Home Services, a homeowner is sure to be satisfied. Additionally, remodeling the bathroom can also increase the value of your home and make it easier to sell.
Five Star Home Services is proud to install Bliss Walk-in Tubs® in Columbus and surrounding areas. Bliss Tubs are considered the best walk-in tubs available on the market. These luxurious tubs come with an airflow system, jet massager, and mixing valves. Call us to learn more about Bliss Bath Tubs and how they can ensure safety and preserve your home.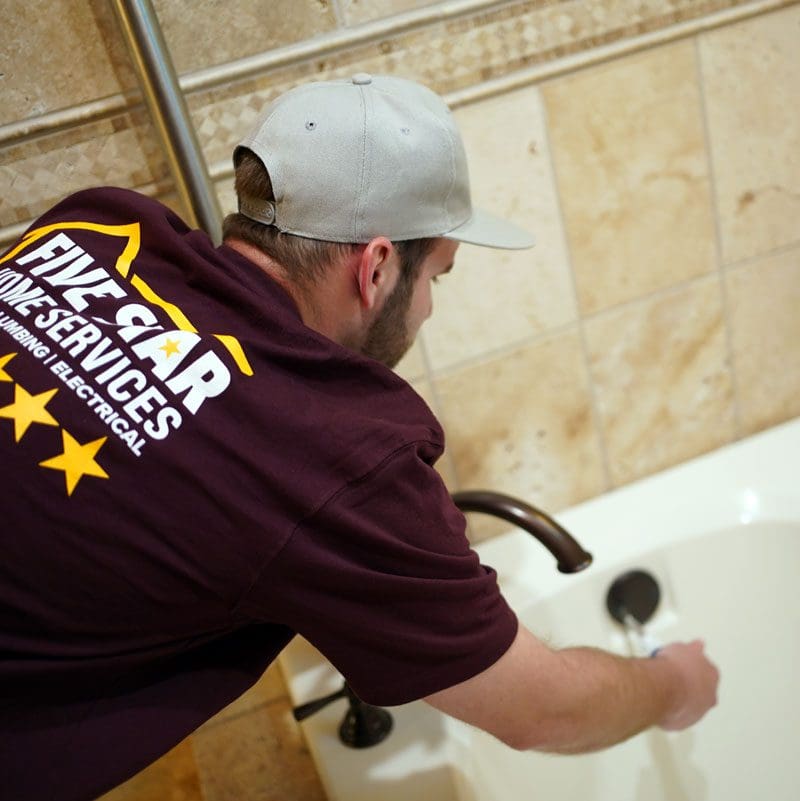 The Gold Standard in Plumbing Services Since 1972
It is essential to keep an eye on your plumbing to ensure that more minor issues do not turn into larger messes that cost you more money in the long run. If you notice any of the following problems, it's time to call Five Star Home Services! If you're making the investment of building or remodeling your home, it's essential to make sure that you choose an experienced, licensed plumber who uses only quality materials and workmanship. We'll work closely with you to select the best quality fixtures and installation to fit your needs, timeline, and budget. Whether you have a residential or commercial plumbing problem during the night, early in the morning, during a weekend, or even — you can count on us for emergency plumbing services 24 hours a day, seven days a week, 365 days a year and we don't stop there. When you call us for plumbing support, we can immediately make appointments that same day to fit your busy schedule and dispatch an experienced local plumbing expert to your home or property. Five Star Home Services is proud to offer plumbing and bath services for all Franklin County and surrounding Central Ohio communities. Call us for help with all types of sewer, excavation, and drain issues, including sewer repair, sewer cleaning, sewer jetting, drain jetting, hydro jetting, plumbing video inspections, drain camera services, clogged sewers, clogged drains, excavation, sewer snaking, drain cleaning, clogged drains, drain snaking, sewer line services, clogged toilets, sewer drain repairs, downspout cleaning, French drains, downspout drains and more

The Best in Home Services. Free Estimates
Schedule Now Service Call
with a paid repair