Bathroom Repair & Installation
Bathroom Repair, Maintenance & Installation in Columbus, Dayton & Cincinnati, Ohio
Whether you work hard or go to school, after a long day away from home, you deserve a comfortable bathroom that meets your needs. Bathrooms should meet the needs of everyone, regardless of their age, range of mobility, and physical condition. If you're looking to build a spacious bathroom or want to expand an existing one, our experts at Five Star Home Services can help! Because bathrooms are more than bathrooms, and we use them as a quiet place away from the noisy, hectic world, we encourage homeowners to call us if they need any bathroom repair services, maintenance, and installation. We offer expert bathroom services at affordable prices throughout Greater Dayton, Greater Columbus, and Greater Cincinnati.
If you want to remodel your bathroom or make it more accommodating, we have an exceptional team of bathroom makeover specialists who offer plumbing remodeling services at affordable prices. In addition to our line of walk-in bathtubs, we also provide sink replacement, toilet replacement, floor replacement, tile work, shower upgrades, tile backsplashes, and more. In addition, we can install a vanity or bathroom mirror, install ceramic tile, provide drain services, repair bathroom ventilation, and more.

4 Common Residential Bathroom Repairs
Five Star Home Services has the expertise you need to get you through any type of bathroom repair or bathroom plumbing need. Below are some of the most common problems you could run into and some information on why they happen and what can be done about the issue.
DRIPPING FAUCETS
Dripping faucets are irritating, wasteful, and expensive. Sometimes, these drips can be caused by a worn-out washer or a lousy O ring. If so, it can easily be replaced. In other situations, corrosion or even improper faucet installation can be the problem causing the drip. If your faucet is dripping, give us a call. Our expert plumbers can diagnose the problem if a simple washer or O-ring replacement doesn't stop the drip!
RUNNING TOILETS
A running toilet can waste up to 200 gallons of water per day. Because this is a lot of water and it raises your water bill, we list the most common causes of this issue. They include: Corroded toilet handles, refill tube problems, worn-out flapper seals or flush valves, improperly sized flapper chains, and corroded toilet handles.
LEAKY PIPES
Leaky pipes can be caused by all sorts of problems, including incorrect pipe laying, stubborn clogging, pipe corrosion, or pipe joint damage. Cracked seals or cracked pipes can also cause issues, in addition to excess water pressure. No matter what's causing leaky pipes, this common plumbing problem needs to be repaired in a timely manner! The longer leaky pipes are ignored, the more damage they can cause—both to your plumbing system and to your home itself!
LOW WATER PRESSURE
Weak water pressure can make using essentially any plumbing system or equipment difficult. Sometimes, low water pressure is a symptom of a bigger plumbing problem. Those problems include things like pipe corrosion, drain or sewer clogs, hidden water leaks, cracked or blocked sewer lines, or something else.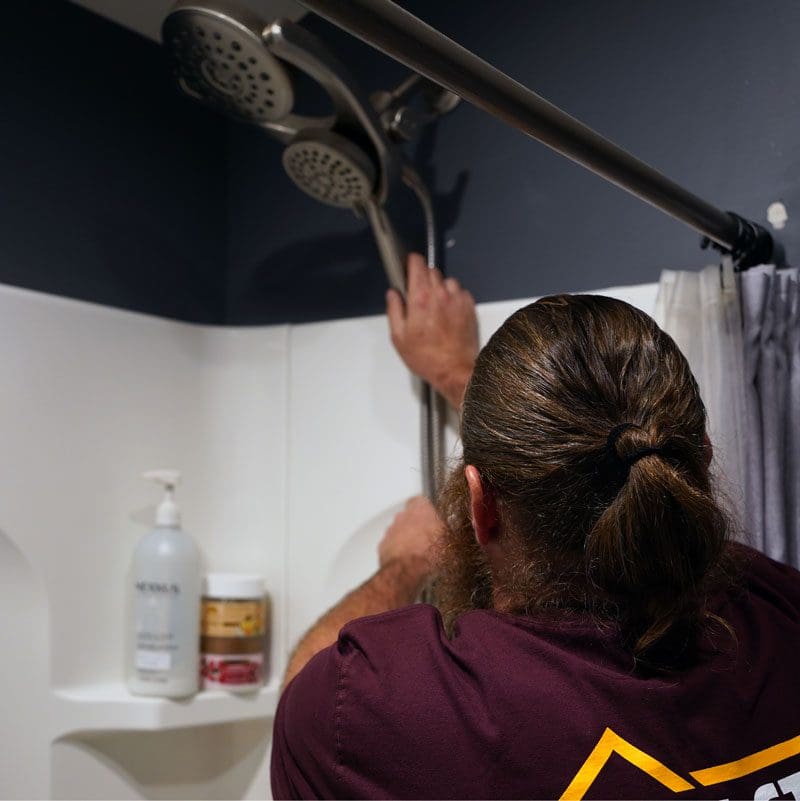 Bathroom Services
Sink, Toilet, and Shower Repair, in Central & Southwest Ohio
When you hire the plumbing experts at Five Star Home Services, you can rest assured knowing that your home is in the hands of professional plumbers who will do a thorough job. We believe in doing bathroom restoration and bathroom remodeling work thoroughly above industry standards, and we always leave the job site cleaner than it was when we got there.
You can count on Five Star bathroom installation services from shower pans, shower pan liners, and shower bases to sinks, faucets, mirrors, and toilets. Chipped tile in your shower, backsplash, or bathroom floor? We can make it look new again. Your local Five Star plumbing technicians are experts at installing, repairing, and updating all types of tile, including ceramic tile, porcelain tile, stone tile, and glass tile. Get a free estimate today on the bathroom renovation of your dreams! Call now at (833) 405-8009.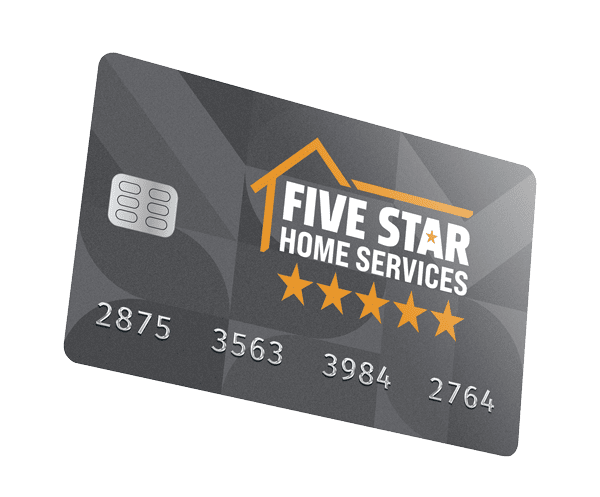 Financing Options
Buy Today, Pay Over Time
If you're in need of a new water heater, furnace, air conditioner, electrical panel, toilet, or something else, and you're wondering how you're going to come up with the money, we encourage you to check out our amazing in-house financing options. We can set up a monthly installment plan that works for your budget.
The Gold Standard in Plumbing Services Since 1972
Keeping an eye on your plumbing is essential to ensure that more minor issues do not turn into larger messes that cost you more money in the long run. If you notice any of the following problems, it's time to call Five Star Home Services! If you're making the investment of building or remodeling your home, it's essential to make sure that you choose an experienced, licensed plumber who uses only quality materials and artistry. We'll work closely with you to select the best fixtures and installation to fit your needs, timeline, and budget.
Call us for help with all types of sewer, excavation, and drain issues, including sewer repair, sewer cleaning, sewer jetting, drain jetting, hydro jetting, plumbing video inspections, drain camera services, clogged sewers, clogged drains, excavation, sewer snaking, drain cleaning, clogged drains, drain snaking, sewer line services, clogged toilets, sewer drain repairs, downspout cleaning, French drains, downspout drains and more.