Bathroom ReModels
Full Bathroom Remodel Services in Columbus, Dayton & Cincinnati, Ohio
Even if you're working with a limited budget, we at Five Star Home Services can still give you the bathroom of your dreams. Most homeowners work hard and like to maintain their homes. Because of this, we believe you deserve the bathroom of your dreams without having to pay too much to renovate it or remodel it. We perform full bathroom makeovers at affordable prices with customer satisfaction guaranteed.
As your local bathroom renovation experts in Greater Dayton, Greater Columbus and Greater Cincinnati, and Northern Kentucky, we at Five Star Home Services partner with companies like Moen, Delta, Kohler, American Standard, Ideal Standard, Lennox International, Vitra, Duravit, Toto, and more to offer you the highest quality plumbing products and bathroom features on the market. Whether you want to plumb a sink, replace an older shower or a broken toilet, install a walk-in bathtub, or install a beautiful tile floor, we are the bathroom experts to call for all your bathroom remodeling needs.

4 Common Bathroom Renovation Projects

Homeowners remodel bathrooms for all sorts of reasons. Some don't need a tub and want a larger shower. Some want to add an extra bathroom because their families have grown larger. Some want a new floor or a walk-on bathtub. Whatever your reasons for renovating your bathroom, one thing is for certain: Bathroom remodels have one of the highest rates of return compared to any other home renovation. Our local bathroom experts offer the best and most common bathroom repair projects below:
COSMETIC REMODELS
Simple bathroom remodels for cosmetic reasons can make a major difference in the space. A simple bathroom remodels can include updating your countertops, sinks, and vanities. Sometimes, homeowners will re-tile their bathroom walls, re-paint their walls, and change the bathroom flooring. Most homeowners take the opportunity to upgrade their fixtures and faucets as well when remodeling their bathrooms. Simple bathroom remodels don't include floor plan changes.
FLOOR PLAN CHANGES
Some Ohio homeowners request floor plan changes in their bathrooms. For example, they say the sizeable roman tub in their master bathroom isn't being used frequently. So, they replace the tub with a shower.
BATHROOM ADDITION
Another type of bathroom remodel is the addition of a bathroom. Sometimes homeowners install a new bathroom because their family has expanded, and they need to reduce the stress of using only one bathroom in the house. With aging in place becoming more popular, it often requires the addition of a bathroom downstairs where one might not currently exist for mobility reasons.
MASTER BATHROOM REMODELING
Sometimes customers choose to add a sink in their bathroom for their spouse or change a shower into a tub for a young child. Sometimes, they re-arrange the footprint of the space to add a vanity or mirror, change their toilet location, or install a bathroom closet.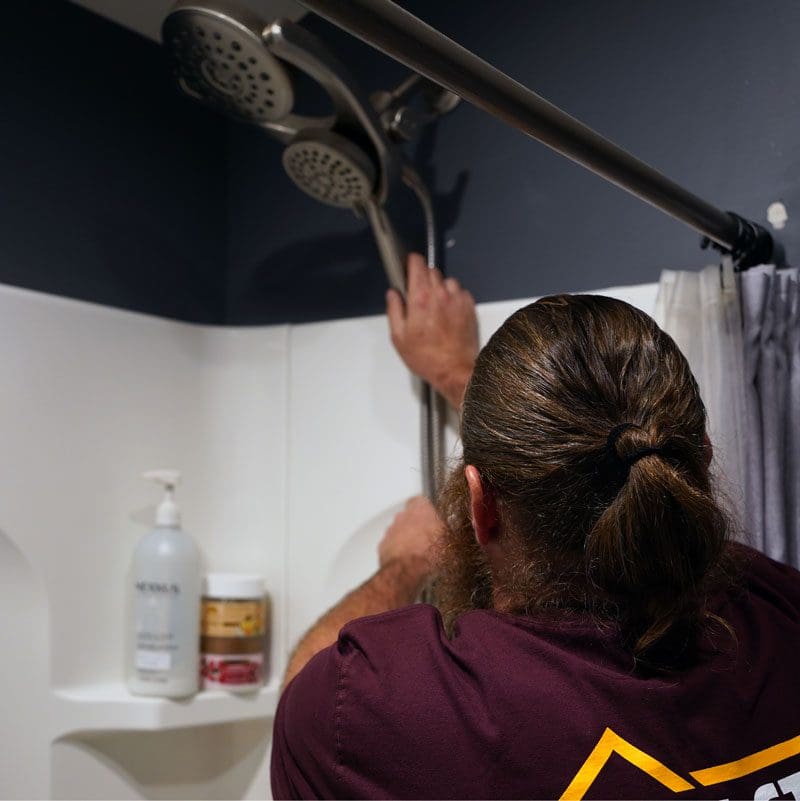 Bathroom Remodels
Professional Bathroom Remodeling & Renovations in Franklin, Hamilton & Montgomery Counties
Bathroom upgrades are also a great way to give older homes a new look. If you are looking to upgrade your bathroom, you should hire a certified plumbing professional to do the work. A homeowner will be satisfied by hiring a company such as Five Star Home Services. Additionally, remodeling the bathroom can increase your home's value and make it easier to sell.
Five Star Home Services is proud to sell and install Bliss Walk-in Tubs in Dayton, Cincinnati, Columbus and surrounding areas. Bliss Tubs are among the best walk-in tubs on the market. These luxurious bathtubs come with airflow systems, jet massagers, mixing valves and other Call Five Star to learn more about Bliss Bath Tubs and how they can ensure safety and preserve your home. We can come over and provide a free estimate with an in-home consultation.
Whether you need a shower and a tub in one space or want the most space-efficient option, American-made, Clarion Bathware® tub and shower combinations are a great choice. Enjoy the refreshing space of a tub in combination with the utility of a shower stall. Our vacuum-formed, one-piece units are made-to-order for new construction or remodeling needs. Available in both white and biscuit colors, consider a tempting array of sizes, shapes, and options in both Premium Cast Acrylic. Call today for more information on our Clarion® Products! (833) 405-8009.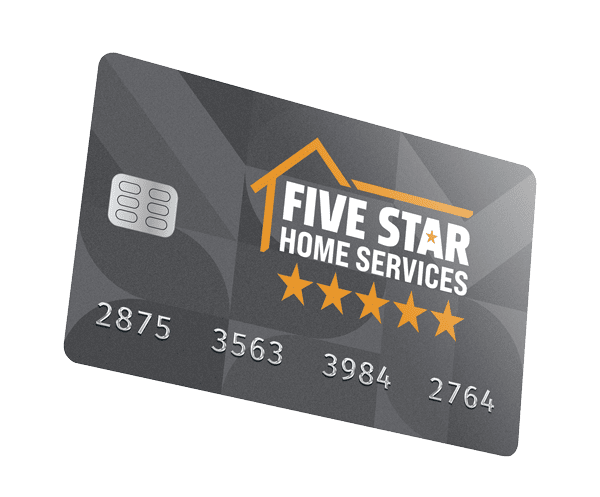 Financing Options
Buy Today, Pay Over Time
If you're in need of a new water heater, furnace, air conditioner, electrical panel, toilet, or something else, and you're wondering how you're going to come up with the money, we encourage you to check out our amazing in-house financing options. We can set up a monthly installment plan that works for your budget.
The Gold Standard in Plumbing Services Since 1972
Keeping an eye on your plumbing is essential to ensure that more minor issues do not turn into larger messes that cost you more money in the long run. If you notice any of the following problems, it's time to call Five Star Home Services! If you're making the investment of building or remodeling your home, it's essential to make sure that you choose an experienced, licensed plumber who uses only quality materials and artistry. We'll work closely with you to select the best fixtures and installation to fit your needs, timeline, and budget.
Call us for help with all types of sewer, excavation, and drain issues, including sewer repair, sewer cleaning, sewer jetting, drain jetting, hydro jetting, plumbing video inspections, drain camera services, clogged sewers, clogged drains, excavation, sewer snaking, drain cleaning, clogged drains, drain snaking, sewer line services, clogged toilets, sewer drain repairs, downspout cleaning, French drains, downspout drains and more.