Ohio Bathroom Repair, Shower, Bath Installation & Remodels
If you're considering redefining your bathroom to be more accommodating, we at Five Star Home Services have an exceptional team of experts who deliver plumbing remodeling services, including sink replacement, toilet replacement, floor replacement, tile work, shower upgrades, and tile backsplashes, and more. We install Bliss Walk-In Tubs®, Moen® sinks and products, and more!
BLiss Tub® Installation →
Bathroom Repair
Ohio Bathroom Sink, Toilet, Shower & Bathtub Repair & Installation
There's no need to call any other plumbing contractor for leaking or broken faucets, tubs, and toilets. Five Star Home Services takes on common plumbing repair jobs. We also install replacement bathroom faucets and plumbing fixtures. We are the one-call answer for your minor plumbing leaks and broken bathroom fixtures in Central and Southwest Ohio. Bathroom exhaust fans are your home's primary protection against mold and mildew issues. We repair old fans and install new fans. We can inspect your venting path for mold and, if needed, replace it with new tubing. Of course, we can help you pick out the right fan, too.
You can have the bathroom of your dreams. We install new toilets, shower heads, sinks, faucets, medicine cabinets, bathroom shelvings, custom shower heads, Bliss Walk-In® tubs, and more. We can even do custom water piping. Our services include new toilet installation, toilet repair, shower conversion, vanity installation and mirror installation, drywall or cement board installation, drainage work and more.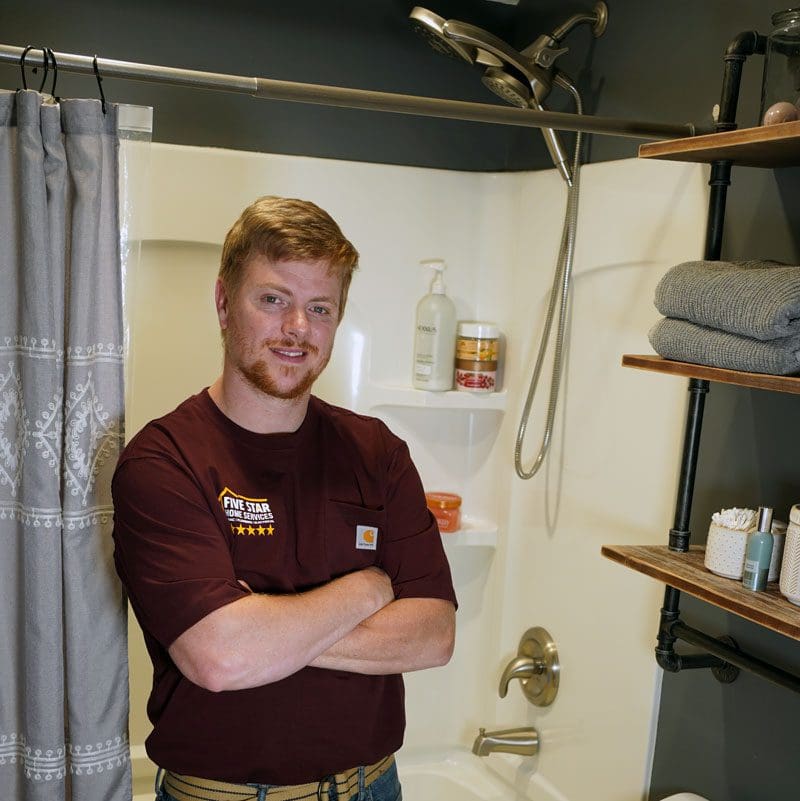 Bathroom Installation & REplacement
Bathroom Plumbing Installation You Can Trust in Central & Southern Ohio
Are you looking for a nearby plumber or plumbing contractor in Greater Dayton, Cincinnati, Columbus, or surrounding areas for a plumbing installation? Five Star Home Services can help with all types of plumbing installations, including electric water heater installation, gas water heater installation, tankless water heater installation, water softener installation, garbage disposal installation, sump pump installation, gas line installation, toilet installation, faucet installation, shower installation, bathtub installation and more. We proudly work with products from names like Bradford White®, Navien®, Bliss Tubs®, and more.

4 Drain Tips for Ohio Homeowners

When it comes to taking care of your home, your home's plumbing system should be at the top of your priority list. There are several things every Ohio homeowner should know about their plumbing to keep it flowing and keep their home in good condition. Below is our experts list of how to avoid major problems by following these 4 tips.
NEVER POUR GREASE OR OIL DOWN THE DRAIN
Grease and oil build up over time in your drains and cause clogs. To prevent this, dispose of grease and oil in a container, like an old coffee can.
KNOWING WHAT NOT TO FLUSH
Flushing things like sanitary napkins, diapers, and paper towels can cause major clogs in your plumbing system. You should only flush toilet paper and human waste down the toilet. Even so-called "flushable" wipes aren't a good idea either.
ALWAYS UTILIZE STRAINERS IN SINKS
This helps catch food particles and other items that clog drains. Make sure to clean your strainers frequently so they continue working correctly.
NEVER USE CHEMICAL DRAIN CLEANERS
Harsh chemicals can damage pipes and be harmful to health. Instead, try to use a natural drain cleaner like baking soda and vinegar or try to call a professional.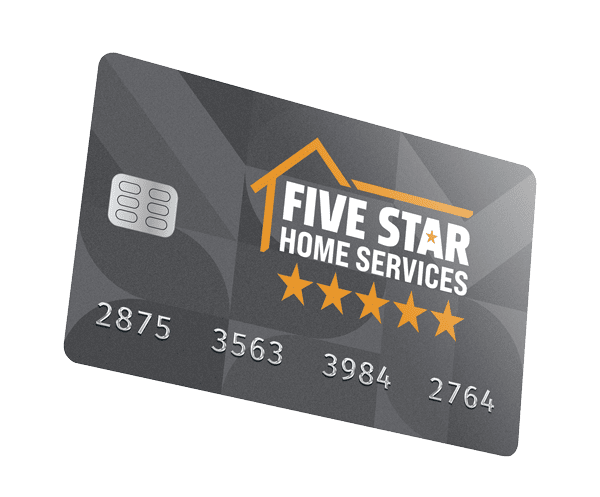 Financing Options
Buy Today, Pay Over Time
If you're in need of a new water heater, furnace, air conditioner, electrical panel, toilet, or something else, and you're wondering how you're going to come up with the money, we encourage you to check out our amazing in-house financing options. We can set up a monthly installment plan that works for your budget.
The Gold Standard in Plumbing Services Since 1972
Keeping an eye on your plumbing is essential to ensure that more minor issues do not turn into larger messes that cost you more money in the long run. If you notice any of the following problems, it's time to call Five Star Home Services! If you're making the investment of building or remodeling your home, it's essential to make sure that you choose an experienced, licensed plumber who uses only quality materials and artistry. We'll work closely with you to select the best fixtures and installation to fit your needs, timeline, and budget.
Call us for help with all types of sewer, excavation, and drain issues, including sewer repair, sewer cleaning, sewer jetting, drain jetting, hydro jetting, plumbing video inspections, drain camera services, clogged sewers, clogged drains, excavation, sewer snaking, drain cleaning, clogged drains, drain snaking, sewer line services, clogged toilets, sewer drain repairs, downspout cleaning, French drains, downspout drains and more.