Electrical Repair
Residential Electrical Repair in Columbus, Dayton, Cincinnati, Ohio
Residential electrical repairs should always be performed by an expert electrician that's both licensed and insured. Electricity is never something a homeowner should mess around with, nor is it something you can trust your uncle's friend "who does a little electrical work on the side" with. This is your home we're talking about and your safety. Because of this, even the most minute electrical work is something serious. Attempting to be thrifty or DIY can not only end up harming you, it can also harm your home or cause a fire that causes massive, expensive damage. When it comes to electrical work of any type, it's always essential to hire an electrical repair company in your area to repair things the correct way.
As your local master electricians in Dayton, Columbus, Cincinnati and surrounding areas, we at Five Star Home Services offer all types of residential electrical services, including safety inspections, electrical code updates, exhaust repair, electrical wiring upgrades, carbon monoxide detectors, smoke detectors, whole-house fans, household ventilation, electrical troubleshooting and more. Common residential electrical problems that require professional electric repair include: Dead electrical outlets, flickering lights, malfunctioning electrical switches, frequently tripping circuit breakers, switches that feel warm or hot to the touch, unusually high electric bills, power outages and much more.
Electrical
$50

off
Electrical Repair
or Service
*Not valid with any other offer or on previous sales. Must be presented at time of service. Not valid on Maintenance or New Equipment. Cannot be combined towards Trip + Diagnostic Fee. Some restrictions may apply, call for details.
Learn More

4 Common Residential Electrical Issues
Have you been disregarding any sort of electrical problems in or around your home? Although you might be able to repair some minor electrical problems on your own, most electrical issues are best left to the pros. In the following, we list several common electrical problems that are hazardous and should be taken care of immediately by a professional:
LIGHT BULBS BURN OUT FREQUENTLY
If you experience bulb blowouts frequently, it could be due to something much more serious than over-usage. You could have a loosened connection in the circuit or even in the socket. If you have recessed lights that frequently fail, it could be from nearby insulation. Insulation can cause overheating, and these fixtures are designed to shut off to prevent fire from starting.
FREQUENTLY TRIPPING BREAKERS
Tripped circuit breakers are usually a sign the circuit is overloaded and is using too much electricity. If your breaker is constantly tripping, you should add a circuit or consider upgrading your electrical service, which we can help you do.
Odor
A burnt/odd odor might point to overheating and melting insulator materials. These smells could mean that damage from overheating may have already begun, and if that's the case, it is crucial to have it addressed by a professional electrician as soon as possible. Naturally, if the smell does not subside or worsens, it could be a developing fire in a hidden space. If you're unsure, it is better to be safe than sorry – dial 911 and get everyone out of the home.
DEAD ELECTRICAL OUTLETS
Dead outlets can happen as a result of a tripped poor connection (and even possibly arcing), or a tripped breaker because of excessive heat buildup. This could result in melted wires or outlets.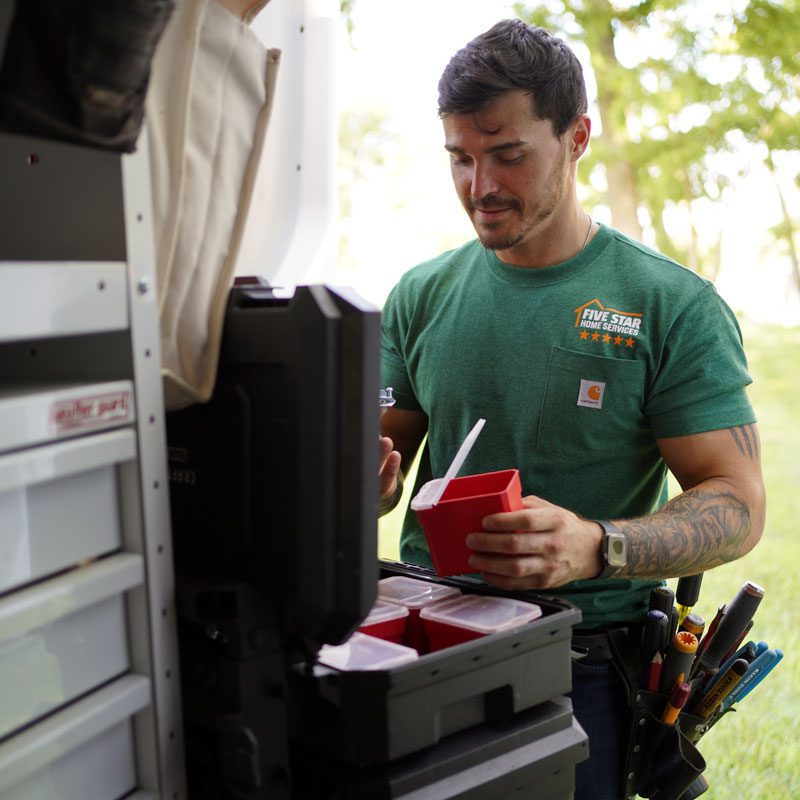 Electrical Repair
Local Electrical Repair & Installation in Central & Southwest Ohio
Don't risk taking on a DIY project regarding anything electrical. It would help if you chose a quality electrician who is honest, licensed, fully insured, and cares when it comes to electricity. The fact remains that when you need professional results, you must choose a professional electrician. Whenever you hire a member of the Five Star Home Service family, you get to experience the Five Star Difference. In fact, it might surprise you how much money you save by hiring us to repair the electrical components in your home.
We are here at Five Star Home Services to light up your ideas! We are dedicated to excellence in electrical work and will stop at nothing to guarantee your satisfaction. We are invested in the Franklin County, Ohio area, Hamilton County, Montgomery County, and more. So give us a call today at (833) 405-8009.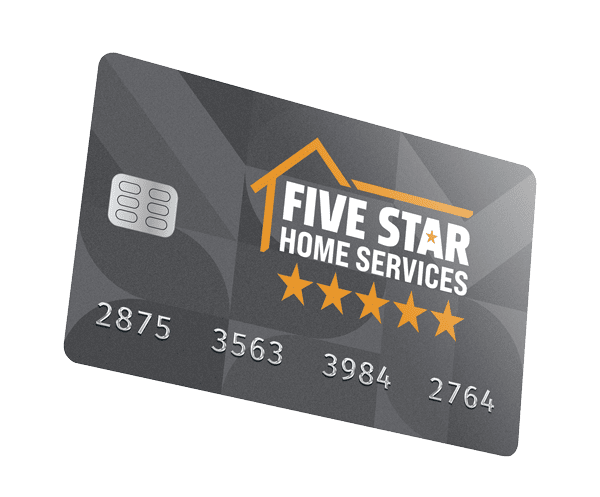 Financing Options
Buy Today, Pay Over Time
If you're in need of a new water heater, furnace, air conditioner, electrical panel, toilet, or something else, and you're wondering how you're going to come up with the money, we encourage you to check out our amazing in-house financing options. We can set up a monthly installment plan that works for your budget.
The Gold Standard in Electrical Services Since 1972
Are you looking for a local electrician or an "electrician near me" in Greater Columbus, Cincinnati, Dayton, or surrounding areas? If so, you're in luck. Five Star Home Services is your local residential electrician. We are your "electric company near me" throughout the three major metro areas we service. Whether you need ceiling fan installation, surge protection, pool light repair, ceiling fan installation cost, a panel upgrade, fire alarm installation, 24-hour electrician, outside lighting fixtures, outside lighting fixtures, led outside lighting, electrical outlet repair, fire alarm installation companies, home fire alarm installation, emergency electrician, outlet repair, surge protection outlet, an electric panel upgrade, outside lighting controls, surge protection, or a 24-hour emergency electrician, we can help. We offer all types of residential and commercial electrical installation services.