Ohio Electrical Panel Repair & Replacement, Circuit Breaker Repair & Replacement
Five Star Home Services is your local connection for all things electrical in Greater Columbus, Dayton, Cincinnati, and surrounding areas. As a team of local electricians, we proudly service and install new breaker boxes, fuse panels, electrical boxes, and electrical panels. We are open 365 days a year with 24-hour emergency electrical support, so if you lose power or your lights go out during the night, we encourage you to give us a call.
Electrical Code Updates →
Electrical Repair
Choose Five Star for Electrical Repair & Service in Cincinnati, Dayton & Columbus, Ohio
Our team of licensed electricians at Five Star Home Services can safely ensure any vintage homes and older buildings can handle all the necessary electrical demands of modern life. Although modern homes are designed to handle 200-amp services, many older homes are not. This means that using flat-screen TVs, computers, printers, and modern high-tech appliances can lead to problems in homes built in previous decades. Our residential electrical services can safely and effectively upgrade your home's ability to function smoothly despite the high power demands of modern life.
We offer all types of residential electrical installation services. We can restore power to dead electrical outlets, circuit breakers, electrical panels, and fuse boxes. If your home ever experiences any sort of power outage, it is essential, for your safety, that you call our residential electrical contractors. We encourage you never to attempt to repair these electrical issues without contacting us first!
Electrical
$50

off
Electrical Repair
or Service
*Not valid with any other offer or on previous sales. Must be presented at time of service. Not valid on Maintenance or New Equipment. Cannot be combined towards Trip + Diagnostic Fee. Some restrictions may apply, call for details.
Learn More
Electrical Installation
Electrical Installation You Can Trust
Five Star Home Services stands out as a leading residential electrical contractor in Greater Columbus, Dayton, Cincinnati, and surrounding areas because of our level of responsiveness to our customers and our ongoing commitment to quality and safety. As a family-owned team of residential electricians throughout the state, we understand how essential it is for us to help our customers protect the investment they make in their homes. We do everything possible to make sure our electrical installations and residential electrical upgrades are up to code, safe, efficient, and of the highest quality possible.

4 Common Residential Electrical Issues
If your home's electrical system is in need of repair work, let Five Star Home Services take charge of all your electrical needs. We offer 24-hour emergency electrical repair work 365 days a year.
OVERLOADED CIRCUIT
Circuit overload occurs when the amount of electricity flowing to an appliance or device exceeds what it can handle. For instance, if your lamp is rated for a maximum 60 watt bulb and you don't feel like that's bright enough and decide to put in a 100watt bulb, you end up overloading the lamp. In the worst-case scenario, the heat from the bulb melts the socket and the insulation in the fixture wires. If this causes the wires to spark, you could end up with an electrical fire.
SAGS AND DIPS
Sags and dips in power levels are closely related to power surges. Small appliances are usually the culprit behind these issues. It's essentially an intermittent drop in electrical voltage. They usually only last a second. They are also known as "brown-outs." It happens when your lights get dim and then get bright again, without going off all the way.
Brown-outs also happens when you have too many large appliances running at the same time. These appliances could be drawing too much from an outdated electric panel or could be outdated and require too much power. Additionally, old or faulty wiring can also be part of the blame.
NOT ENOUGH OUTLETS
A lot of people don't think about it, but not having enough electrical outlets is a problem. This is an electrical issue whether you realize it or not. While extension cords and power strips can work for temporary fixes, they aren't meant to be the only option. If using an extension cord is your permanent solution to a lack of outlets in a room, you have to make sure you're using at least a 14-gauge heavy-load cord or a UL-listed surge protector.
Extension cord safety is something that should be taken seriously. Don't daisy-chain two or more together cords together or ever try using them in an attic or crawl space. If you need more outlets, you need to call an electrician at Five Star Home Services. We are your friendly neighborhood electrician serving all of Ohio's residential electrical needs in one place.
UNCOVERED JUNCTION BOXES
Uncovered junction boxes are a hidden problem lurking inside walls you don't think about. A junction box is a professional casing used for various wires. They get installed during construction. They also get replaced often with an electrical upgrade.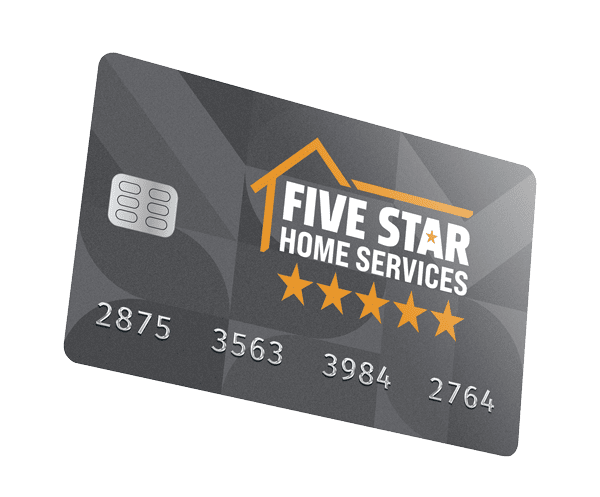 Financing Options
Buy Today, Pay Over Time
If you're in need of a new water heater, furnace, air conditioner, electrical panel, toilet, or something else, and you're wondering how you're going to come up with the money, we encourage you to check out our amazing in-house financing options. We can set up a monthly installment plan that works for your budget.
The Gold Standard in Electrical Services Since 1972
Are you looking for a local electrician or an "electrician near me" in Greater Columbus, Cincinnati, Dayton, or surrounding areas? If so, you're in luck. Five Star Home Services is your local residential electrician. We are your "electric company near me" throughout the three major metro areas we service. Whether you need ceiling fan installation, surge protection, pool light repair, ceiling fan installation cost, a panel upgrade, fire alarm installation, 24-hour electrician, outside lighting fixtures, outside lighting fixtures, led outside lighting, electrical outlet repair, fire alarm installation companies, home fire alarm installation, emergency electrician, outlet repair, surge protection outlet, an electric panel upgrade, outside lighting controls, surge protection, or a 24-hour emergency electrician, we can help. We offer all types of residential and commercial electrical installation services.